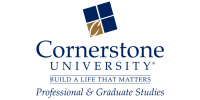 We recently spoke with Jeffrey Savage at Cornerstone University about their Online MBA program.
What type of student typically enrolls in your online MBA program? 
A mid-career professional, someone in his or her mid-30s or late-30s who works as a manager but not necessarily an executive.  Our MBA is designed more for first-line supervisors or middle managers looking to further advance in their careers.