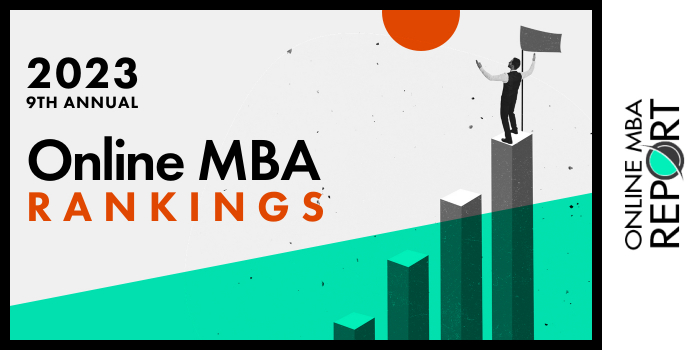 Our 2023 rankings of the Top Online MBA Programs in Michigan. For an explanation of ranking criteria, click here.
Top Online MBA Programs in Michigan - 2023 College Rankings

| Ranking | School | City |
| --- | --- | --- |
| 1 | University of Michigan-Ann Arbor | Ann Arbor |
| 2 | University of Michigan-Dearborn | Dearborn |
| 3 | Michigan Technological University | Houghton |
1. University of Michigan-Ann Arbor, Ann Arbor, Michigan

Stephen M. Ross School of Business (Michigan Ross) at University of Michigan-Ann Arbor (U-M Ann Arbor) has a part-time, AACSB-accredited MBA Program that provides the option to complete coursework 100% online. Three residencies worth nine credit hours (total) are required at the beginning of each term and they last three to five days. Residencies may also take place in overseas locations such as Berlin, Italy, and Chile. Current available residencies include Global Business Strategy (International), Business Leadership (on campus) Business Innovation (on campus), and Business Transformation (on campus).
Other Michigan Ross Online MBA features include additional opportunities to travel abroad to places such as China and Israel; the semester-long Multidisciplinary Action Projects (MAP) course, which allows students to work in teams to solve a problem for a real-world company or organization; live, interactive classes + self-guided modules; and learning business by doing business through REAL (Ross Experiences in Action-Learning).
Students in the Michigan Ross Online MBA also have opportunity to customize a specialization through 18 required credit hours of electives. Popular electives include Communicating in a Virtual World, LBLE (Living Business Leadership Experience), Healthcare Markets and Public Policies, Leading Diverse Teams and Organizations, and Strategies for Growth. LBLE provides the opportunity to establish and manage a team within an operational business unit, working directly with executives of the sponsoring company, and learning under the supervision of faculty advisors.
Graduates of the MBA Program at University of Michigan-Ann Arbor enjoy a 98% recruitment rate within three months of graduation. Top employers of include Google, Microsoft, Goldman Sachs, McKinsey & Company, Amazon, PepsiCo, and Boston Consulting Group (BCG).
Established in 1817 in Detroit, Michigan, University of Michigan-Ann Arbor is one of the first public universities in the nation. The school serves close to 50,000 students, making it the largest of the three U-M Campuses (Ann Arbor, Dearborn, Flint). U-M Ann Arbor provides more than 200 degree programs across 18 colleges and schools. University of Michigan-Ann Arbor is accredited by The Higher Learning Commission (HLC).
2. University of Michigan-Dearborn, Dearborn, Michigan

The College of Business (COB) at University of Michigan-Dearborn (COB) houses one of the oldest Online MBA programs in the U.S. Launched in 2001 and AACSB accredited, the program serves around 250 students and it requires 36 to 48 credit hours of study. Online dual degree options are also available and include the Finance MBA/MS and the MBA/MSE-Industrial Systems Engineering (MBA/MSE-ISE).
For all MBA students, the curriculum can also be completed in a hybrid (on campus and online) format. For online students, there are no required campus visits. Online concentrations are available and include International Business, Marketing, Information Systems Management, Finance, Human Resource Management, and Accounting.
For students looking to customize a focus area, the COB Online MBA has a large number of online business courses to match multiple interests. Students can select several to create a specialization. Course examples include Business Disruption in the Digital Age: Machine Learning, Platforms & the Crowd; Information Management; Organizational Dysfunction & Wealth Effects; Banking, Insurance & Fintech; Computer and Information Systems; Corporate Valuation and Strategy; and Product Development & Technology Management.
Admission for the Online MBA at University of Michigan-Dearborn is rolling, so students may begin the program in September or January. Part-time students may start the program in May.
Students can expect to complete their MBA within 2-2.5 years. Graduates are prepared for advancement opportunities with their current employer or to pursue leadership roles across all industries.
University of Michigan-Dearborn was founded in 1959 with a gift of $6.5 million from the Ford Motor Company and just over 200 acres of land. The school opened with just 34 students. Today, UM-Dearborn serves approximately 8,225 students enrolled in 275 programs across four colleges. University of Michigan-Dearborn is accredited by the Higher Learning Commission (HLC).
3. Michigan Technological University, Houghton, Michigan

The College of Business (COB) at Michigan Technological University (Michigan Tech) is home to an AACSB-accredited Online MBA with two options—the Standard TechMBA and the Accelerated Tech MBA. The Standard TechMBA can be completed in two years. The Accelerated TechMBA can be completed in just one year. Both options require 30 credit hours, with courses and other program content delivered through Michigan Tech Global Campus.
This cross-disciplinary program features video conferencing, live streaming, interactive technologies, and communications with instructors and classmates through a state-of-the-art learning management system. Students will engage activities that enhance teamwork, communication, leadership, and project-management skills.
Course examples for the TechMBA include Managing Behavior in Organizations; Managerial Economics; Information Systems Management and Data Analytics; Marketing, Technology, and Globalization; and Business and Corporate Strategy. Electives chosen from five Business Interest Areas (BIAs) allow students to customize a specialization. Current BIAs include Applied Business Analytics; Entrepreneurship; Organizational Change Management; Innovation; and Managing Technology.
Other program benefits include participation in Michigan Tech's Career Fair and CareerFEST. One of the largest in the country, the Michigan Tech Career Fair attracts more than 400 companies and 2,000 recruiters to campus each year. Launched in 2015, CareerFEST hosts networking events and career development workshops on campus every Spring and Fall. Current Michigan Tech partners include Kimberly-Clark, Dow, Caterpillar, Marathon, 3M, Ford, Continental, Kohler, Oshkosh, Georgia-Pacific, Schneider, and Michigan Scientific Corporation.
Graduates of the Online MBA program at Michigan Technological University enjoy a near 100% job placement rate as well as enhanced leadership roles and promotions. Program alumni have entered the Engineering industry as Project Managers, in Technical Sales, and in Entrepreneurship roles. Others have work in leadership positions in industries such as Construction, Healthcare, Banking, Insurance, and Manufacturing.
Founded in 1885, Michigan Technological University is the state's flagship technological university. This public, STEM institution serves approximately 7,075 students enrolled in more than 140 degree programs across six colleges, a Graduate School, and a Global Campus. Michigan Technological University has been continuously accredited by the Higher Learning Commission (HLC) since 1928.