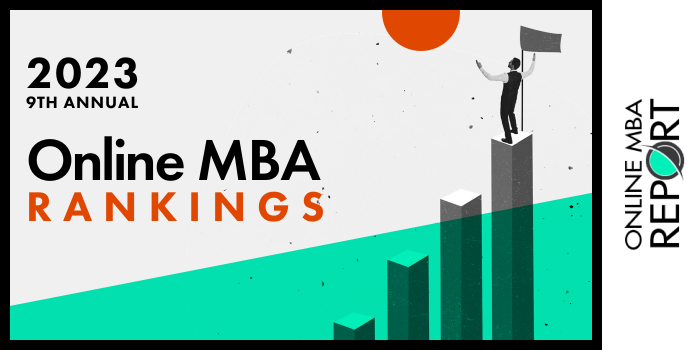 Our 2023 rankings of the Top Online MBA Programs in Pennsylvania. For an explanation of ranking criteria, click here.
Top 5 Online MBA Programs in Pennsylvania - 2023 College Rankings

| Ranking | School | City |
| --- | --- | --- |
| 1 | Pennsylvania State University | University Park |
| 2 | Temple University | Philadelphia |
| 3 | Villanova University | Villanova |
| 4 | Lehigh University | Bethlehem |
| 5 | University of Pittsburgh | Pittsburgh |
1. Pennsylvania State University, University Park, Pennsylvania

Pennsylvania State University (Penn State or PSU) houses Penn State World Campus, which provides more than 175 degrees and certificates that can be completed online. Among the division's programs is an Online MBA with zero residency requirements. Instead, students will attend a three-day virtual residency with synchronous sessions during the day.
As part of the AACSB-accredited Smeal College of Business, the Online MBA provides access to global immersion trips; specialized career coaching and personal advising; networking opportunities; more than 1300 internship and co-op opportunities each year; and over 300 career fairs and corporate recruiting events annually.
Students also have access to more than 25 concentrations including options such as Engineering Leadership and Innovation Management, Business Sustainability Strategy, Cybersecurity Intelligence Leadership, Negotiation and Influence, Additive Manufacturing and Design, Strategic Leadership, and Talent Diversity Leadership. Because the program runs on the Penn State semester system, in addition to a declaring a concentration, students can take advantage of other Penn State online graduate degrees, certificate courses, and programs.
The Penn State Online MBA Program consists of 48 credit hours, including 39 core credits and nine credits of concentration work, delivered in an asynchronous format. Every course includes group projects to encourage peer interaction and build a learning community among students. Course projects simulate real-world business environments, where individuals frequently work in teams to solve problems.
Sample core courses for the program include Leadership Communications and Change Management; Marketing in a Global Environment; Corporate Innovation and Entrepreneurship; Managing in the Digital Economy; Data Analysis for Decision-Making; and Ethical and Responsible Business Leadership. Across concentrations, examples of available courses include Homeland Security; Real Estate Law and Valuation; Community and Economic Development; Additive Manufacturing Design; and Negotiation and Influence.
As part of the suite of Smeal MBA Programs, graduates of Online MBA Program at Pennsylvania State University enjoy a 94% placement rate within three months of graduation. Program alumni are prepared to pursue leadership positions across all industries.
Penn State MBA graduates have been recruited by companies such as Capital One Financial Corporation, Dow, Apple, ExxonMobil, Dell, Ford Motor Company, Deloitte, Williams-Sonoma Inc., AstraZeneca Pharmaceuticals, Amazon, Procter & Gamble, IBM, DuPont, The Walt Disney Company, Bristol-Myers Squibb, Michelin North America, Johnson & Johnson, NBC Sports Group, Chrysler, and Tyco International.
Pennsylvania State University is the state's only land-grant university. Chartered in 1855 as one of the nation's first colleges of agricultural science, the school serves approximately to 88,115 students enrolled in more than 275 undergraduate majors and 300+ graduate and professional programs, including medical and legal studies. Programs at Penn State are offered across 24 campuses, sixteen academic colleges, and several schools. Penn State is accredited by the Middle States Commission on Higher Education (MSCHE) since 1921.
2. Temple University, Philadelphia, Pennsylvania

Fox School of Business at Temple University (Temple) has been continuously accredited by AACSB International since 1934. The School houses the Fox MBA, which has an online option with just one residency at the beginning of the program. Courses for the Fox Online MBA are delivered online over five weeks. On one night each week (8 p.m. to 10 p.m. ET), students will engage in live and collaborative web conferencing sessions with peers and faculty.
To enhance this forty-eight credit hour program, Fox Online MBA students have access to concentrations such as Innovation Management, Business Analytics, Entrepreneurship, Sport Business, Travel & Tourism, Strategic Management, Real Estate, and Supply Chain Management. Temple University also provides dual degree options for all MBA students.
Online options include the MBA + Specialized MS Degrees in Innovation Management and Entrepreneurship, Business Analytics, and Human Resource Management. Other program features include experiential learning opportunities and access to weeklong Global Immersions on six continents. Fox Online MBA students have been to Rome, Parma, and Milan, Italy; Morocco, North Africa; Budapest, Hungary; Stockholm, Sweden; Mumbai, Bangalore, and Delhi, India; London, England; and Santiago, Chile. Past local immersions have taken place in Silicon Valley, California.
Temple University recently launched Fox Without Borders Virtual Immersions. Ideal for students who cannot complete a Global Immersion, Virtual Immersions are four weeks and allow students to experience the culture and business environment of another country without leaving their home. Although this is a noncredit option, Virtual Immersion students can earn a Global Business Professional Certificate. Past virtual immersion destinations include Colombia, Egypt, and China.
The Fox Online MBA at Temple University culminates with an Enterprise Consulting Practicum (Capstone) worth three credits. Students can expect to complete the program in as few as two years.
Temple University business graduates have gone on to work for a variety of employers across the U.S. Examples include JP Morgan Chase, Temple University Hospital, Aramark , Vanguard, Defense Logistics Agency, New York Life, Enterprise Holdings, and TD Bank.
Founded in 1884 as a night school, Temple University serves approximately 33,600 students, making it the largest university in Philadelphia. Temple University offers more than 500 academic programs across 17 colleges and schools. Temple University is accredited by the Middle States Association of Colleges and Schools (MSA-CESS).
3. Villanova University, Villanova, Pennsylvania

Villanova University is home to Villanova School of Business (VSB), which houses five academic departments led by more than 120 faculty members. This AACSB accredited school provides seven majors, three co-majors, 10 minors, seven master's degree programs, a post-MBA certificate, and a joint JD/MBA with Charles Widger School of Law (CWSL). VSB has also Executive and Professional MBA options. The Professional MBA can be completed on campus, online, or in hybrid or cohort format.
Students in all MBA programs may enroll in the General MBA Track or up to two (of seven) in-demand Specializations. Focus areas consist of 7.5 elective credits and students will earn a Digital Credential Badge upon successful completion of the required courses. Options include Sustainability, Applied Artificial Intelligence & Machine Learning (AI/ML), Business Analytics, Finance, International Business, Strategic Management, and Marketing.
Other VSB Online MBA features include the MBA Mentoring Program, which pairs students with a corporate partner or senior executive; 24/7 access to online research tools and resources; and one-on-one coaching; and speakers and presentations. Optional Global Travel experiences are also part of the program, with more than 60% of MBA students participating.
To graduate, VSB Online MBA students must complete three Capstones including Global Strategic Management, Social Enterprise Consulting Practicum, and the Global Practicum.
Villanova University hosts recruiters from 375 companies and more than 30 career and professional development programs specifically tailored to graduate business students. Across programs, Villanova graduates have been recruited by companies such as Goldman Sachs, Ernst & Young (EY), Johnson & Johnson, NBCUniversal, Ralph Lauren, Barclays, American Express, Deloitte, PwC, Deutsche Bank, Comcast, Morgan Stanley, CITI, McKinsey & Company, and 3M.
Villanova University was founded by the Order of St. Augustine in 1842. The school serves 9,800 students enrolled in more than 100 programs across six colleges and schools. Villanova University is accredited by the Middle States Commission on Higher Education (MSCHE).
4. Lehigh University, Bethlehem, Pennsylvania

The College of Business at Lehigh University has a FLEX MBA that can be completed 100% online or a combination of online and on-campus (hybrid). This AACSB-accredited program utilizes ClassroomLIVE, which allows students to interact live with professors and peers during classes—in real-time (synchronous learning). FLEX MBA classes take place in the evenings Monday-Thursday and three start dates are available in August, January, and May.
Note that one orientation is required at the beginning of the program. During the event, students will collaborate on a case study and network with other students.
The Lehigh University FLEX MBA consists of 36 credit hours, including 12 credit hours of elective coursework. Eight concentrations options are available or students can design their own. Formal concentrations include Business Analytics, Corporate Entrepreneurship (VENTUREseries), Finance, Supply Chain Management, Marketing, International Business, Project Management, and Public Health.
Course examples for the program include Decision Analytics for Managers; Operations and Supply Chain Management; Strategy for Competitive Advantage; Customer Insights and Marketing Strategy for Managers; and Leadership in Contemporary Organizations.
The Lehigh FLEX MBA takes 24-72 months to complete, with an average completion time of 42 months. However, students have the option to complete their MBA at an accelerated pace. The program culminates with the Applied Capstone Experience (ACE).
Graduates of the Lehigh MBA program typically secure employment within three months of graduation. Program alumni have been recruited by companies such as Boeing, Tesla, Pfizer, Anheuser-Busch, QVC, Chevron, Johnson & Johnson, Cisco, Lockheed Martin, Merck, BP-China, Crayola, HubSpot, JPMorgan Chase, Motorola, Olympus Corporation, The Hershey Company, ADP, Bridgestone Americas, United Nations, AstraZeneca, and Bank of America.
Founded in 1865 by industrial pioneer, entrepreneur, and philanthropist Asa Packer, Lehigh University is a private research university that serves approximately 7,395 students. The school provides more than 100 majors, minors, and programs across five colleges including Arts and Sciences, Business, and Education; P.C. Rossin College of Engineering and Applied Science; and the College of Health. Lehigh University is accredited by the Middle States Commission on Higher Education (MSCHE).
5. University of Pittsburgh, Pittsburgh, Pennsylvania

University of Pittsburg (Pitt) is home to Joseph M. Katz Graduate School of Business (Katz School) and the College of Business Administration. Collectively, these academic divisions are known as Pitt Business Enrolled students have access to global issues workshops, consulting projects, and research practicums; short-term study abroad opportunities at WHU – Otto Beisheim School of Management (Germany) and Kedge Business School (France); and a Part-Time MBA that may be completed entirely online.
Coursework for the program explores business communications, data programming fundamentals, and research. Other program features include case competitions; community-based projects; professional development programming; the opportunity to complete a Katz Credential in a specific area of business; and participation in the Business Disruption Series (BDS).
Katz Credential options are stackable and may include options such as include Technology Management, Business Analytics, Marketing, Operations, and Finance. The BDS explores what business disruption is and how to promote change. The series allows students to select electives that are relevant to trends and current business issues. Courses such as Augmented Reality (AR) Marketing and Global Private Equity Investing are a few examples.
The Part-Time Online MBA at University of Pittsburgh can be completed within three years and all students, regardless of location, qualify for in-state tuition.
Pitt Business graduates go on to work in leadership positions at companies and organizations in all 50 states and nearly 90 countries. Pitt Katz alumni can be found in leadership roles with companies such as UPMC, FedEx, The Kraft Heinz Company, Philips, PNC, Westinghouse, PPG, Dick's Sporting Goods, HighMark, American Eagle Outfitters, Mylan, Consol Energy, BNY Mellon, MSA, Arconic, EQT, and Covestro.
Founded in 1787 as Pittsburgh Academy, University of Pittsburgh is one of the oldest institutions of higher education in the United States. Pitt is also home to one of the first federally funded centers for international business and research. The school serves approximately 34,285 students from 50 states and territories, the District of Columbia, and 42 countries. More than 650 degrees and certificate programs  ae provided at the main campus in Pittsburgh, along with regional campuses in Bradford, Greensburg, Johnstown, and Titusville.
University of Pittsburgh is a member of the Association of American Universities (AAU) and the school is accredited by the Middle States Commission on Higher Education (MSCHE).