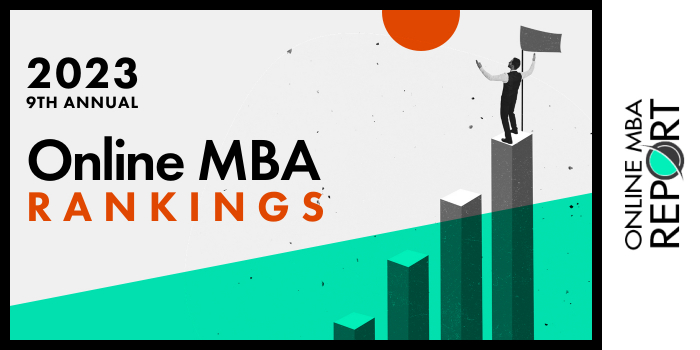 Our 2023 rankings of the Top Online MBA Programs in Arizona. For an explanation of ranking criteria, click here.
Top Online MBA Programs in Arizona - 2023 College Rankings

| Ranking | School | City |
| --- | --- | --- |
| 1 | Arizona State University | Tempe |
| 2 | University of Arizona | Tucson |
1. Arizona State University, Tempe, Arizona

Arizona State University (ASU) is home to W.P. Carey School of Business. Faculty come from six continents around the globe and students here represent more than 100 countries. Within W.P. Carey School of Business is the first fully online MBA program offered by an AACSB-accredited business school. With just one required in-person meeting at the beginning of the program, the W.P. Carey Online MBA consists of 17 courses (49 credit hours). This includes the required core (Ethical Issues for Managers); 43 credit hours of electives; and the culminating experience (Strategic Management) worth three credits.
Courses are five weeks each and students may take one class at a time. Course examples include Create and Deliver Customer Value: Marketing Management; Organizational Theory: Leading People, Teams and Organization; Decisions, Market Structure and Games: Managerial Economics; Financial Performance Reporting; and Finance: The Art of Managing Resources. 
Elective examples include Advanced Corporate Finance, Global Business Environment, Project Management, Sustainability & Social Responsibility, and Management of Technology and Innovation. Online MBA students at ASU W.P. Carey also have the option to choose a concentration. Examples include International Business, Entrepreneurship, Business Data Analytics, Leadership, Supply Chain Management, Finance, and Marketing.
Other program features include small class sizes, case-based team projects, an inclusive online environment, and the option to earn two degrees in less time and at a lower cost. Dual online degree options include the MBA/MSE in Electrical Engineering, the MBA/Master of Legal Studies, and the MBA/MS in Industrial Engineering.
Graduates of the MBA Programs at Arizona State University are prepared for careers in industries such as Business, STEM and Human Resources, Marketing, Finance, and Communications. Program alumni are routinely hired by major companies such as Northrop Grumman, Amazon, Johnson & Johnson, the United States Postal Service, Kimberly-Clark Corporation, Bayer, FedEx, Honeywell, Apple, Michelin North America, Bank of America, Intel, American Express, Nestle, Capital One Financial Corporation, Walmart, CVS Health, and Dell.
Arizona State University opened on Feb. 8, 1886 as Territorial Normal School (TNS)—the state's first higher education institution. On the first day of class, the TNS welcomed 33 students to a four-classroom building in Tempe. Today, ASU serves approximately 142,635 students enrolled in more than 800 degree programs across four campuses, 16 colleges and schools, and ASU Online. Arizona State University is accredited by the Higher Learning Commission (HLC).
2. University of Arizona, Tucson, Arizona

University of Arizona (UA) is home to Eller College of Management. One of the 20 colleges at UA, Eller serves approximately 6,600 students enrolled in 26 academic programs, including a flexible 100% Online MBA (OMBA). Known as the Eller OMBA, this program provides 24/7 access to coursework and assignments, allowing students to complete the program on their own time.
With six starts per year (every eight weeks), the AACSB-accredited Eller OMBA has seven concentrations including Entrepreneurship, Health Care Management, Marketing, Management and Organizations, Finance, Privacy and Security, and Healthcare Informatics. The program requires 45 credits, including 28 core units and 17 elective units. Courses are completed across two sessions per semester. In general, each session offers two core courses and a minimum of two electives.
Students in the UA Eller Online MBA can decide how many courses to take at a time, so the program may be completed in as few as 14 months or up to 48. Course examples for the program include Marketing of Innovations, Applied Business Statistics, Communication Management, Leadership in Organizations, Managing Ethics in Organizations, Business Strategy, and Strategic Management of Information Systems.
To enhance the degree, Eller provides the opportunity for Online MBA students to participate in a Global Experience with Full-time or Evening MBA students. Experiences take place in business environments from Brazil and Chile to Singapore.
Graduates of the Eller OMBA Program at University of Arizona enjoy an 86% employment rate within 90 days of graduation. Top employer's include Microsoft, American Express, T-Mobile, Procter & Gamble, Intel, Becton, Dickinson & Co. (BD), Republic Services, and Gore.
University of Arizona was established in 1885, making it the first university in the state. A land-grant institution, UA opened with just a few students. Today, the school serves approximately 51,135 students, making it one of Arizona's largest post-secondary institutions. UArizona provides more than 300 undergraduate majors and graduate programs in 150+ areas of study. Programs are housed across 20 colleges and nearly two dozen specialized schools. University of Arizona is accredited by the Higher Learning Commission (HLC).