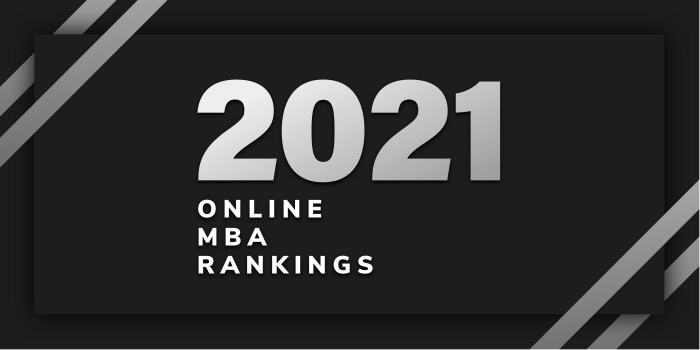 Our 2021 rankings of the Top Online MBA Programs in Arizona. For an explanation of ranking criteria, click here.
Top Online MBA Programs in Arizona - 2021 Rankings

| Ranking | School | City |
| --- | --- | --- |
| 1 | Arizona State University | Tempe |
| 2 | University of Arizona | Tucson |
1. Arizona State University, Tempe, Arizona
In fall 2021, Arizona State University (ASU) welcomed 103,609 undergraduate students and 25,179 graduate students, making it one of the nation's largest public universities by enrollment. The school's nationally ranked programs have positioned the university as a "top-tier" recruiting and hiring institution by more than 50 of the country's top corporations, according to professional recruiters and rankings services around the world.
Among the school's nationally ranked programs is the MBA, which has a 70% employment rate at graduation and a 90% employment rate within 90 days of graduation.
Offered through W.P. Carey School of Business, the ASU MBA program has a flexible online option that includes just one meeting at the beginning of the program. This mandatory orientation session allows students to meet W.P. Carey faculty, staff, students, and teammates. After orientation, coursework for the 36 credit hour program may be completed entirely online.
This competitive AACSB-accredited program consists of 49 total credit hours (17 classes) and students are allowed to take just one course at a time (five weeks per course). Students also have the opportunity to customize their MBA by declaring an area of emphasis in Finance, International Business, Marketing, or Supply Chain Management.
Other program highlights include the opportunity to interact with teammates in case-based projects, an inclusive online environment, and the option to earn two degrees in less time and at a lower cost. Concurrent online degree options include the MBA/MSE in Electrical Engineering, the MBA/Master of Legal Studies, and the MBA/MS in Industrial Engineering.
Students in both the single and dual online MBA programs have the option to start in January or August.
Graduates of the program are prepared to work in a variety of industries, including Business, Communications, Finance, Human Resources, Marketing, and STEM.
2. University of Arizona, Tucson, Arizona
Established in 1885, University of Arizona (UA) was the first university in Arizona Territory. The school's first graduating class in 1895 consisted of just two women and one male. Today, UA serves nearly 47,000 students enrolled in 300 undergraduate and graduate degree programs in 20 colleges and 12 schools across four campuses.
Eller College of Management is one of the 20 colleges at University of Arizona. This AACSB-accredited college serves just over 6,600 students enrolled in 10 undergraduate majors and 16 graduate programs, including a 100% online MBA that may be completed in as few as 14 months. With six starts per year (every eight weeks), the program requires 14 core two-unit courses and 17 units of electives for a total of 45 units to graduate. Six concentrations are available including Entrepreneurship, Finance, Health Care, Management and Organizations, Management Information Systems, and Marketing.
Also known as the OMBA, the Eller Online MBA highlights 24/7 asynchronous delivery of content that minimizes students' time away from work and family, the option to decide how many courses to take at a time (take up to six years to complete the program), and AACSB accreditation. Graduates of the program enjoy an 86% employment rate within 90 days of graduation, along with an average starting salary of $89,870.
Top recruiters for the Eller OMBA include EY, General Motors, Goldman Sachs, Intel, Honeywell, Macy's, Microsoft, Nationwide, and PwC.