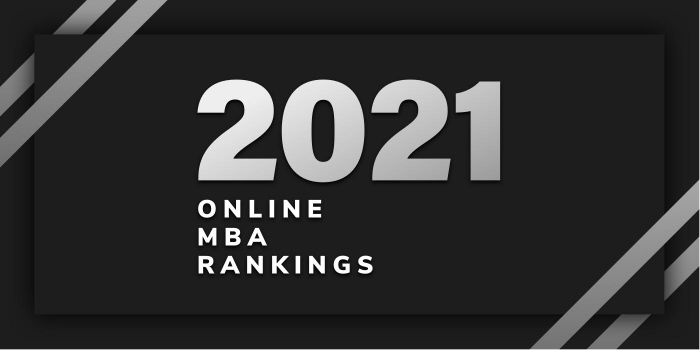 Our 2021 list of the Top 10 Online MBA Programs in the Southwest. We define the Southwest as Texas, Oklahoma, Arizona, New Mexico, Colorado, Utah, and Nevada. For an explanation of our ranking criteria, click here.
Top 10 Online MBA Programs in the Southwest – 2021 Rankings

| Ranking | School | State |
| --- | --- | --- |
| 1 | Arizona State University | Arizona |
| 2 | University of Texas at Dallas | Texas |
| 3 | Rice University | Texas |
| 4 | University of Arizona | Arizona |
| 5 | University of Utah | Utah |
| 6 | Baylor University | Texas |
| 7 | Colorado State University | Colorado |
| 8 | Oklahoma State University | Oklahoma |
| 9 | University of Denver | Colorado |
| 10 | University of Nevada | Nevada |
1. Arizona State University, Tempe, Arizona

In fall 2021, Arizona State University (ASU) welcomed 103,609 undergraduate students and 25,179 graduate students, making it one of the nation's largest public universities by enrollment. The school's nationally ranked programs have positioned the university as a "top-tier" recruiting and hiring institution by more than 50 of the country's top corporations, according to professional recruiters and rankings services around the world.
Among the school's nationally ranked programs is the MBA, which has a 70% employment rate at graduation and a 90% employment rate within 90 days of graduation.
Offered through W.P. Carey School of Business, the ASU MBA program has a flexible online option that includes just one meeting at the beginning of the program. This mandatory orientation session allows students to meet W.P. Carey faculty, staff, students, and teammates. After orientation, coursework for the 36 credit hour program may be completed entirely online.
This competitive AACSB-accredited program consists of 49 total credit hours (17 classes) and students are allowed to take just one course at a time (five weeks per course). Students also have the opportunity to customize their MBA by declaring an area of emphasis in Finance, International Business, Marketing, or Supply Chain Management.
Other program highlights include the opportunity to interact with teammates in case-based projects, an inclusive online environment, and the option to earn two degrees in less time and at a lower cost. Concurrent online degree options include the MBA/MSE in Electrical Engineering, the MBA/Master of Legal Studies, and the MBA/MS in Industrial Engineering.
Students in both the single and dual online MBA programs have the option to start in January or August.
Graduates of the program are prepared to work in a variety of industries, including Business, Communications, Finance, Human Resources, Marketing, and STEM.
2. University of Texas at Dallas, Dallas, Texas

In the 1960s, Texas Instruments owners Cecil Green, Erik Jonsson, and Eugene McDermott watched "promising young Texans leaving the state to pursue education," says University of Texas Dallas (UTD), "while their company recruited out-of-state talent to work at their Dallas-based headquarters."
"Hoping to create better higher-education opportunities in North Texas, the trio established the Graduate Research Center of the Southwest — the foundation for what will become" The University of Texas at Dallas. "Rooted in an entrepreneurial spirit, UTD has grown into one of the nation's top public research universities."
UTD server nearly 29,000 students enrolled in eight schools and more than 140 academic degrees including top-ranked programs in Arts and Technology, Audiology, Business, Engineering, and Science. 
Naveen Jindal School of Management (JSOM) is the largest of UT Dallas' eight schools. It houses the Online Professional MBA (PMBA), which allows students up to 72 months to complete the program. Students also have the option to complete the program in as few as 16 months. There are no on-campus requirements and students have full access to the MBA Program Office and Jindal School Career Management Center staff. 
This AACSB-accredited program utilizes "streaming audio lectures, video clips, online exams, online submission of assignments, and interactivity for group projects using discussion forums, email, and web conferencing." The 53 credit hour Online PMBA also highlights 24 hours of electives, along with an impressive 13 MS/MBA options, including six STEM-designated, and 15 concentrations. Nearly 60 elective options are available and just a few concentrations include Business Analytics, Energy Management, Healthcare Leadership and Management, Innovation and Entrepreneurship, Internal Audit, and International Management Studies, and Systems Engineering & Management, to name a few.
Online PMBA students may also pursue specialized elective coursework through the Academic Certificate programs offered within Executive Education in addition to the programs regular MBA concentrations. Certificate options include Executive and Professional Coaching, Organizational Consulting, Project Management, and Transformational Leadership.
JSOM Online PMBA students are encouraged to participate in the school's International Study Programs, which "give direct exposure to business in a global context." Programs last the duration of a long semester, a summer term or even seven to 10 days abroad. To date, the JSOM Study Abroad Office has conducted more than 35 faculty led international study trips in more than 16 countries for the past 15 years.
3. Rice University, Houston, Texas

On May 18, 1891, Massachusetts-born businessman William Marsh Rice chartered the William Marsh Rice Institute for the Advancement of Literature, Science and Art as a gift to the city of Houston, where he made his fortune. In 1907, astronomer and mathematician Edgar Odell Lovett became the first president of Rice. In 1912, the Rice Institute finally opened with 77 students taught by a dozen faculty. Today, Rice University serves just over 7,500 students taught by nearly 900 instructional faculty members. More than 50 undergraduate majors and dozens of graduate programs are offered in eight schools.
The Jesse H. Jones Graduate School of Business at Rice University offers an AACSB-accredited online MBA program known as the [email protected]. Program highlights include meetings with faculty members and peers each week for live, face-to-face class sessions over Zoom, small class sizes, and assignments—which include real-world case studies, video simulations and collaborative projects—that may be completed each week from anywhere, using any connected device.
The program, which has seven focus areas, develops students' understanding of "essential business principles such as financial accounting, business analytics, marketing strategy, leadership and finance," says the school. Students will "learn to apply these larger concepts throughout an organization" as they hone their skills in one of the focused specializations of study. Focus areas allow students to customize the academic experience and include Corporate Finance, Corporate Strategy, Energy, Entrepreneurship, Healthcare, Investment Management, and Marketing.
In each 10-week term, students will take courses totaling up to six credits. The first year will consist of all core courses, and the second year features a combination of core and elective courses. Course highlights include Business-Government Relations, Competitive Strategy, Corporate Investment Policy, Corporate Responsibility, Economic Environment of Business, Futures and Options, Geopolitics of Energy, Leadership, and Negotiations. 
Students must complete 54 total credits including 36 core credits, 12 elective credits, three credits of Residential Intensive Learning Experiences (ILEs), and three additional credits of electives or ILEs. ILEs consist of a variety of simulations, immersions, seminars, intersessions, and guided leadership exercises that bring students face to face with peers, faculty and industry leaders. Domestic ILEs are often held on the Rice University campus in Houston, Texas.
Global Field Experiences (GFE) are also part of the program. GFE's allow students to connect with peers, faculty and mentors in person in locations around the world.
Exams for the [email protected] are held during the final week of each semester and the program can be completed in 24 months.
4. University of Arizona, Tucson, Arizona

Established in 1885, University of Arizona (UA) was the first university in Arizona Territory. The school's first graduating class in 1895 consisted of just two women and one male. Today, UA serves nearly 47,000 students enrolled in 300 undergraduate and graduate degree programs in 20 colleges and 12 schools across four campuses.
Eller College of Management is one of the 20 colleges at University of Arizona. This AACSB-accredited college serves just over 6,600 students enrolled in 10 undergraduate majors and 16 graduate programs, including a 100% online MBA that may be completed in as few as 14 months. With six starts per year (every eight weeks), the program requires 14 core two-unit courses and 17 units of electives for a total of 45 units to graduate. Six concentrations are available including Entrepreneurship, Finance, Health Care, Management and Organizations, Management Information Systems, and Marketing.
Also known as the OMBA, the Eller Online MBA highlights 24/7 asynchronous delivery of content that minimizes students' time away from work and family, the option to decide how many courses to take at a time (take up to six years to complete the program), and AACSB accreditation. Graduates of the program enjoy an 86% employment rate within 90 days of graduation, along with an average starting salary of $89,870.
Top recruiters for the Eller OMBA include EY, General Motors, Goldman Sachs, Intel, Honeywell, Macy's, Microsoft, Nationwide, and PwC.
5. University of Utah, Salt Lake City, Utah

Founded in 1850, University of Utah (The U) is the oldest state university west of the Missouri River. When it opened in November 1850 as the University of Deseret, the school's first term was designated "men only." Today, nearly half of the students at University of Utah are women.
With a student population of over 31,000 students, The U is one of the largest universities in the state. The school offers hundreds of programs in 17 colleges and schools and nearly 100 departments. The David Eccles School of Business offers an online MBA (Eccles MBAO) that takes 24 months to complete. Consisting of 48 credit hours, the program allows students to take two courses at a time held in five and 10-week blocks.
Eccles MBAO classes are available 24/7 and "provide a dynamic, highly interactive learning experience," says the school. Course highlights include Business Ethics, Business Technology, Data Analysis, Global Business, Data Analysis, Managing & Leading Organizations, and Project Management. "On-demand lectures with in-depth discussions between team members and faculty using high-end web conferencing means "class is "whenever and wherever" students want it to be.
Students also have the opportunity to interact with faculty and other students in a weekly live web-conferencing session, as well as during one three-day on-campus residency. Online forums and multimedia are also utilized in this AACSB-accredited program and students can select a mixture of online and on-campus classes at any time, if desired.
Graduates of the Eccles MBAO report a 34% salary increase by graduation and on average, 56% of students are promoted while in the program.
6. Baylor University, Waco, Texas

Chartered in 1845 by the Republic of Texas, Baylor University (BU) serves just over 19,500 students enrolled in more than 250 degree programs in 12 nationally recognized academic divisions. Hankamer School of Business at BU offers an online MBA that can be completed in as few as 12 months.
The 48-60 credit hour BU Online MBA has four in-demand concentrations, with courses taught by the same faculty as on-campus MBA students. Concentrations include Cybersecurity, Executive Communication, Global Trade & Supply Chain Management, and Marketing.
Through "engaging conversations," with professors and classmates, students in the General MBA option and all concentrations "will learn to communicate professionally, work in teams and approach complex business situations with faith-based integrity," says the school.
Depending on the concentration, graduates go on to enhance their careers or to new careers such as Brand Manager, Chief Financial Officer (CFO), Chief Information Officer (CIO), Communications Operations Manager, Cybersecurity Consultant, Digital Marketing Manager, Division Leader, Entrepreneur, Global Logistics Manager, IT Director, Management Consultant, Marketing Director, Senior Marketing Analyst, Supply Chain Consultant, Transportation Director, and many others.
7. Colorado State University, Fort Collins, Colorado

Colorado State University (CSU) was founded in 1870 as the Colorado Agricultural College. Situated on nearly 5,000 acres of land, including the main campus, a foothills campus, an agricultural campus, and a Mountain Campus, CSU has an additional 4,600 acres for research centers, Cooperative Extension offices, and Colorado State Forest Service stations.
CSU serves around 32,650 students enrolled in 250 academic programs, more than 80 minors, and several professional advising tracks across eight colleges and a graduate school. The College of Business offers a Professional MBA Program that dates back to 1975—when the first "distance" offering was introduced.
Today, this 42 credit hour program is offered 100% online and it consists of self-paced lectures in step with class assignments. Focus areas include Computer Information Systems, Finance, and Marketing Data Analytics. Students may also choose to focus in "Professional Enrichment," which consists of electives such as the International Study Trip. During this 7-10 experience, students will meet with business leaders, where they will learn international business culture, and become acclimated to environments different from their own.
Other program highlights include the opportunity to complete a business certificate. Options include Accounting, Applied Finance, Business Analytics and Accounting Systems, Business Information Systems, Business Intelligence, Ethics and Auditing, IT Project Management, Marketing Management, Nonprofit Administration, and Ski Area Management.
Including the focus area and study trip, students can expect to complete the AACSB-accredited online MBA program in as few as 21 months. However, students have the option to take up to five years to complete the program. Start dates include August, October, January, March, and May.
8. Oklahoma State University, Stillwater, Oklahoma

Founded in 1890 on Christmas Day, Oklahoma State University (OSU or OK State) is Oklahoma's first Truman Honor Institution. The school has the largest comprehensive student union and its Edmon Low Library is one of the America's top 100 academic research libraries. Famous alumni include Garth Brooks, T. Boone Pickens (business magnate and financier), Barry Sanders (NFL running back), and Anita Hill.
Serving nearly 25,000 students, OSU houses six academic colleges, plus a veterinary school and an osteopathic medical school, that offer more than 300 undergraduate majors and options, master's programs, and doctoral programs.
Watson Graduate School of Management houses the Spears School of Business, which offers a 33 credit hour MBA that can be completed part-time, online in as few as 12 months. "Online courses are available 24/7," says the school, and they are "designed with multimedia content and virtual activities to promote student collaboration."
Course highlights for the program include Corporate and Business Strategy, Design, Prototyping, and Testing Creative Products, Emerging Enterprise Consulting, Launching a Business: The First 100 Days, Professional Development (Part 1, Part 2 and Case Consulting), Social Entrepreneurship, Talent Acquisition, and Teams in Organizations.
Students in this AACSB-accredited program also have the opportunity to complete a study abroad "Entrepreneurship."
9. University of Denver, Denver, Colorado

Founded in 1864 as the Colorado Seminary, University of Denver (DU) is the oldest independent higher education institution in the Rocky Mountain West. The school serves 12,000 graduates and undergraduates enrolled in more than 220 degree programs in 10 colleges and schools.
DU highlights include small class sizes (under 21 students), a "robust" study abroad program, experiential learning opportunities, career achievement through internships and job placement, and access to one of the nation's first business schools.
Established in 1908 and continuously accredited by the AACSB since 1923, the Daniels College of Business is the nation's eighth oldest business school. All programs at Daniels combine the study of business fundamentals with hands-on experience via simulations, practicum projects and interaction with local, regional and global business leaders. The Daniels Online MBA, also known as [email protected], offers GMAT waivers, four start dates (January, March, June and September), and networking opportunities with 37,000+ Daniels alumni for mentoring, informational interviews, company tours, and more.
The program highlights an innovative digital campus, a hands-on curriculum, live online classes, self-paced coursework, in-person domestic and global immersions, LinkedIn Premium benefits, career support. The program also offers four concentrations including Executive Healthcare Administration, Executive Leadership, Finance, and Marketing. Students living in close proximity to the DU campus have the unique opportunity to explore on-ground concentrations such as Accounting, Business Analytics, and Real Estate.
[email protected] students and graduates work in various industries, including Banking, Consumer Goods and Services, Energy, Government and Military, Health, Transportation, and many others. Within these industries, students have held titles such as Analyst, C-Suite Executive (CEO, CFO, COO), Director, Program Manager, Vice President of Finance, Marketing or Sales, and many others.
10. University of Nevada, Reno, Reno, Nevada

The University of Nevada, Reno (UNR) is Nevada's land-grant institution. Founded in 1874 and serving 21,000 students, UNR offers the opportunity to customize an academic path with more than 460 undergraduate & graduate degree, certificate & minor programs within 12 academic colleges and schools.
The College of Business at UNR offers an Executive MBA (EMBA) "designed for mid-career executives and experienced professionals who want to advance in today's challenging work world," says the school. This 36 credit hour (12-course) program is offered as a two-year cohort beginning in fall and each class runs for 12 weeks. All coursework may be completed entirely online. Courses for UNR's AACSB-accredited EMBA program "are sequenced to assure continuity in learning".
Course highlights for the program include Economics of the Firm, Information and Communications Technology in Organizations, Personal Branding, Management and Organizational Science, Managing Organizations in a Global Economy, Personal Branding, and Strategic Management for Executives. Because the EMBA is rigorous degree program that requires a significant time commitment, students can expect to spend at least 10–12 hours each week on course assignments, discussions, and research.
The EMBA at UNR is open to those who hold a bachelor's degree from an accredited four-year institution and any undergraduate major is acceptable. However, applicants must have five or more years of professional work experience beyond undergraduate studies.
UNR EMBA students are required to complete their degree in two years. Each year is divided into three semesters (fall, spring, and summer), with each containing two courses.