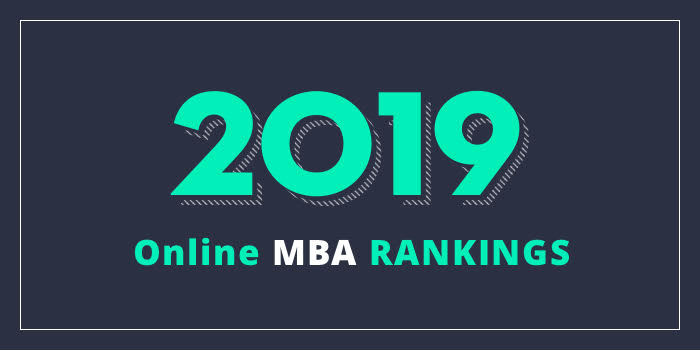 Top 10 Online MBA Programs in the Southwest – 2019 Rankings

| Ranking | School | State |
| --- | --- | --- |
| 1 | Arizona State University | Arizona |
| 2 | University of Texas at Dallas | Texas |
| 3 | University of Arizona | Arizona |
| 4 | Oklahoma State University | Oklahoma |
| 5 | Colorado State University | Colorado |
| 6 | West Texas A&M University | Texas |
| 7 | University of North Texas | Texas |
| 8 | Rice University | Texas |
| 9 | University of Nevada-Reno | Nevada |
| 10 | University of Utah | Utah |
Our 2019 list of the Top 10 Online MBA Programs in the Southwest. We define the Southwest as Texas, Oklahoma, Arizona, New Mexico, Colorado, Utah, and Nevada. For an explanation of our ranking criteria, click here.

1. Arizona State University, Tempe, Arizona
Arizona State University's W.P. Carey School of Business offers a flexible online MBA that includes just one meeting at the beginning of the program. This mandatory orientation session allows students to meet W.P. Carey faculty, staff, students, and teammates. After orientation, coursework for the 36 credit hour program may be completed entirely online.
This competitive AACSB-accredited program consists of 49 total credit hours (17 classes) and students are allowed to take just one course at a time (five weeks per course). Students also have the opportunity to customize their MBA by declaring an area of emphasis in Finance, International Business, Marketing, or Supply Chain Management.
Other program highlights include the opportunity to interact with teammates in case-based projects, an inclusive online environment, and the option to earn two degrees in less time and at a lower cost. Concurrent online degree options include the MBA/MSE in Electrical Engineering, the MBA/Master of Legal Studies, and the MBA/MS in Industrial Engineering.
Students in both the single and dual online MBA programs have the option to start in January or August.

2. University of Texas at Dallas, Dallas, Texas
The Naveen Jindal School of Management (JSOM) at the University of Texas at Dallas (UT Dallas) is home to the Professional MBA (PMBA) Online, which allows students up to 72 months to finish. However, students may complete the program in as few as 16 months. There are no on-campus requirements and students have full access to MBA Program Office and Jindal School Career Management Center staff. 
This AACSB-accredited program utilizes "streaming audio lectures, video clips, online exams, online submission of assignments, and interactivity for group projects using discussion forums, email, and web conferencing," says the school. The 53 credit hour online PMBA also highlights 24 hours of electives, along with an impressive 13 double MS/MBA options, including STEM, and 15 concentrations. Just a few concentration options include Accounting, Information Systems, Innovation and Entrepreneurship, Marketing, Real Estate, and Supply Chain Management.
In addition to STEM, MS options include Healthcare Leadership and Management, Innovation & Entrepreneurship and International Management Studies, to name a few.
All online PMBA students are encouraged to participate in the school's International Study Programs, which "give direct exposure to business in a global context." Besides offering Exchange Programs and International Internships, the JSOM Study Abroad Office has conducted more than 35 faculty led international study trips in 16 countries for the past 15 years.
Jindal School of Management also offers a Professional MBA Flex that allows students to take classes on a part-time basis, usually six semester credit hours (two courses) per semester.

3. University of Arizona, Tucson, Arizona
University of Arizona's W.P. Carey School of Business offers a 100% online MBA that may be completed in as few as 14 months. With six starts per year (every eight weeks), the program requires 14 core two-unit courses and 17 units of electives for a total of 45 units to graduate. Six concentrations are available including Entrepreneurship, Health Care, Finance, Management and Organizations, Management Information Systems, and Marketing.
Also known as the OMBA, the Eller Online MBA highlights 24/7 asynchronous delivery of content that minimizes students' time away from work and family, the option to decide how many courses to take at a time (take up to six years to complete the program), and AACSB accreditation.

4. Oklahoma State University, Stillwater, Oklahoma
Watson Graduate School of Management houses the Spears School of Business at Oklahoma State University (OSU), which offers two MBA programs. Options include a 42 credit hour part-time MBA, and a 43 credit hour full-time MBA. Concentrations for both programs include Business Sustainability, Data Science, Energy Business, Entrepreneurship, Global Marketing, Human Resource Management, Information Assurance, Marketing Analytics, and Non-Profit Management.
Students in both AACSB-accredited programs also have the option to earn an SAS and OSU Marketing Analytics Certificate. Per the school, the program is designed to "produce analytically-savvy managers who will be adept at leading teams of IT, Marketing and Strategy personnel in any organization to solve complex business problems by analyzing appropriate data. The curriculum for the program was designed in partnership with SAS, a leading provider of marketing analytics software and services."
Both the part-time and full-time Spears OSU MBA programs may be completed online.

5. Colorado State University, Fort Collins, Colorado
The College of Business at Colorado State University (CSU) offers a Professional MBA Program that dates back to 1975 when the first "distance" offering was introduced. Today, the 40 credit hour program is offered 100% online and it offers the opportunity to focus in one of several areas including Computer Information Systems, Finance, and Marketing Data Analytics. Students may also choose to focus in "Professional Enrichment," which consists of electives such as International Study Trip (summer) and Contemporary Issues in Business: Leadership Symposium: Building and Leading Exceptional Organizational Teams.
During the optional International Study Trip, students will meet with business leaders, "learning international business culture, and becoming acclimated to environments" different from their own. In addition to the study trip and several focus areas, the CSU College of Business offers a number of unique business certificates to complement the MBA program. Options include Accounting, Ethics and Auditing, Applied Finance, Business Analytics and Accounting Systems, Business Information Systems, Business Intelligence, IT Project Management, Marketing Management, Nonprofit Administration, and Ski Area Management.
Including the focus area and study trip, students can expect to complete the AACSB-accredited online MBA program in as few as 21 months. However, students have the option to take up to five years to complete the program.

6. West Texas A&M University, Canyon, Texas
The Paul and Virginia Engler College of Business at West Texas A&M University (WTAMU) offers a 31 to 46 credit hour MBA program that may be completed entirely online or through a combination of online and campus courses. Students may choose the General MBA or add an optional emphasis area such as Computer Information Systems, Healthcare Management, Management, or Marketing.
Courses for the program are divided into multiple topic areas that cover accounting, quantitative analysis, computer application and technology, corporate finance, marketing, economic theory, management, business integration, and international business. Course highlights include Accounting in Health Care Organizations, Cultural Intelligence, Financial Management of Biotechnology and Health Care, International Human Resource Management, and Social Network and Media Analysis. All students will complete the MBA Portfolio Capstone course worth one credit hour.
The AACSB-accredited Engler Online MBA may be completed within a two-year period. However, some students have completed the program in as few as 12-18 months.
7. University of North Texas, Denton, Texas
The College of Business (CoB) at the University of North Texas (UNT) offers an accelerated MBA that may be completed 100% online in just 14 months. The AACSB-accredited program has six specializations including Marketing, Marketing Analytics, Organizational Behavior and Human Resource Management, Strategic Management, Supply Chain Analytics, and Supply Chain Management.
Courses for UNT's accelerated MBA programs are offered in eight-week sessions and the curriculum is identical to the school's traditional MBA program. Students can expect to take 18 hours in the MBA core, 15 hours in the concentration, and three elective hours, for a total of 36 credit hours. Course highlights include Administrative Strategy, Discovery and Learning with Big Data, Large Data Visualization, Managing Organizational Design and Change in Financial Management, and Organizational Behavior Analysis.
Depending on the specialization, students will also take seminar courses such as Seminar in Business Ethics and Social Responsibility, Seminar in Compensation and Motivation, and Seminar in Labor Relations.
The MBA program at UNT offers five start dates annually including January, March, June, August and October.

8. Rice University, Houston, Texas
Rice University's Jesse H. Jones Graduate School of Business offers an AACSB-accredited online MBA program known as [email protected]. Per the school, the program develops students' understanding of "essential business principles such as financial accounting, business analytics, marketing strategy, leadership and finance." Students will "learn to apply these larger concepts throughout an organization" as they hone their skills in a focused specialization of study.
In each 11-week term, students will take courses totaling up to six credits. The first year will consist of all core courses, and the second year features a combination of core and elective courses. Sample courses include Business-Government Relations, Competitive Strategy, Corporate Investment Policy, Corporate Responsibility, Economic Environment of Business, Geopolitics of Energy, Futures and Options, Leadership, and Negotiations. 
Students must complete 54 total credits including 36 core credits, 12 elective credits, three credits of Residential Intensive Learning Experiences (ILEs) and three additional credits of either electives or ILEs. "ILEs consist of a variety of simulations, seminars, group projects and guided leadership exercises that bring students face to face with peers, faculty and industry leaders." Domestic ILEs are often held on the Rice University campus in Houston, Texas.
Optional International ILEs are part of the Jones Educational Global Experience (Jones EdGE) and include optional seminars, intersessions and study abroad opportunities hosted throughout the program. Students can take up to two additional ILEs in place of two 1.5-credit electives. Exams are held during the final week of each semester and the program can be completed in 24 months.

9. University of Nevada Reno, Reno, Nevada
The College of Business at the University of Nevada Reno offers an Executive MBA (EMBA) "designed for mid-career executives and experienced professionals who want to advance in today's challenging work world," per the school. The 12-course program is offered as a two-year cohort beginning in fall and each class runs for 12 weeks. All coursework is completed entirely online.
Courses in this AACSB-accredited EMBA program are sequenced to assure continuity in learning and for each class, students will have at least one proctored exam which will be taken through ProctorU, an online proctoring service, or in the 365 Learning Office. Note that EMBA students are required to complete their degree in two years. Each year is divided into three semesters, each containing two courses: Fall, Spring, and Summer.
Course highlights include Economics of the Firm, Information and Communications Technology in Organizations, Personal Branding, Production/Operations Management, and Strategic Management for Executives. Because the EMBA is rigorous two-year degree program that requires a significant time commitment, students can expect to spend at least 10–12 hours each week on course assignments, discussions, and research.

10. University of Utah, Salt Lake City, Utah
The David Eccles School of Business at the University of Utah offers an online MBA program that takes 24 months to complete. The 48 credit hour Eccles MBAO program allows students to take two courses at a time, with courses held in five and 10-week blocks. Students will take courses such as Global Business, Data Analysis, Business Ethics, Business Technology, Managing & Leading Organizations, Project Management, and many others.
Per the school, MBAO classes are available 24/7 and "provide a dynamic, highly interactive learning experience. On-demand lectures with in-depth discussions between team members and faculty using high-end web conferencing means "class is "whenever and wherever" students want it to be. Students also have the opportunity to interact with faculty and other students in a weekly live web-conferencing session, as well as during one three-day on-campus residency. Online forums and multimedia are also utilized in this AACSB-accredited program.