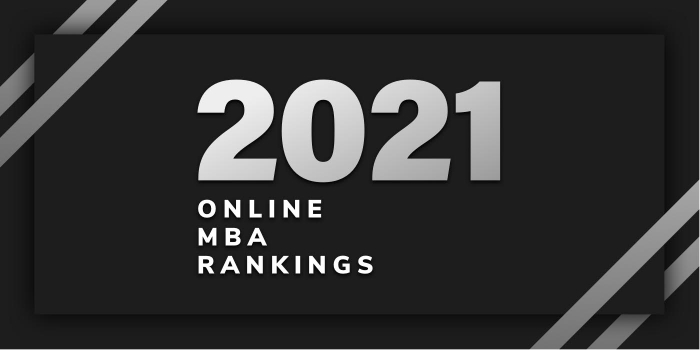 Our 2021 list of the Top 25 Online MBA Programs in the East  We define the East as Virginia, Rhode Island, Maryland, Pennsylvania, New York, Delaware, Connecticut, Massachusetts, Vermont, New Hampshire, and Maine. For an explanation of ranking criteria, click here.
Top 25 East Coast Online MBA Programs – 2021 Rankings

| Ranking | School | State |
| --- | --- | --- |
| 1 | Pennsylvania State University | Pennsylvania |
| 2 | University of Maryland | Maryland |
| 3 | University of Massachusetts at Amherst | Massachusetts |
| 4 | Temple University | Pennsylvania |
| 5 | Syracuse University | New York |
| 6 | Rutgers University | New Jersey |
| 7 | Northeastern University | Massachusetts |
| 8 | University of Pittsburgh | Pennsylvania |
| 9 | Babson College | Massachusetts |
| 10 | The College of William & Mary | Virginia |
| 11 | George Washington University | D.C. |
| 12 | Villanova University | Pennsylvania |
| 13 | Lehigh University | Pennsylvania |
| 14 | Rochester Institute of Technology | New York |
| 15 | University of Massachusetts at Lowell | Massachusetts |
| 16 | University of Delaware | Delaware |
| 17 | Howard University | DC |
| 18 | Quinnipiac University | Connecticut |
| 19 | George Mason University | Virginia |
| 20 | Drexel University | Pennsylvania |
| 21 | Worcester Polytechnic Institute | Massachusetts |
| 22 | Stevens Institute of Technology | New Jersey |
| 23 | University of Massachusetts | Massachusetts |
| 24 | James Madison University | Virginia |
| 25 | American University | DC |
1. Pennsylvania State University – World Campus, State College, Pennsylvania

Pennsylvania State University (Penn State or PSU) serves 100,000 students and 17,000 faculty and staff across 24 campuses and in 20 colleges and schools. As Pennsylvania's only land-grant university, Penn State has a broad mission of teaching, research, and public service. The school houses the Smeal College of Business, which offers 1300+ internship and co-op opportunities annually, 300+ career fairs and corporate recruiting events each year, and a 94% placement rate for MBAs within three months of graduation.
The online MBA program is led by the Smeal College of Business, in partnership with Black School of Business, Penn State Behrend; Penn State Great Valley School of Graduate Professional Studies; and Penn State Harrisburg School of Business Administration. This AACSB-accredited program consists of 48 credit hours, which includes 39 General Management credits and nine credits of concentration work.
Core coursework prepares students to become "more effective business professionals," says the school, "by exposing them to the principles and practices essential to modern management," including accounting, communications, data analysis, digital transformation, economics, ethics, finance, human resources, innovation, leadership, marketing, strategy, and supply chain.
An impressive 24 concentration options are available. Just a few include Business Analytics, Business Architecture, Business Sustainable Strategy, Corporate Innovation and Entrepreneurship, Cybersecurity Intelligence Leadership, Engineering Leadership and Innovation Management, Health Care Business, Homeland Security, Negotiation and Influence, Strategic Leadership, and Taxation.
The MBA program runs on the Penn State semester system, so in addition to a declaring a concentration, students can take advantage of other Penn State online graduate degree and certificate courses and programs.
At the start of the Penn State Online MBA Program, students must attend a five-day Orientation Residency held at University Park, Pennsylvania. The residency provides the opportunity for students to meet program faculty and fellow students while immersing in the first core course in the program, Team Performance. Students will also attend other "highly engaging sessions during the residency that focus on professional development and using online technology."
The residency is required to start the program, and is currently offered virtually, but an on-campus option will return beginning in summer 2022.
2. University of Maryland, College Park, Maryland

Founded in 1856, University of Maryland (UMD) is the flagship campus of the University System of Maryland. UMD is the original land-grant institution in the state and it is one of only 62 members of the Association of American Universities, an organization composed of the leading research universities in the United States and Canada.
Serving nearly 41,000 students and employing 14,505 faculty and staff members, UMD has 388,000 alumni including famous graduates such as Co-founder of Google, Sergey Brin, Jim Henson, founder of The Muppets, and Seinfeld co-writer, Larry David.
The school houses the Robert H. Smith School of Business (est. 1920), which offers an AACSB-accredited online MBA program with six career-focused specializations. Options include Accounting, Finance, General Track, Information Systems and Business Analytics, Marketing, and Supply Chain Management. The program, which consists of 54 total credits completed over six 14-week terms, is largely asynchronous, which allows students to continue to meet personal and professional obligations during their course of study.
The school says "a small number of live online classes presented via the state-of-the-art video conferencing tool, Adobe Connect, provide the benefit of "attending" class and interacting with professors and peers in real time." Students will also benefit from audio and video messaging, integrated multimedia, collaborative online workspaces, and career coaching. Smith's Office of Career Services (OCS) takes students through "a phased approach" to creating their "core career portfolio, complemented with next-level learning and capstone experiences." This entire career development protocol repeats each year so students can "get what [they] need when [they] need it."
The UMD Smith Online MBA may be completed in as few as 24 months, while still providing "the same academic rigor and top faculty" as is offered in the school's campus-based programs.
The online program has two three-day required campus-based residencies that "allow students to build a strong working relationship with their cohort peers and the faculty from the outset, setting the stage for academic success and professional growth, and to come together for a capstone experience at the end of the program."
3. University of Massachusetts at Amherst, Amherst, Massachusetts
Established in 1863 as a land-grant agricultural college, University of Massachusetts-Amherst (UMass-Amherst) offered its first classes in 1867 with four faculty members, four wooden buildings on 310 rural acres, 56 students and a curriculum combining modern farming, science, technical courses, and liberal arts. Today, UMass-Amherst sits on 1,463 acres, the school serves nearly 31,700 students, and it houses the tallest research library on any college campus in the country and the second tallest library in the world.
UMass-Amherst also houses Isenberg School of Management, which opened its doors in 1947 with just 10 faculty members and 15 students. Today, this business school has a faculty of 133 educators and 124 staff-members serving more than 5,300 students. The Isenberg Online MBA enrolls more than 1,400 professionals, many with more than 10 years' work experience.
The 45 credit hour program offers five focus areas including Business Analytics, Entrepreneurship, Finance, Healthcare Administration, and Marketing. Fully accredited by the AACSB, the Isenberg MBA also offers a unique opportunity for students to "try before you buy." Potential MBA students can take up to two classes before applying to learn why the program is a good fit.
Besides five in-demand focus areas and the opportunity to experience the program before committing, Isenberg Online MBA students have an additional delivery option available to them. The Blended Option Part-Time MBA allows students to take some classes online and others at a conveniently located satellite campus in Boston, Shrewsbury, or Springfield, Massachusetts.
4. Temple University, Philadelphia, Pennsylvania

Founded by Russell H. Conwell in 1884, Temple University (Temple) is a public, four-year research university in Philadelphia that serves 37,365 students enrolled in more than 200 programs in 17 colleges and schools. The Fox School of Business at Temple houses the online MBA program known as the "Fox OMBA."
Students in this 48 credit hour program will use a combination of "leading-edge virtual technology," including web conferencing technology and HD, mobile-friendly, and on-demand lecture videos. While coursework for the program is available entirely online, students must attend one weeklong residency, which is held at the school's main campus.
Students must also "attend" live weekly classes held through WebEx. This gives students the opportunity to meet classmates and faculty in an environment that allows them to "speak with and see one another."
The Fox OMBA offers more than a dozen concentration options. Just a few include Business Analytics, Corporate Compliance, Governance and Regulatory Policy, Entrepreneurship, Innovation Management, International Management, Sport Business, Strategic Management, and Travel & Tourism. Concentrations require nine of students' 12 elective credits. Students in pursuit of a General MBA degree may choose nine credits worth of any elective course.
Dual degree programs are also available and include MBA/MS in Business Analytics, MBA/MA in Human Resources Management, and the MBA/MS in Innovation Management and Entrepreneurship.
Even with a concentration, many FOX OMBA students complete this AACSB-accredited program in as few as 20 months. Others take up to six years, utilizing the schools flexible "hop-on, hop-off curriculum carousel." Each student can expect to spend approximately 10-20 hours each week on coursework. The program culminates in an Enterprise Consulting Practicum (Capstone), worth three credits.
5. Syracuse University, Syracuse, New York

Founded in 1870, Syracuse University (SU) is a private, coeducational, research institution located in the heart of Central New York. Additional centers are located in New York City, Washington D.C., and Los Angeles, and study abroad programs are available in 60 countries throughout the world. Around 22,850 students have access to more than 200 majors, 100 minors, and 200 advanced degree programs across the SU's 13 schools and colleges.
In addition to offering a large number of degree and study abroad programs, Syracuse University has more than 30 research centers and institutes spanning disciplines from performance, design, fine arts, and humanities to information, health, social sciences, and STEM (Science, Technology, Engineering, and Mathematics) fields.
The Martin J. Whitman School of Management at Syracuse University offers an online MBA known as the MBA@Syracuse. The program consists of 36 credits of core business courses, 15 credits of specialization-focused electives, and three credits of U.S. and global residencies. Students may choose from six optional specializations including Accounting, Business Analytics, Entrepreneurship, Finance, Marketing Management, or Supply Chain Management.
This AACSB-accredited program combines "live online classes led by Syracuse University faculty, self-paced coursework, and hands-on learning through domestic and international residencies," says the school. While coursework for the MBA program may be completed entirely online, all students will participate in "three day-long residencies in cities around the world." The school says these hands-on experiences are structured like businesses conferences.
Whitman Online MBA students will listen to local speakers who host "relevant discussions and interactive panels," meet with classmates for socializing, and engage with professor's fact-to-face for workshops and networking." In 2019, residencies took place in Hong Kong and Syracuse. In 2018, students also traveled to Dublin, Ireland to study "the industry-leading innovation" taking place there.
The MBA@Syracuse does not require the GMAT to apply. Including residencies, the program can be completed in as few as two years.
6. Rutgers University, Camden, New Jersey

Chartered in 1766, Rutgers University is the eighth oldest institution of higher learning in the United States. Known as the Birthplace of College Football, Rutgers serves more than 71,000 students from all 50 states and 125 countries, making it one of the nation's largest schools by enrollment. More than 150 undergraduate programs and over 200 graduate programs of study are offered in 29 schools and colleges.
Rutgers Business School offers an MBA program that is delivered entirely online. Students in the Rutgers-Camden Online MBA may attend classes year-round, full or part-time, and they may choose from Fall, Spring, and Summer starting points. The 42 credit hour program allows students to learn "in real-time about challenges and solutions that cross disciplines," says the school, with a focus "on the key areas of business." The program also offers "an extensive selection of elective courses that cover every avenue of modern business including marketing, finance, IT, and human resources."
Graduate Certificates allow students to "delve deeper into" a specialty area that matches their career interests and goals. Options include Business Analytics, Digital Marketing, Investment & Private Wealth Management, Modern Financial Technology (FinTech), and Strategic Leadership.
More than 300 current MBA students have the opportunity to travel abroad to satisfy one, three-credit elective requirement. Those who choose the study abroad option will be given the opportunity to meet with top executives and solve real-life international business challenges. There will also be an opportunity to experience cultural activities on the weekends and evenings. Just a few study abroad locations include Brazil, China, Cuba, Panama, Portugal, South Africa, and South Korea.
Graduates of the AACSB-accredited Rutgers-Camden Online MBA program will learn to "make knowledgeable decisions and become a respected leader, increase their influence by employing management skills to guide their teams and companies, better analyze problems and clearly articulate effective solutions, and expand their network and connect with notable Rutgers alumni, classmates, and faculty."
Other program highlights include small class sizes, learning tools and tutoring, access to student coaches and advisors, a five-year ROI of $169,768, and Focused Learning Modules that allow students to "build expertise" in their career area. Modules include Business Analytics, Digital Marketing, Investments & Private Wealth Management, and Strategic Leadership.
Graduates of the Rutgers-Camden Online MBA have gone on to successful careers at Aramark, Christie's, Comcast, Deutsche Bank Securities, Easterseals, Ernst & Young, JP Morgan, Lockheed Martin, Morgan Stanley, Prudential, Shell Oil, Subaru, US Bancorp, the US Navy, Verizon, Westinghouse Lighting Corp., and many others.
7. Northeastern University, Boston, Massachusetts

Founded in 1898, Northeastern University serves 20,400 undergraduate students and 17,379 graduate students across 10 locations in Boston; the Massachusetts communities of Burlington and Nahant; Charlotte, North Carolina; London; San Francisco; Seattle; Silicon Valley; Toronto; and Vancouver. The school offers more than 250 programs in nine colleges and schools.
Serving around 5,500 students, Northeastern University's D'Amore-McKim School of Business offers an AACSB-accredited MBA degree program that can be completed 100% online in as few as two years. The program, which places emphasis on digital analytics and expertise, consists of 50 credit hour of study divided into two segments: 13 core courses and five electives. Eight in-demand specialization options are offered including Finance, Healthcare Management, High Technology Management, Innovation Entrepreneurship, International Management, Marketing, Supply Chain Management, and Sustainability.
D'Amore-McKim Online MBA students also have the option to earn a Dual Masters in Finance/MBA by taking "as few as four to seven additional finance electives," says the school. Both the single and dual online programs utilize interactive multimedia tools such as virtual class discussions, and discussion boards, as well as team projects and individual assignments for a well-rounded academic experience.
An optional residency is offered to online MBA students who have (or will have) completed at least three courses (nine credits). The campus-based residency is an intensive one-week course equivalent to a three-credit elective. An International Field Study Residency is offered to online MBA students in good standing who have (or will have) completed the first year core courses (26 credits) with a GPA of 3.0 prior to the start of the field study trip. Recent locations include China, Russia, Greece/Turkey, and Chile/Peru.
8. University of Pittsburgh, Pittsburgh, Pennsylvania

Founded in 1787 as Pittsburgh Academy, the University of Pittsburgh (Pitt) is one of the oldest institutions of higher education in the United States. This state-related research university is one of the 17 founding members of the AACSB. The school is also home to one of the first federally funded centers for international business and research.
University of Pittsburgh serves 33,320 students enrolled in more than 300 programs at the Pittsburgh campus as well as Pitt's regional campuses in Bradford, Greensburg, Johnstown and Titusville. Pitt houses the Joseph M. Katz Graduate School of Business, which offers a part-time, flexible MBA designed for "working professionals seeking business acumen and individualized career growth," says the school. "The elements of the part-time Katz MBA are delivered in several convenient formats including either online or on-campus core courses." Students set the pace that works for them.
The program requires campus visits two to three weekends a semester. Like the full-time Katz MBA, the online program offers "an integrated core curriculum with a solid foundation in business principles; countless networking, leadership, and career-building opportunities; and an expert faculty made up of innovative thought leaders."
A unique component of the online program is the Katz Credential. MBA students may choose to complete a Credential "in order to highlight expertise and hands-on experience in a particular business area." Credentials include a "bundle of specialized coursework that build the students capabilities, knowledge, and experience in a meaningful way." Options include Business Analytics, Finance, Marketing Operations, and Technology Management.
Another innovative component of the program is the Business Disruption Series. "Through this innovative series, students learn what business disruption is and how to become a catalyst for change." Students can select "game changer" courses that "highlight faculty expertise on relevant and current business issues and trends." For example, the student may take a course "exploring augmented reality (AR) marketing or learning how the global pandemic has influenced private equity investing."
Students typically complete the part-time Katz Online MBA Program in three years.
9. Babson College, Wellesley, Massachusetts

Established in 1919, Babson College is an independent, not-for-profit institution that opened with just 27 students. Today, the school serves more than 2,350 undergraduate and nearly 1,000 graduate students representing more than 80 countries.
The F.W. Olin Graduate School of Business at Babson grants highly ranked MBA and MS degrees, as well as Certificates. The school also offers an Executive Education program for professionals looking to grow in today's rapidly evolving business environment and Babson Global works with corporate, university, government, and foundation partners to advance entrepreneurship education and Entrepreneurial Thought and Action® worldwide.
Olin offers an MBA in Entrepreneurship that can be completed 100% online. Students in the program have the option to register for on-campus classes. Forty-five total credits, of which one-third are the required core and two-thirds are electives that the student chooses. Because the program has multiple start dates, "there's never a wait to dive in," says the school.
Highlights for this AACSB-accredited program include experiential learning "woven throughout," the opportunity to participate in student consulting projects across more than 80 partner organizations each year, and seven unique concentrations, including two STEM-designated options. Concentrations include Business Analytics, Business Analytics and Machine Learning (STEM), Entrepreneurship, Global Management, Finance, Quantitative Finance (STEM), and Marketing. Students may choose up to two concentrations.
Graduates of the Olin Online MBA Program enjoy an 81% employment rate within three months of completing the program. Program alumni are "succeeding as entrepreneurial leaders in organizations ranging from Fortune 500 companies to dynamic startups." Top industries for graduates include Technology, Consumer Products/Retail, Financial Services, Manufacturing, Life Sciences/Healthcare, and Consulting.
10. The College of William & Mary, Williamsburg, Virginia

On February 8, 1693, King William III and Queen Mary II of England signed the charter for a "perpetual College of Divinity, Philosophy, Languages, and other good Arts and Sciences" to be founded in the Virginia Colony. With original plans for the school dating back to 1618—decades before Harvard—William & Mary (M&W) is the second-oldest institution of higher learning in America.
A 17-year-old George Washington received his surveyor's license through W&M and would later return as its first American chancellor, Thomas Jefferson received his undergraduate education here, as did presidents John Tyler and James Monroe.
The Raymond A. Mason School of Business at W&M offers a 49-credit MBA program for working professionals. This interdisciplinary program consist of 12 courses and it may be completed entirely online. Each course is 7.5 weeks, with just 22 students per course. Students begin the program with the unique Renaissance Manager course, which explores "design thinking as an iterative approach to identifying and solving problems," says the school.
The program also explores "the importance of both deep expertise and broad knowledge, understanding systemic connection as a part of creative problem-solving, how a willingness to experiment promotes a growth mindset, and the ability to synthesize new ideas from seemingly unrelated or opposing ideas," and more.
Other highlights include courses such as Global Managerial Economics, Integrated Technology, Leadership for the 21st Century, Revolutionary Leader Practicum, and Strategy.
Students will attend just one on-campus residency. This Friday thru Sunday event includes speakers, team-building activities and networking functions and students will have the opportunity to "discuss core business topics such as leadership, finance and marketing, as well as current events and global issues." Students will meet the school's Executive Partners (EPs), "a select group of retired professionals who volunteer their time as mentors to all Mason School of Business students."
Students can expect to complete the AACSB-accredited W&M Mason Online MBA in just two years.
11. George Washington University, Washington, D.C.

Founded in 1821 and serving more than 26,000 students, George Washington University (GW or GWU) is the largest higher education institution in DC. Located just four blocks from the White House, the school has a long list of prominent alumni including around 18 state governors, three current and 20 former US senators and six current and 86 former members of congress.
GWU offers hundreds of programs, including 100 online programs in 12 areas, in 14 schools and colleges. In addition to these programs. The School of Business (GWSB) offers an Online Traditional or Healthcare MBA that may be completed in just two years and up to five. Both programs require 55.5 total credit hours of study including 28.5 credit hours of core courses and 27 credit hours of elective courses for the Traditional MBA, and 31.5 credit hours of core courses, 12 healthcare electives, and 12 general electives for the Healthcare MBA.
The Healthcare MBA is delivered 100% online (or hybrid) and features specialized electives such as Service Line and Project Management, Managing the Skilled Nursing Facility, and Physician Practice Management. Designed for professionals on the path to becoming Health Care Managers, Administrators, and Executives, the program also offers the option to complete one of seven graduate certificates offered by the George Washington University School of Medicine and Health Sciences as part of the curriculum. Clinical Research Administration, Integrative Medicine, and Regulatory Affairs are just a few options.
The Traditional MBA option may be completed 100% online or in hybrid format. The program offers optional concentrations in Consulting, Finance, Global Management, Government Contracts, Information Systems & Technology Management, and Project Management. Students may choose up to two concentrations or they may customize their electives to create their own focus area. Electives may be chosen from the schools of Business, Health Sciences, Public Health, Law, and more. Elective courses may also serve to add a graduate certificate to this Traditional MBA.
The GWSB Online MBA curriculum also includes Business and Society (a required 1.5 credit on-site residency course in Washington, DC) and a 1.5 credit Information Systems and Technology Management selective course. Students are offered nine opportunities to complete the on-site course, which offers a firsthand look through visits to the Federal Reserve, the US Congress, and the World Bank.
Both AACSB-accredited programs offer three start times (August, January, and May), along with optional short-term study abroad opportunities in places such as Denmark, Israel, Mexico, and more.
12. Villanova University, Villanova, Pennsylvania

Villanova University was founded by the Order of Saint Augustine in 1842. The school serves 11,000 undergraduate, graduate and law students in the University's six colleges—the College of Liberal Arts and Sciences, the Villanova School of Business (VSB), the College of Engineering, the M. Louise Fitzpatrick College of Nursing, the College of Professional Studies and the Villanova University Charles Widger School of Law. More than 100 programs are available.
Villanova School of Business offers an MBA program that can be completed entirely online. The program is the "very same" program as the on-campus Villanova MBA, says the school. The curriculum includes courses that will expand students' "essential business knowledge with a focus on innovative and applied concepts, real-world immersion experiences and peer-to-peer learning." Program highlights include small classes (approximately 20 students per online section), live weekly sessions, and two residency opportunities, which foster "a strong learning community among faculty and students." Students may also participate in an optional international immersion into an emerging economy.
Students in the VSB Online MBA can begin the 48 credit hour (21 course) program in the fall, spring or summer semester. The curriculum is comprised of core, elective, fundamental, and capstone classes and students may choose up to two specializations from five areas including Analytics, Finance, International Business, Marketing, and Strategic Management.
Semesters for this AACSB-accredited program are divided into two sessions, each of which is eight weeks in the fall and spring and seven weeks in the summer. Students in the program progress through the curriculum, typically taking one or two courses per session. The VSB Online MBA can completed in just two years (Fast Track) and graduates of the program enjoy a 25% average salary raise.
13. Lehigh University, Bethlehem, Pennsylvania

Lehigh University is a small, private research university that serves more than 7,000 students. Founded in 1865 by industrial pioneer, entrepreneur, and philanthropist Asa Packer, Lehigh University offers more than 100 majors, minors and programs across four colleges.
The College of Business and Economics at Lehigh University offers a 100% online Flex MBA. This 36 credit hour program highlights global business concepts and analysis, cultural intelligence, organizational leadership, sustainability, crisis management resolutions, social consciousness issues, ethical decision-making, and optional business consulting projects. While the program does not offer any concentrations, students may earn a Professional Certificate in Corporate Entrepreneurship in addition to the MBA. The certificate is offered through VENTURESeries, which the school describes as a "one-of-a-kind executive certificate program that focuses squarely on new venture creation."
Another option, the 45 credit hour MBA & Engineering (MBA & E) program, is offered through the College of Business and Economics and the P.C. Rossin College of Engineering and Applied Sciences. This unique program is designed for students with an undergraduate degree in engineering. Classes for the program can be taken both on campus and online. MBA & E concentrations include Chemical Engineering, Manufacturing Systems Engineering, and Mechanical Engineering. Upon completion of the MBA & E Program, students receive an MBA degree with a concentration in their chosen area. Both programs are AACSB-accredited.
Despite a global pandemic, three out of four Lehigh MBA students were able to secure employment within three months of graduation. With an average starting salary of $109,000, MBA graduates have been hired by companies such as Anheuser-Busch, ADP, AstraZeneca, BP- China, HubSpot, Motorola, QVC, TESLA, The Hershey Company, and the United Nations.
14. Rochester Institute of Technology, Rochester, New York
Rochester Institute of Technology (RIT) "was born of an unlikely institutional marriage of an influential cultural association, the Rochester Athenaeum, founded in 1829, and a technical training school, the Mechanics Institute, founded in 1885," says the school. "The institute adopted the name Rochester Institute of Technology in 1944 and awarded its first bachelor of science degree in 1955."
Today, RIT serves nearly 19,000 students in nine colleges and two degree-granting units. The school also has partnerships on nearly every continent and overseas campuses located in China, Croatia, Dubai, and Kosovo.
The Saunders School of Business at RIT offers an interdisciplinary, accelerated Online Executive MBA (EMBA) that requires just one three-day on-campus orientation. The program delivers 49 credit hours of study in just 17 months (four semesters).
The Online EMBA is AACSB accredited and offers foundational courses such as Accounting, Finance, and Leadership, as well as "distinctive" courses such as Product Commercialization and Technology Management. Classes are delivered via weekly synchronous sessions, "offering high-quality video and audio functionality for optimal interaction."
Other program highlights include a curriculum that is identical to the on-campus program, with many of the same faculty teaching both formats, a required International Immersion Experience (airfare and lodging is are provided by the program), and the Capstone Consulting Program where students serve as consultants to actual businesses.
The RIT Saunders Online EMBA offers two starts each year (late August and January). Because it is a cohort-based program, "all students enter the program at the same time, take the same classes, and move through the program with their initial cohort," explains the school. "Some courses will be taken with another cohort (i.e., dual-cohort) and students are assigned to teams at the start of the program and will remain with their team for the duration of the program."
Students who start the Online EMBA in late August will finish in December of the following year and students who start in January will finish in May of the following year.
15. University of Massachusetts at Lowell, Lowell, Massachusetts

Founded in 1894, University of Massachusetts at Lowell (UMass Lowell) is a top 200 national public research university and one of the largest employers in the region. The school has 2,260 faculty and staff members who serve around 18,000 students enrolled in 190 undergraduate majors, graduate degrees and doctoral degrees. Programs are offered in six colleges and schools including the College of Education, Francis College of Engineering, the College of Fine Arts, Humanities and Social Sciences, Kennedy College of Sciences, Zuckerberg College of Health Sciences, the Honors College, and the Robert J. Manning School of Business.
The Manning Online MBA program has nine optional concentrations including Accounting, Business Analytics, Entrepreneurship, Finance, Healthcare, Information Technology, International Business, Managerial Leadership, and Marketing. A General MBA is available for students seeking a broader degree.
All students will complete 12 credit hours of prerequisites (six courses – two credits each – eight weeks), the required advanced core 21 credit hours (seven courses at three credit hours each), and nine credit hours of electives (three courses at three credit hours each) for a total of 42 credit hours. Course highlights include Accounting Information for Management Decisions, Analysis of Customers and Markets, Global Enterprise and Competition, Managing Organization Design and Change, and Strategy Formulation and Implementation.
Courses for this AACSB-accredited program are offered in the fall, spring, and summer semesters. A minimum of nine credits is considered a full-time course load. Full-time students usually complete their degree requirements in two years. Part-time students must complete their degree requirements within five years. An accelerated option allows students to earn their MBA in as little as 12 months.
16. University of Delaware, Newark, Delaware

University of Delaware (UD) was established in 1743 after a petition, led the Rev. Dr. Francis Alison and the Presbytery of Lewes, expressed the need for an educated clergy to open a school in New London, Pennsylvania. Today, UD is a land-, sea- and space-grant university that serves just over 23,600 students enrolled in more than 400 majors, minors and graduate programs in 10 colleges and schools.
The Alfred Lerner College of Business and Economics offers an AACSB-accredited MBA that may be completed entirely online in as few as 16 months. A hybrid option is also available. The program has five concentrations including Business Analytics, Finance, Healthcare Management, International Business, and Strategic Leadership. Students in the program may combine multiple concentrations (two or more) to "gain greater flexibility in the job market," says the school and "stand out from the crowd."
A customized option is also available for students seeking a concentration in another area. Students who choose this option may tailor the degree by selecting the electives that match their personal career needs. The MBA with one concentration consists of 44 credits, a dual concentration consists of 47 credits, and a triple concentration is 53 credits. All students will take core online MBA courses such as Corporate Strategy, Ethical Issues in Domestic and Global Business Environments, and Managing People, Teams and Organizations.
Other Lerner MBA highlights include intensive, seven-week courses, access to a personal career coach and career workshops, GMAT and fee waivers for qualified applicants, and six start dates per year. Lerner Online MBA students also benefit from partnerships with Bloomberg, JPMorgan Chase, and KPMG, among others, along with a network of more than 30,000 alumni around the country and across the world.
Graduates of the UD Lerner Online MBA Program typically earn more than their peers do at other business schools. The Class of 2019 earned around $8,500 more in their starting salaries and an average salary increase of $16,381.
17. Howard University, Washington, DC

Founded on March 2, 1867 by Civil War hero General Oliver O. Howard, Howard University is a leader in STEM fields and a top provider of African-American undergraduates who go on to earn Doctoral degrees in Science and Engineering. The school, nearly 9,700 students enrolled in over 80 undergraduate degrees along with 30 disciplines and 100 specializations at the graduate level. Programs are offered in 13 colleges and schools.
The Howard University School of Business offers an online MBA designed for "early to mid-career professionals who want to grow as business leaders," says the school. The program consists of 48 credit hours including 11 core courses and five electives. Course highlights include Data Analytics, E-Commerce in Supply Chain Management, Entrepreneurship, Financial Modeling, Global Management Consulting, Principles of Information Systems, and Productions and Operations Research.
Other program highlights include international immersion opportunities, recruitment programs (connections with corporations, government agencies and nonprofit organizations) and access to an extensive alumni network.
18. Quinnipiac University, Hamden, Connecticut

Founded in 1929, Quinnipiac University (QU) began as Connecticut College of Commerce. In 1935, the school became the Junior College of Commerce (JCC), and in 1951 it was renamed Quinnipiac University. This private, coeducational university offers more than 140 programs to approximately 10,000 undergraduate, graduate, medical and law students. The school's three campuses are located in Hamden and North Haven, Connecticut, and programs are offered in the College of Arts and Sciences and eight professional schools.
The School of Business at QU offers a 33 credit hour Professional MBA Program that may be completed 100% online in as few as two years. The program allows students to choose from a variety of career-focused electives to tailor their learning experience "for maximum alignment" with career goals, says the school. Elective coursework builds on the core curriculum, "using those skills as a lens" as students "explore areas ranging from finance and marketing to entrepreneurship and health care management."
Elective course highlights include Business Sustainability, Corporate Entrepreneurship, Data Mining, Decision Making in a Global Economy, Designing Mentoring and Coaching Programs, International Business Negotiation, Quality Management in Health Care Facilities, Predictive Modeling, Strategic Public Relations and Reputation Management, and Technology and Innovation Management.
The AACSB-accredited QU Professional Online MBA offers three start dates: Fall (late August), Spring (late January), and Summer (late May).
19. George Mason University, Fairfax, Virginia

George Mason University (GMU) was founded in 1957 as University College, the Northern Virginia branch of the University of Virginia, offering courses in Engineering and the Liberal Arts. Named for statesman and patriot George Mason, GMU has grown into a public, coeducational institution of higher learning consisting of 12 colleges and schools offering more than 200 undergraduate and graduate degrees.
The School of Business offers a 48 credit hour online MBA that provides the opportunity to earn a Graduate Certificate in Business Analytics (BA). BA Certificate students will gain the skills needed for big data through hands on-use of modeling and other techniques. In addition to the BA Certificate, GMU Online MBA students will have the opportunity to participate in GMU's Global Residency program, consisting of a week abroad, where they will "visit and study companies in a foreign country while completing a team project and gaining a transformative view of business from another country's perspective," says the school.
All Mason Online MBA students will engage in four areas of study: Analytical Decision Making, Collaborative Communication and Leadership, Contemporary Issues in Business, and Knowledge of Functional Business Disciplines. Courses for the program are offered in convenient, part-time online asynchronous format and include Advanced Data Mining For Business, Financial Reporting and Decision Making, Global Business Perspectives, Management of Information Technology, and Project Management, to name a few.
GMU graduates enjoy an 80% employment rate within six months of graduation. Mason Online MBA graduates go on to "fulfill a range of in-demand leadership roles," including Analyst, Contract Specialist, Contracting Officer, Director, Logistics Analyst, Negotiator, Project Manager, Senior Analyst, Senior Consultant, Senior Financial Analyst, and many others.
20. Drexel University, Philadelphia, Pennsylvania

Founded in 1891 in Philadelphia, Drexel University (Drexel) serves approximately 24,205 students enrolled in more than 200 degree programs in 15 colleges and schools. Housing one of the nation's oldest, largest, and best-known cooperative education programs, Drexel has three Philadelphia campuses along with a number of other regional sites, it's home to The Academy of Natural Sciences of Drexel University—the nation's oldest major natural science museum and research organization, and it has international research partnerships including China and Israel.
Drexel Online is one of the oldest and most successful providers of online degree programs in the U.S. Through Drexel Online and the LeBow College of Business, students can earn what the school describes as a "versatile" online MBA that allows students to explore the latest trends in business, such as AI and blockchain, and apply them to their current careers immediately.
This 49 credit hour AACSB-accredited program "is organized into four 10-week quarters per year (as opposed to the traditional two semester system)," which means students "can take more courses in a shorter time period." Course highlights Business Problem Solving, Corporate Financial Management, Essentials of Financial Reporting, Leading High-Performance Teams, Legal Options in Decision Making, Managing and Leading the Total Enterprise, and Strategy Analysis.
LeBow Online MBA students may customize their learning experience to their interests and career goals through concentrations, graduate minors, and dual degree programs. Online concentration options include Business Analytics, Finance, General Business/Customized, and Marketing. Finance and Marketing minors are also offered online.
All students may take advantage of multiple networking opportunities, both local and international residency options, portfolio projects, and case simulations. In addition, any online business degree can be paired as a dual degree such as MBA/MS Business Analytics, MBA/MS Sport Management, or MS Business Analytics/MS Sport Management, with shared coursework usually through elective credits.
The Drexel LeBow Online MBA may be completed in few as 18 months or up to five years.
21. Worcester Polytechnic Institute, Worcester, Massachusetts

Founded in 1865, Worcester Polytechnic Institute (WPI) is one of the nation's earliest technological universities. The Institute offers a "groundbreaking project-based curriculum" says the school, along with opportunities to work with faculty on "interdisciplinary research seeking solutions to important and socially relevant problems, both on campus and at more than 50 project centers throughout the Americas, Africa, Asia-Pacific, and Europe." Just a few graduate research programs include Cybersecurity, Learning Sciences and Technology, Materials Science, and Robotics.
Serving nearly 7,000 students, WPI offers dozens of programs in four schools and 17 departments and divisions. Foisie Business School at WPI offers a STEM-focused MBA that many be completed entirely online. Program highlights include an asynchronous schedule, a project-based curriculum with 20 specialization options, and in-demand and tech skills woven into every course.
Students may choose up to two specializations. Just a few options include Advanced Business Analytics Methods, Brands, Products, and Consumers, Digital Transformation, IT User Experience, Operational Excellence, Organizing and Managing Innovation, and System Design for UX. Students may also customize their own specialization.
Graduates of the AACSB-accredited Foisie WPI Online MBA Program have gone on to successful careers in business or acceptance into the PhD in Business Administration program at WPI.
22. Stevens Institute of Technology, Hoboken, New Jersey

Founded in 1870, Stevens Institute of Technology, The Innovation University™, serves more than 6,800 students annually enrolled in more than 100 programs at all levels. Academic offerings are organized and delivered by three schools and one college focused on Business, Engineering & Science, the Humanities, and Systems & Enterprise.
The School of Business at Stevens Institute of Technology offers a fully online MBA program that "emphasizes the potential of technology, data and analytics, with students learning how to interpret information and use it to make the best decisions for their enterprise." Students in this 39 credit hour program will collaborate with one another through group projects and presentations, while developing creativity and critical thinking skills "through the incorporation of the latest faculty research in management, analytics, innovation and marketing."
The AACSB-accredited Stevens Online MBA also highlights a Field Consulting Program that pairs students with a partner company to help solve a "real problem" or assess a potential opportunity for a partner company. Field Consulting Program projects "span a range of interests, from business process design, supply chain management and technology assessment to market research, innovation adoption and customer relationship management."
Graduates of the Stevens Online MBA Program enjoy a 93% employment rate within three months of graduation. Many have gone on to land high-profile jobs at Google, Goldman Sachs, and others.
23. University of Massachusetts at Dartmouth, Dartmouth, Massachusetts

Founded in 1895, University of Massachusetts – Dartmouth (UMass Dartmouth) is one of the five campuses of the public University of Massachusetts. The school serves around 8,150 students enrolled in more than 100 programs in six colleges.
The Charlton College of Business at UMass Dartmouth offers an MBA that may be completed entirely online. The program also allows students to customize the degree based on their career goals and it offers experiential learning, collaboration, and professional networking opportunities.
MBA candidates must complete 30 credits, seven required advanced core courses (21 credits), and three electives (nine credits). Courses "build upon the foundation knowledge by presenting interdisciplinary, case-based material that develops the student's ability to manage or operate complex business operations," says the school.
Ten concentration options are available including Accounting, Business Analytics (STEM approved), Environmental Policy (interdisciplinary), Finance, Health Systems Management, International Business, Marketing, Organizational Leadership, Public Management (interdisciplinary), and Supply Chain Management and Information Systems. Concentrations require additional credits and most require campus visits.
Students can complete the Charlton Online MBA Program in one year, full-time—or part-time, at their own pace.
24. James Madison University, Harrisonburg, Virginia
James Madison University (JMU) was founded in 1908 as the State Normal and Industrial School for Women at Harrisonburg. This public university serves around 21,500 students enrolled in nearly 300 degree programs in dozens of departments, colleges, and schools. The College of Business (CoB) is one of 5% of business schools with accreditation by the AACSB. MBA options are designed for working professionals and include the Executive Leadership MBA, Information Security MBA, and the Innovation MBA. 
Programs are offered in a hybrid format, which means students are required to meet at a satellite location once every other month or on a one-week in person, two weeks online rotating schedule (Innovation MBA). All programs highlight networking opportunities, professional workshops, and an option to participate in an international 10-12 day residency "full of rich learning and networking experiences," says the school.
The Executive Leadership and Information Security MBAs take 28 months to complete and the Innovation MBA takes 21 months to complete.
25. American University, Washington, DC

Chartered by Congress in 1893, American University (AU) is a Methodist-affiliated, private, co-educational doctoral institution that serves around 14,300 students from all 50 states + D.C. and 124 countries. More than 170 programs are offered at the undergraduate and graduate levels in eight schools and colleges.
Kogod School of Business at AU offers a 48 credit hour online MBA known as the MBA@American. The program "prepares students to apply leadership and financial analysis skills to help businesses operate more effectively across a wide range of industries," says the school. The curriculum includes 12 courses, three electives, and two in-person immersions. During these mandatory immersions, "students learn from leading experts in business capitals around the world." Immersions are also hosted in international cities such as Beijing, Brussels, and Madrid.  This unique opportunity provides students with "new perspectives on how different cultures conduct business."
The MBA@American offers six pre-designed focus areas including Business Analytics, Consulting, Cybersecurity, Finance, Legal Studies, and Marketing. An Analytics Certificate is also available as well as the opportunity to customize a focus area through dozens of electives.
Should students choose to visit the AU campus outside of the required times, they will have access to the Entrepreneurship Incubator. Highlights include pitch days and competitions, access to the incubator to network, participation in workshops, and guest speakers.
Most students complete the MBA@American on a 24-month course sequence, but the Kogod Online MBA can also be completed on a 12-month, 15-month, or 18-month track.