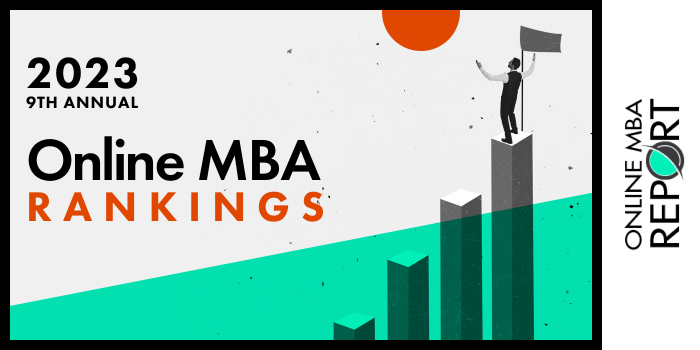 Our 2023 rankings of the Top Online MBA Programs in Kansas. For an explanation of ranking criteria, click here.
Top Online MBA Programs in Kansas - 2023 College Rankings

| Ranking | School | City |
| --- | --- | --- |
| 1 | University of Kansas | Lawrence |
| 2 | Kansas State University | Manhattan |
| 3 | Wichita State University | Wichita |
1. University of Kansas, Lawrence, Kansas

The School of Business at University of Kansas (KU) is home to an AACSB-accredited MBA program with a flexible online option. There are zero residency requirements and the program may be completed in just 2.5 years, with students taking one course at a time for eight weeks each.
Forty-two credit hours (13 courses) are required and three focus areas are available including Finance, Management & Leadership, and Marketing. Management & Leadership student will take courses such as Strategic Organizational Design and Change Management; Managing Internationally; Leadership Philosophy and Practice; and Developing Effective Management and Team Skills.
Finance includes courses such as Financial Institutions and Markets; Corporate Finance; and Investments. The Marketing consists of course selections such as Managing Brands, Digital and Social Media Marketing, Consumer Behavior, Customer Relationship Management, Integrated Marketing Communications, and Global Marketing.
Other program features include participation in the Study Abroad Program and the annual Business Career Fair, which attracts more than 100 companies from across the country.
Graduates of the Online MBA Program at University of Kansas are frequently promoted to a higher-level position within a year of graduating. Around 30% of alumni who receive a promotion experience a salary increase of 30%, and one in four KU MBA alumni saw salary increases of more than 25% within three years of graduation.
KU Business graduates have been recruited by major corporations such as Microsoft, JP Morgan Chase, and AT&T.
Established in 1865, University of Kansas opened its doors on September 12, 1866 with one building and 55 students. Today, the school serves 28,500 students across five campuses including Lawrence, Overland Park, Kansas City, Wichita, and Salina, Kansas. Students at KU have access to more than 400 degree and certificate programs across 13 academic schools. University of Kansas Accredited by the Higher Learning Commission (HLC).
2. Kansas State University, Manhattan, Kansas

The College of Business Administration at Kansas State University's (K-State) has a Professional MBA (PMBA) program that may be completed online. The program has just one required two-day on-campus orientation that includes networking, professional development, and team building activities. An optional faculty-led international trip is part of the program as well as a Professional Development and Learning Seminar.
In addition to orientation, K-State provides professional development through meetings and other regular events hosted by the Graduate Studies Advisory Council (GSAC). Examples include Graduate Student Pro Con and data analytics workshops. Some past speakers and topics include Digital Transformation & Pandemic by Dr. Piyush Sarwal, VP of Product Management & Engineering at Oracle; AI and Business Applications; Amazon Web Services (AWS): Cloud Computing, SQL by Michael Bryant, Senior Technical Business Development Manager; Cybersecurity and Executives; and Data Wrangling and Processing Using SQL by Zach Button, HP.
The AACSB-accredited Online PMBA at Kansas State University requires 30-36 credit hours (10-12 courses) depending on previous undergraduate coursework. Classes are eight weeks, which allows students to focus on one course at a time. Course examples include Managing the Triple Bottom Line Business, Marketing Concepts and Research, Information Technology Strategy and Application, Operations and Supply Chain Management, Business Strategy, and Managing Organizational Behavior.
The K-State Online PMBA culminates with the Business Capstone. During this three credit hour course, students will apply what they've learned to a final project. Nearly all Kansas State University graduates are employed or promoted within six months of graduation.
Some top employers of K-State MBA alumni include Amazon, Honeywell, Cargill, Koch Industries, Textron, Burns and McDonnell, Kiewit, Cerner Corporation, Gramin, and Shamrock Trading Corp.
Founded in 1863 as Kansas State Agricultural College, Kansas State University is the nation's first operational land-grant university, and the only one in Kansas. Serving approximately 19,720 students, K-State provides more than 400 majors, degrees, and certificates across four campuses (Manhattan, Saline, Olathe, and Global), nine colleges, and The Graduate School. Kansas State University is accredited by the Higher Learning Commission (HLC).
3. Wichita State University, Wichita, Kansas

Wichita State University (Wichita State or WSU) is home to the oldest MBA program in the region. The school is also the regions only AACSB-accredited institution. Housed in the W. Frank Barton School of Business, the program can be completed online, on-campus, or a combination of the two (hybrid).  A General Track is available or students may choose one of four online concentrations. These include Marketing; Human Resource Management; Finance; and Health Care Administration.
Courses for the Barton WSU Online MBA are offered in an eight-week format. Core courses include Organizational Behavior; Law & Ethics for Business; Management Information; Advanced Strategic Management or The Berlin Experience; Managerial Finance; Decision Making Analysis; and Operations Management.
The Berlin Experience is one of the few programs of its kind in U.S. and Germany. This Management course provides the opportunity to work on an international consulting project for European and American companies. Wichita State MBA students and students from the Berlin School of Economics and Law work in teams to complete the project (Capstone). As part of the course, students have the opportunity to travel to Berlin for one week before the spring semester begins.
The Online MBA at Wichita State University requires 36-51 credit hours, depending on the students undergraduate degree. Students with a Bachelor's degree in Business will typically have to complete 36 credit hours. Students with a degree in another area will complete up to 51. The program can be completed in as few as 12 months. Graduates are prepared to pursue management roles across industries.
Wichita State University was found by Reverend Joseph Homer Parker in 1886. The school opened as Fairmount College, with classes beginning in 1895. Today, WSU serves 15,000 students enrolled in more than 100 undergraduate programs, over 40 master's degrees, two doctoral programs, one education specialist area, and a number of graduate certificates. Programs at Wichita State are housed across nine colleges and schools. Wichita State University  is accredited by the Higher Learning Commission (HLC).