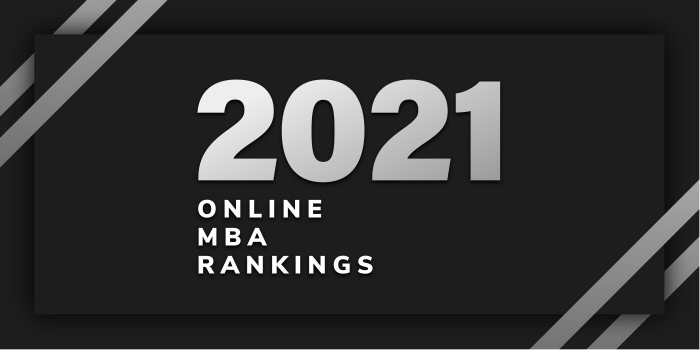 Our 2021 rankings of the Top Online MBA Programs in Kansas. For an explanation of ranking criteria, click here.
Top Online MBA Programs in Kansas - 2021 Rankings

| Ranking | School | City |
| --- | --- | --- |
| 1 | University of Kansas | Hays |
| 2 | Kansas State University | Manhattan |
| 3 | Wichita State University | Wichita |
1. University of Kansas, Hays, Kansas

In 1866, University of Kansas (KU) welcomed its first class of 55 students to what the school calls "an unfinished building on a treeless ridge called Mount Oread." Today, the school has five campuses — Lawrence, the Edwards Campus in Overland Park, and medical branches in Kansas City, Wichita, and Salina — serving nearly 28,000 students in dozens of schools and departments.
The School of Business at University of Kansas (KU School of Business) offers an AACSB-accredited MBA program that may be completed entirely online. There are no residency requirements for this 42 credit hour program and courses are eight weeks each. Three focus areas are available including Finance, Management & Leadership, and Marketing.
The Finance focus requires four courses including Advanced Topics in Finance, Corporate Finance, Financial Institutions and Markets, and Investments. Management & Leadership requires Developing Effective Management and Team Skills, Leadership Philosophy and Practice, Managing Internationally, and Strategic Organizational Design and Change Management. The Marketing focus requires Consumer Behavior, Digital and Social Media Marketing, Global Marketing, and Integrated Marketing Communications.
With three start dates per year (spring, summer and fall), the KU School of Business Online MBA may be completed in just over two years.
2. Kansas State University, Manhattan, Kansas

Kansas State University (K-State) was founded in 1863 as Kansas State Agricultural College—the nation's first operational land-grant university, and the only one in Kansas. The school serves nearly 21,000 students enrolled in more than 250 undergraduate majors and programs and 165+ graduate degrees and certificates in nine colleges and one school.
The College of Business Administration at Kansas State University (K-State CBA) offers a Professional MBA (PMBA) that may be completed online. The program has just one required two-day on-campus orientation that includes team building, networking, and professional development components. An optional faculty-led international trip is also part of the program as well as the Professional Development and Learning Seminar.
The Online PMBA is a "high-quality, interactive program" says the school, that allows students to "work at their own pace and integrate examples from their own professional experience within each class." Courses for this AACSB-accredited program are taught by the same qualified professors who teach graduate courses on campus in Manhattan, Kansas. Students will take a total of 36 credit hours or as few as 30 depending on previous undergraduate coursework.
Course highlights include Business Strategy, Economic Analysis for Business, Information Technology Strategy and Application, Managing the Triple Bottom Line Business, and Operations and Supply Chain Management. Students will also complete a Business Capstone during the second eight weeks of the fall and spring terms and during the eight-week summer term. The Business Capstone allows students to apply what they've learned to a final project.
3. Wichita State University, Wichita, Kansas

Wichita State University (WSU) opened its doors in 1895. The school serves 15,500 students enrolled in hundreds of undergraduate majors, minors, certificates, and graduate degree programs in six colleges and the W. Frank Barton School of Business—home of the Hybrid and Online MBAs.
The AACSB-accredited MBA from Wichita State's Barton School of Business "prepares students for leadership in business, government, health-related organizations and other institutions," says the school. The WSU Barton MBA is a "traditional, management-based program offering coursework in accounting, business law, economics, management, finance and marketing. A thesis is not required."
Hybrid MBA students attend class once a week and complete work online. Campus visits are not required for the Online MBA. Both programs may consist of fewer than 36 credit hours of studies "for students who have no deficiencies in prerequisites and who receive equivalent credit for all of the background fundamentals." Course highlights include Advanced Strategic Management, Business Decision Making and Analysis, International Business and Competitiveness, Management Information Systems, Marketing Analysis, and Professional Development/360.
A major component of the WSU Barton MBA is Applied Learning. Students in the program are required to complete an applied learning or research experience to graduate. The requirement is fulfilled by completing Business Decision Making and Analysis, Marketing analysis or Management Information Systems. These courses provide opportunities to gain applied learning experiences through projects.
Graduates of the WSU Barton MBA Programs are prepared to pursue a range of positions in all sectors. Program alumni are Accountants, Analysts, Business Operations Managers, Entrepreneurs, Financial Managers, Human Resource Managers, Management Consultants, Marketing Managers, Medical and Health Services Managers, and more.