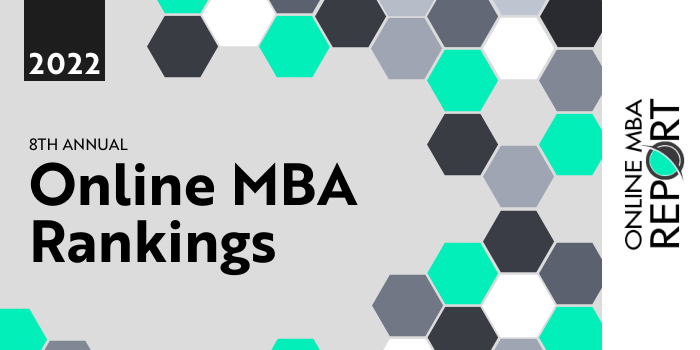 Our 2022 rankings of the Top Online MBA Programs in Kansas. For an explanation of ranking criteria, click here.
Top Online MBA Programs in Kansas - 2022 College Rankings

| Ranking | School | City |
| --- | --- | --- |
| 1 | University of Kansas | Lawrence |
| 2 | Kansas State University | Manhattan |
| 3 | Wichita State University | Wichita |
1. University of Kansas, Lawrence, Kansas

The School of Business at University of Kansas (KU) houses an AACSB-accredited MBA program with Traditional Full-Time and Online options. The Online MBA has zero residency requirements and it may be completed in 2.5 years, with students taking two courses per semester. Forty-two credit hours are required to graduate and three focus areas are available including Management & Leadership, Finance, and Marketing.
The Management & Leadership focus requires the following courses: Managing Internationally, Developing Effective Management and Team Skills, Leadership Philosophy and Practice, and Strategic Organizational Design and Change Management. Finance requires Financial Institutions and Markets, Advanced Topics in Finance, Corporate Finance, and Investments. The Marketing focus requires Digital and Social Media Marketing, Consumer Behavior, Global Marketing, and Integrated Marketing Communications.
All KU School of Business students have the opportunity to participate in the School's annual Business Career Fair, which attracts more than 100 companies from across the country. KU Business graduates have been recruited by J.P. Morgan Chase, AT&T, and Microsoft, among others. Graduates of the MBA Programs at KU School of Business are frequently promoted to a higher-level position within a year of graduating. Around 30% of alumni who receive a promotion experience a salary increase of 30% and one in four KU MBA alumni saw salary increases of more than 25% within three years of graduation.
University of Kansas is accredited by The Higher Learning Commission (HLC). Founded in 1865, KU opened on September 12, 1866 with one building and 55 students. Today, University of Kansas serves 28,500 students across five campuses the in Lawrence, Overland Park, Kansas City, Wichita, and Salina, Kansas. KU offers more than 400 degrees and certificate programs in 13 academic schools.
2. Kansas State University, Manhattan, Kansas

Kansas State University's (K-State) College of Business Administration has a Professional MBA (PMBA) Program that may be completed online. The program has just one required two-day on-campus orientation that includes team building, networking, and professional development experiences. An optional faculty-led international trip is part of the program as well as the Professional Development and Learning Seminar.
The Online PMBA is AACSB accredited and includes 36 credit hours or as few as 30 depending on previous undergraduate coursework. The program consists of eight-week classes, allowing students to focus on one course at a time. Course examples include Information Technology Strategy and Application, Managing the Triple Bottom Line Business, Marketing Concepts and Research, Operations and Supply Chain Management, and Business Strategy.
The K-State Online PMBA culminates with the Business Capstone course, which allows students to apply what they've learned to a final project. Nearly all Kansas State University graduates find success within six months of graduation. Top corporate employers include Amazon, Koch Industries, Textron, Honeywell, Cargill, Shamrock Trading Corp., Burns and McDonnell, Kiewit, Gramin, and Cerner Corporation.
Kansas State University is accredited by The Higher Learning Commission (HLC). Founded in 1863 as Kansas State Agricultural College—the nation's first operational land-grant university, and the only one in Kansas—K-State serves close to 21,800 students enrolled in more than 250 undergraduate majors and options and 165+ graduate degrees and certificates. Programs at Kansas State University are offered across four campuses (Manhattan, Saline, Olathe, and Global) and in nine colleges and The Graduate School.
3. Wichita State University, Wichita, Kansas

Wichita State University (Wichita State or WSU) is the regions only AACSB-accredited institution. Within Wichita State's W. Frank Barton School of Business is the largest selection of AACSB-accredited programs in Kansas—including the state's oldest MBA Program. Several delivery formats are available including online, on campus, or a combination of the two (hybrid). Classes for the Hybrid MBA are offered as eight-week structured courses. This means, students must attend class once a week and complete work online. Classes for the Online MBA are also offered in an eight-week format, but students may complete all coursework online.
Students in all Barton MBA Programs have the option to choose from the General Track or Concentrations in Supply Chain Management, Finance, Health Care Administration, Marketing, Human Resource Management, and Business Data Management. Graduate Certificates are also available and include Basic or Advanced Business Fundamentals, Supply Chain Management, Business Data Management, Human Resource Management Decision Making, and Human Resource Management Skills.
Other program features include the opportunity to learn the business processes of China, India, Japan, Vietnam, and South Korea through the four-week, online Doing Business in Asia course, and The Berlin Experience Course—one of the few programs of its kind in the U.S. and Germany. During this one-week experience in Germany, student teams will have the opportunity to work on an international consulting project for European and American companies. Teams consist of graduate students from WSU and the Berlin School of Economics and Law.
The Barton MBA Program at Wichita State University can completed on a full-time or part time schedule in as little as 12-24 months. Graduates of the program are prepared for leadership role at major Kansas employers and top company's across the U.S. and around the world. Examples of potential employers include Koch Industries Inc., Excel Industries Inc., Textron Aviation, Johnson Controls, Cargill Protein Group, Airbus Americas Engineering Inc., NetApp, Cox Communications, The Coleman Co. Inc., OxyChem, Via Christi Health, Spirit AeroSystems Inc., and AGCO Corp.
Wichita State University is accredited by The Higher Learning Commission (HLC). Founded in 1895, WSU is one of six state universities governed by the Kansas Board of Regents. Wichita State University (with its affiliate WSU Tech) serves around 19,000 students enrolled in more than 200 areas of study in six academic colleges.