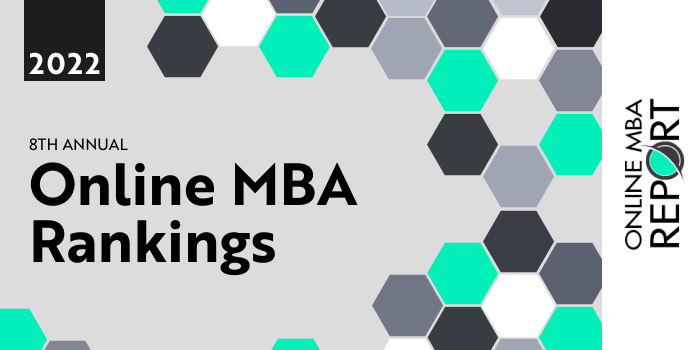 Our 2022 rankings of the Top Online MBA Programs in Washington, DC. For an explanation of ranking criteria, click here.
Top Online MBA Programs in Washington, DC - 2022 College Rankings

| Ranking | School | City |
| --- | --- | --- |
| 1 | George Washington University | District of Columbia |
| 2 | Howard University | District of Columbia |
| 3 | American University | District of Columbia |
1. George Washington University, Washington, DC

The School of Business at George Washington University (GWSB) has two flexible MBA Programs—one may be completed 100% online (Traditional Online MBA), the other can be completed in a hybrid format or entirely online (Healthcare MBA). Both programs provide optional in-person global and experiential opportunities, an optional four-day residency course in DC, class projects, live learning opportunities, and digital course materials. Global experiences may take students to places such as Israel, Mexico or Denmark. Both program options are AACSB-accredited with three start times including August, January, and May.
The GWSB Online and Hybrid Online MBA Programs require 46.5 credits, including 34.5 credits in required core courses and 12 credits in elective courses. Examples of required courses include Technology for Business in DC, Business Essentials for Dynamic Markets, Organizations and Human Capital, Business Ethics and Public Policy, and Competition in the Global Economy. Students are required to select courses from the Analytics/Technology focused areas. Examples include Social Network Analytics, Technology Skills for Managers, Visualization for Analytics, Business Process Simulation, and Machine Learning for Managers.
All Online MBA Programs at George Washington University carry the same AACSB accreditation as the school's on-campus programs. All GWSB MBA students have access to the career center, career fairs, and other opportunities to network and apply for positions.
George Washington University is accredited by the Middle States Association of Colleges and Schools (MSA-CESS). Founded in 1821, GW serves more than 26,000 students, making it the largest institution of higher education in Washington, DC. George Washington University offers hundreds of programs (including more than 100 online programs) in 14 colleges and schools, and 100 research centers.
2. Howard University, Washington, DC

Howard University's (HU) School of Business has an Online MBA Program that attracts early to mid-career professionals seeking advancement opportunities. HU Online MBA students have at least two years of professional experience and a Bachelor's degree from an accredited university. 
Coursework for this 100% online program consists of 48 credit hours, including 16 core courses. Students will take courses such as Global Management Consulting, E-Commerce in Supply Chain Management, Cyber Risk Management, Financial Modeling, Economics for Global Business, Productions and Operations Research, Entrepreneurship, and Principles of Information Systems.
The online classroom for the HU Online MBA features small class sizes, technologies such as Zoom, Canvas, Yellowdig, Qualtrics, and Turnitin, and asynchronous coursework and synchronous classes, which provides the flexibility to view classwork anytime and connect with faculty and peers during live, instructor-led discussion sections.
Other HU Online MBA features include the option to complete the 42 credit EMBA online, international immersion opportunities, access to an extensive alumni network, and recruitment programs that connect graduates to with corporations, government agencies, and nonprofit organizations.
Howard University graduates enjoy a high recruitment rate. Some of the top employers for HU graduates include JPMorgan Chase, Deloitte, Procter & Gamble, Goldman Sachs, McKinsey & Co. Apple, Microsoft, Google, Meta (formerly Facebook), and Accenture.
Howard University is fully accredited by the Middle States Commission on Higher Education (MSCHE). Founded in 1867, HU serves approximately 11,000 students enrolled in more than 120 areas of study leading to undergraduate, graduate, joint, and professional degrees. Programs at Howard University are housed in 13 colleges and schools.
3. American University, Washington, DC
American University's (AU) Kogod School of Business is home to the [email protected]. With the exception of two Business in Capitals Immersions, the program can be completed entirely online. At least one immersion a year will take place at the American University campus in Washington D.C. where students will interact with faculty and classmates, visit local companies, and network. The other immersion will take place in other domestic and international business hubs. Immersions are three-to four-day in-person experiences and they carry 1.5 credit hours.
The [email protected] Program consists of 48 credit hours and six focus areas including Cybersecurity, Marketing, Business Analytics, Legal Studies, Consulting, and Finance. An Analytics Certificate is also available as well as the opportunity to customize a focus area through dozens of electives. Other program features include access to the Entrepreneurship Incubator, which hosts pitch days and competitions, workshops, guest speakers, and networking events.
The [email protected] Program has an Accelerated Track that can be completed in just oner year. Other options include the 24-month course sequence, the 15-month Track and the 18-month Track. Graduates of the [email protected] Program go on to successful careers at some of the nation's top companies and organizations. Examples include Microsoft, Deloitte, Verizon, CBRE, Freddie Mac, Kimberly Clark, Tegna Inc., and the National Women's Law Center.
American University is accredited by the Middle States Commission on Higher Education (MSCHE). The school is also recognized by the University Senate of the United Methodist Church. Founded in 1893, AU serves nearly 15,000 undergraduate, graduate, and law students enrolled in close to 250 programs at all degree levels. Programs at American University are housed across eight colleges and schools.