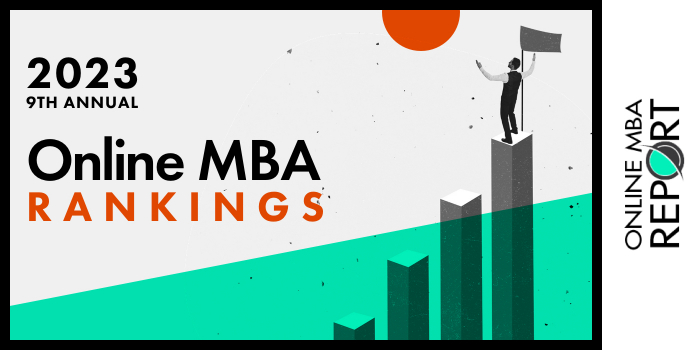 Our 2023 rankings of the Top Online MBA Programs in Washington, DC. For an explanation of ranking criteria, click here.
Top Online MBA Program in Washington, DC - 2023 College Rankings

| Ranking | School | City |
| --- | --- | --- |
| 1 | George Washington University | D.C. |
1. George Washington University, Washington, D.C.

The School of Business at George Washington University (GW or GWU) has both Traditional and Healthcare MBA programs that may be completed 100% online. Both AACSB-accredited options provide the opportunity to participate in face-to-face global and experiential learning activities. Global experiences may take place in locations such as Denmark, Israel, or Mexico. The MBA programs also provide an optional four-day residency course in DC as well as collaborative class projects, live learning opportunities, and digital course materials.
Students in Online MBA programs at George Washington University also benefit from GWU's partnerships with The White House, PwC, the National Institutes of Health (NIH), Bloomingdale's, World Bank, and Discovery Communications; AACSB accreditation; access to the career center and career fairs; and additional opportunities to network and apply for positions.
The GW School of Business (GWSB) Online MBA programs require 46.5-53 credits, including 34.5-38 credits in required core courses and 12 credits in elective courses. Examples of required courses across programs include Technology for Business in DC; Business Essentials for Dynamic Markets; Accounting for Internal Decision Making; Organizations and Human Capital; Business Ethics and Public Policy; Marketing; Competition in the Global Economy; and Strategic Management.
Students are also required to select a three credit hour course from the programs Analytics/Technology focused area. Examples include Social Network Analytics; Business Process Simulation; Technology Skills for Managers; Visualization for Analytics; Business Process Simulation; Sports Analytics; and Machine Learning for Managers.
Elective options for the Healthcare MBA are provided through the Health Sciences Departments in the School of Medicine and Health Sciences. Examples include Clinical Management and Leadership; Informatics Regulatory Affairs; Clinical Operations and Healthcare Management; Clinical Translational Science; and Healthcare Quality.
Graduates of the Online MBA programs at George Washington University are prepared to pursue positions in all industries. Some of the top hiring companies for GWU graduate alumni include the U.S. Department of Homeland Security Deloitte, Google, Accenture, U.S. the Department of Health and Human Services, Boeing, Dell Technologies, Apple, Bank of America, IBM, T-Mobile, PwC, Booz Allen Hamilton, the American Psychological Association (APA), Facebook, Procter & Gamble, the U.S. General Services Administration, AT&T, FedEx, Whirlpool, Publicis Sapient Consulting, American Institutes for Research, the U.S. Navy, Riot Games, Marriott, Chevron, JetBlue, Raytheon, and Truist Bank.
Chartered in 1821 by the United States Congress, George Washington University serves more than 26,000 students, making it the largest university in Washington, DC. George Washington University offers hundreds of programs (including more than 100 online programs) in 14 colleges and schools, and 100 research centers. George Washington University is accredited by the Middle States Association of Colleges and Schools (MSA-CESS).