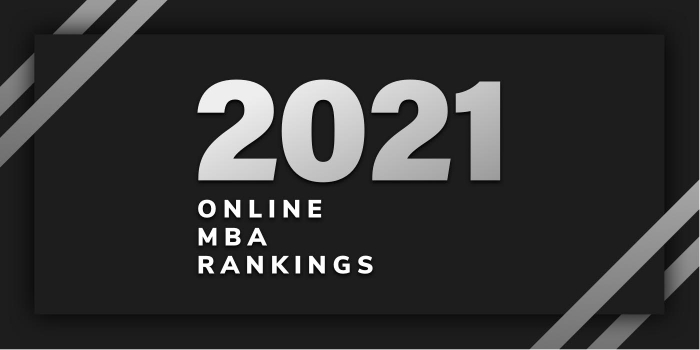 Our 2021 rankings of the Top Online MBA Programs in Michigan. For an explanation of ranking criteria, click here.
Top 5 Online MBA Programs in Michigan - 2021 Rankings

| Ranking | School | City |
| --- | --- | --- |
| 1 | University of Michigan | Ann Arbor |
| 2 | University of Michigan-Dearborn | Dearborn |
| 3 | Central Michigan University | Mount Pleasant |
| 4 | University of Michigan-Flint | Flint |
| 5 | Kettering University | Flint |
1. University of Michigan-Ann Arbor, Ann Arbor, Michigan

University of Michigan-Ann Arbor (UM Ann Arbor) was established in 1817 in Detroit, Michigan as one of the first public universities in the nation. Serving 48,090 students, UofM Ann Arbor is the largest of the three UM Campuses (Ann Arbor, Dearborn, Flint). The school offers 250 degree programs in 19 schools and colleges. The Stephen M. Ross School of Business (Michigan Ross) offers a part-time MBA program that may be completed mostly online.
Program features include live, interactive classes + self-guided modules, hands-on, in-person residencies, and an individualized approach to career development & recruiting. Students will complete 27 core credits, 18 elective credits, nine credits over three residencies, and three Multidisciplinary Action Projects (MAP) course credits. Elective credits allow students to customize their studies according their specific interests and goals and the semester-long MAP course work allows students to work in a team to solve a problem for a real-world company or organization. The experience is designed to test the student's business acumen.
Elective course highlights include Bargaining and Influence Skills, Communicating in a Virtual World, Competitive Tactics and Policy, Digital Marketing, Leading Diverse Teams, High Stakes Leadership: Building Resilience Through Relationship, The Science of Success: Who Succeeds, Who Doesn't and Why and Venture Capital.
Other program highlights include the opportunity establish and run a functional team within a real company in the school's immersive Living Business Leadership Experience (LBLE) course and Global Experiences that will take students to places such as China, Germany, Israel, and more.
Graduates of the Michigan Ross Online MBA Program move on to successful careers at companies in cities such as Boston, Chicago, NYC, San Francisco, Seattle and abroad. Many have gone on to secure positons in consulting (nearly 40% of graduates), with a base median salary of $160,000 and median signing bonus of $30,000.
2. University of Michigan-Dearborn, Dearborn, Michigan

University of Michigan-Dearborn (UM Dearborn) was founded in 1959 with a gift of just over 200 acres of land and $6.5 million from the Ford Motor Company. Since registering its first class of 34 students, the school has set new enrollment records annually since 2014. Currently, the school serves close to 8,800 students enrolled in more than 200 programs in four colleges.
The College of Business at UM Dearborn serves more than 1,250 undergraduate and 450 graduate students from 20 states and 12 countries. The College houses the one of the oldest online MBA programs in the country, with options including the MBA with a Concentration, the MBA/MS in Finance, and the MBA/MSE-ISE (MBA/MS in Engineering, Industrial Systems Engineering). Programs are also available on-campus and in hybrid (on-campus and online) format.
Concentrations for the Online MBA are optional and include Accounting, Finance, International Business, Management Information Systems, Marketing, and Supply Chain Management. MBA students can complete the concentrations in Finance and International Business online, or they can take online elective courses, instead.
Students who choose the hybrid option will have full access to campus-based resources and they will participate in face-to-face events, such as professional organizations and study-abroad opportunities.
The AACSB-accredited UM Dearborn Online MBA requires 36 to 48 credit hours of study, and it may be completed within two to two-and-a-half years. Admission is rolling, so students may begin the program in September or January. May admission is also usually possible for part-time students.
3. Central Michigan University, Mount Pleasant, Michigan

Central Michigan University (CMU) opened its doors on September 13, 1892, as the Central Michigan Normal School and Business Institute, with classes in Business, Stenography, and Teaching. Today, CMU serves just over 19,400 students enrolled in approximately 300 programs at the undergraduate, masters, specialist, and doctoral levels in seven colleges.
The Central Michigan University Global Campus (CMU Global Campus) and College of Business Administration (CBA) offer an online MBA program that features several emphasis areas including and ERP Emphasis Using SAP Software, Human Resource Management, Logistics Management, Marketing, and Value-Driven Organization (VDO). SAP is the world's largest enterprise applications software company, with a wide range of software used by more than 38,000 firms in over 120 countries. The ERP Emphasis/SAP is a 40 credit hour program that requires a two-week face-to-face SAP Academy.
Depending on the emphasis area, students may have to take anywhere from 36 to 43 credit hours to complete the program. The Online MBA program at CMU Global Campus is AACSB accredited.
4. University of Michigan-Flint, Flint, Michigan

Founded in 1956, University of Michigan-Flint (UM-Flint) serves more than 7,000 students enrolled in well over 100 programs in six main colleges and schools. The School of Management (SOM), formerly School of Business (SOB), offers an MBA Program that can be completed 100% online or in hybrid format. In the 100% Online MBA, students interact with their professors and peers through Blackboard. They will be able to collaborate using Blue Jeans, Google Hangouts, Zoom, and interact with professors in synchronous and asynchronous courses.
In the hybrid program (NET+ - Hybrid), students will complete the majority of coursework online and attend two weekend (Friday & Saturday) on-campus sessions per semester. Highlights for both programs include team-based project work, research opportunities, and in-demand concentrations such as Computer Information Systems, Health Care Management, International Business, Marketing & Innovation Management, and Supply Chain & Operations Management. A General MBA is also available.
Over the past three years, SOM MBA graduates have ranked in the 89th percentile in management and 87th in accounting in ETS Major Field Tests. ETS Major Field Tests for MBA graduates assess mastery of concepts in all business fields by graduating MBA students. It provides national comparative data on sub-scores in each field among graduates of 250 AACSB-accredited business schools in the U.S.
5. Kettering University, Flint, Michigan

Founded in 1919 as The School of Automobile Trades, Kettering University serves around 1,750 students enrolled in dozens of programs in the College of Engineering and Science, the College of Liberal Arts, the School of Management, and the Graduate School. Programs are also offered through Kettering University Online.
Kettering University Online is one of the top schools for engineering management training and Kettering University is one of the world's top engineering and business institutions. "With a strong focus on STEM and strong management skills," says the school students "learn how to make a difference" for their companies and organizations. Together, Kettering University and Kettering University Online offer an MBA Program that may be completed entirely online.
Almost half of the schools' Online MBA students are engineers from companies such as Chrysler, Ford, General Motors, Nexteer, Pratt & Whitney, and Whirlpool. Students in this credit hour program may enhance their degree by adding a three-course graduate certificate or a second degree. Just a few certificate options include Global Leadership, Modern Business Practices, and Operations Management. Second degree options include Operations Management and Engineering Management (must be an engineer). A second degree can be earned with as few as four additional courses.
The Online MBA at Kettering also has a unique option that allows students to complete the program at an accelerated pace in just one year. Students may start in the Summer and finish in the Spring. This includes completion of the Capstone course.
Kettering Online MBA graduates have gone on to successful careers at Bosch, Boeing, Fisher-Price, GE, General Motors, NASA, Whirlpool, and more.