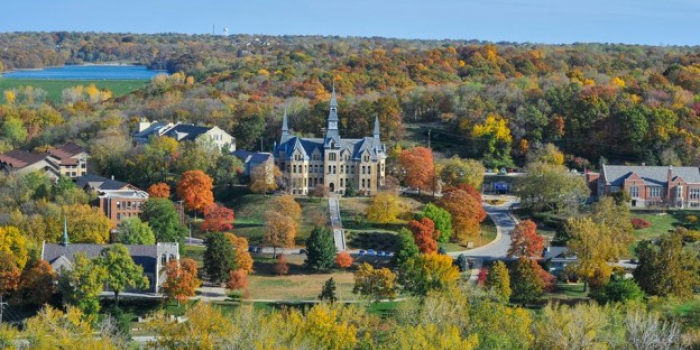 Park University offers the option for MBA students to craft their own degree plans according to personal need. Degree-seekers can choose from a traditional on-campus program, a fully online program, or a hybrid of the two. The MBA program is offered on 8-week terms. Whether near the physical campus in Kansas City, or around the globe, students have the same access to faculty and course options. This is an extremely flexible program and a great option for busy professionals with ever-changing work and personal needs. 
Dr. Becraft, who holds the Edward F. Lyle Endowed Chair in Finance, was kind enough to share more information on the details of this accommodating MBA program.
Dr. Michael Becraft, the Edward F. Lyle Professor of Finance and Director of the Graduate Program in Business at Park University
Please tell me about the typical student who enrolls in the online MBA program at Park University.
A "typical" student is impossible to define. We have actively engaged students ranging from early career professionals to retirees – from the United States and abroad – that contribute to an exceptionally diverse array of students and a dynamic class environment. Park's MBA student demographics suggest a working adult, approximately 36, who values the flexibility of an online degree program.
How much (if any) time is required on the physical campus?
Students in the Park University MBA program have the ability to switch seamlessly between online and face-to-face courses.  A student who elects to complete the program entirely online does not need to spend any time at the physical locations of Park University.
Is there flexibility in course management and/or completion? Or do students follow a traditional semester schedule?
Students have incredible flexibility in completing their course sequence at Park University. Our university has long been known for serving various populations at sites throughout the United States, from our home campus in Missouri to dozens of U.S. military installations and two additional campus centers located in Austin, Texas and Barstow, California. Park's MBA program operates on the same 8-week terms required of military installations but is open to all students, which means students have the opportunity to enroll in courses over five distinct terms throughout the academic year rather than the three traditional semesters. Continuously enrolled students completing one course per 8-week term can finish the program in a little more than two years, while students taking two courses per 8-week term can complete the program in just over one year. 
What area of concentration is the program known for or is most popular?
The Park University MBA currently has four concentrations in addition to a general, non-specialized option. While the non-specialized track is the most prevalent, our concentrations are – in order of enrolled students – Finance, Management Information Systems, International Business, and an emerging concentration in Human Resources. We also expect to announce at least one additional programmatic offering in the next academic year.
How accessible are faculty? How do degree candidates best interact with MBA faculty?
Our faculty members at Park University are exceptionally accessible. Inside online classes, we have policies that determine the frequency at which faculty members must be available to students, and that communication chain extends to media beyond online interaction based upon student needs. In addition, each of the concentrations at Park University has a full-time faculty member with advising responsibilities. These faculty members are key touch-points in discussing the connections of the concentration's curriculum to student needs, whether related to current employment, future employment, or professional certification. 
What opportunities are available for professional networking and peer-to-peer support for online MBA students?
Park has the ability to provide access to exceptional events to all students, regardless of location. For instance, the School of Business Dean's Distinguished Lecture Series has exceptional speakers available as webcasts for anyone who desires to participate. The university has a social media specialist and we are actively building social media communities for various groups within the Park School of Business to benefit our students in the MBA and other programs. The Park MBA, like other School of Business programs, also has an Advisory Council of distinguished professionals who provide feedback on a periodic basis. 
What kind of post-graduate support is available for Park University online MBA alumni?
Park University has student support services located on our traditional campus in Parkville, Missouri that are available to all students, whether undergraduate or graduate, face-to-face or online, current student or alumnus. In addition to resources provided by the Career Development Center, the MBA program actively seeks partnerships and development opportunities where students consistently demonstrate why Park MBA graduates are valued in the workplace. A listing of the recent placements for just our international students in the MBA program reads like a "Who's Who" of major employers.
Can you offer any words of advice to someone who is interested in enrolling in an online MBA program?
Our university is highly concerned with student success and we encourage students to identify the academic program that best meets their needs and objectives. Selecting any program is a highly personal choice and an individual should not start an MBA program online without understanding the expectations and rigor of the program. The online program will necessarily meet the same learning outcomes as the face-to-face program, with identical expectations of students. Further, an online course may require active engagement in the online classroom multiple days per week of the student's own volition rather than one or two extensive and fixed time blocks – plus commute time – common with face-to-face courses. Success in online programs is often emblematic of highly dedicated students who recognize that the time flexibility of when activities/assignments can be completed (through asynchronous offerings) does require a minimal level of self-driven effort.
Check out more interviews at Online MBA Report's Interview Series