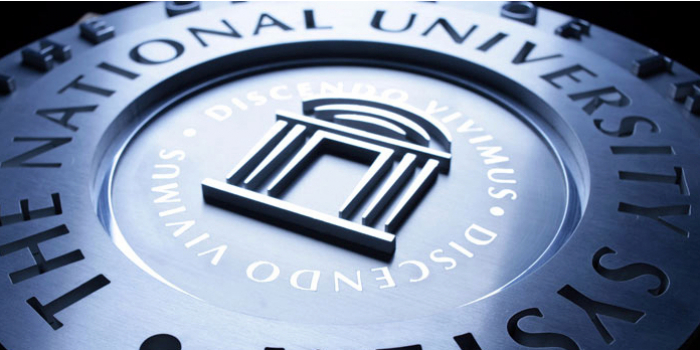 National University has a unique option in which online MBA students can enroll at any point in the year, rather than wait for a new semester to begin. This is a terrific option for the student who is ready to begin right now, or who needs a non-traditional point in the academic year to dive into the program. Students have access to immediate interaction with faculty through live, online classes and an around-the-clock information Concierge Service. National University also does a terrific job of keeping alumni connected and networked after graduation, with an active Alumni Association and networking programs.
Dr. Kamlesh Mehta was kind enough to fill us in on many of the details on this flexible and accommodating program.
Describe the typical student in the National University online MBA program.
An average NU student in the online MBA is characterized as an adult learner, mature, 36 years of age, constrained by time, going to school part-time or full-time, working part-time or full-time, in the market for education, a women or a minority, has other obligations, prefers small class size, wants personal attention, enjoys an accelerated pace, and wants to get on with their career. In addition, many of our students are veterans of US armed services.
Do many students live near the physical campus? Or are students more remote?
The students in our Online MBA Program are from all over the world and across United States. Therefore, approximately 60% of our students do not live near the physical campus.
What is unique about the structure of your online program?
Unlike most MBA Programs in the country, NU-MBA Program allows a prospective student to enter the Program throughout the year. The curriculum of the MBA Program is designed with the student in mind. The MBA Capstone course allows students to incorporate a business plan or current employer project or self-generated project as part of the course requirement. The courses in our MBA Program are fast paced and offered once-a-month. A student is allowed to take only one course per month. The online classes are live. For the online classes, students and faculty are connected through live online interactions twice a week. National University MBA Program has the capacity to connect all registered students in an online classroom. Students attend the live online lectures which are recorded for later reviews. So, if a student misses one of the online lectures, she/he has the option to listen and review it at their convenience before the next class.
What amount of time (if any) is required on the physical campus?
The MBA program is designed such that a student can complete an entire MBA program either on site or on line or in combination of these two options. The student has the flexibility to select the delivery mode they prefer and that is conducive to their learning.
How accessible are faculty to off-site students?
The course consists of two-hour, two online live chat sessions per week where the students and faculty are engaged virtually with audio and video equipment. At this online chat sessions, students have the opportunity to ask questions to a faculty and discuss the subject matters covered in the course. In addition, students can contact faculty through phone and e-mail. Furthermore, students can directly reach any faculty and Program Director through phone and e-mail. Also, students can reach out for help
at our 24/7 Concierge Service for students.
What kinds of opportunities are available for online MBA candidates to network with other students?
The School of Business and Administration (SOBM) at National University offers Quarterly Speakers series. Prominent leaders, CEOs, executives, and managers from the private and public sectors are hosted as speakers. Although the speaker series is open to the general public, current students and Alumni are especially invited to the speaker series. Another venue provided for networking is Linkedin. National University has over 44,000 alumni followers and is growing rapidly.
Is there a career services office or program?
Yes. The career services center offers resume building, interview prep and job opportunities for both on-campus and online students.
What kind of post-graduate support do online MBA alumni receive from National University?
Alumni are automatic members of the National University Alumni Association. There are networking events, speaker series, career fairs, mentoring programs, advisory boards and many other involvement activities to keep our alumni connected.
Any words of advice for potential online MBA students?
To the prospective learners, if you are thinking of getting your MBA, we do not want you to wait. We want you to join our MBA Program this month. You do not have to wait to enter our MBA Program. The sooner you start, the sooner you will finish. The sooner you finish, the sooner you will advance your personal and professional interests. To our current students, our MBA Program is designed with YOU in mind. We realize that our students are adult professional learners. Therefore, we strive to provide YOU excellent education and life-long learning experiences. Also, we encourage you to get involved early with the career center and building faculty relations. To our Alumni, get involved with early. Visit the career center, join student groups and develop strong relationships with the faculty. Make sure to get connected with the alumni. National University has an outstanding alumni base, many of whom are leaders in their communities.
Check out more interviews at Online MBA Report's Interview Series.