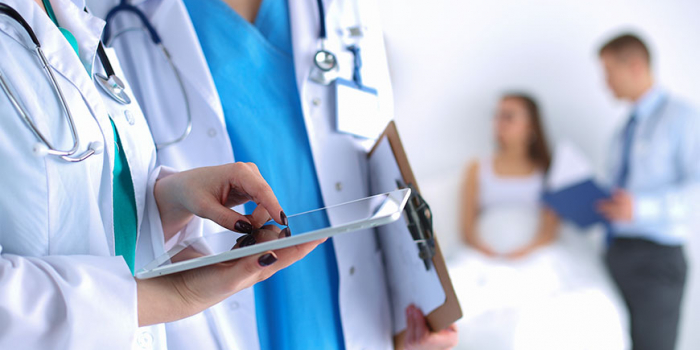 In 2017, market research company Frost & Sullivan predicted that the global healthcare industry would cross the $1.85 trillion mark in terms of manufactures' revenues alone in 2018. Digital health investment had already crossed the $6.5 billion mark, up 109% from the previous year. In a Forbes report, the company said that it expects the "growth curve to continue in the next year as technologies and platform solutions that promote innovation around care quality, outcomes, and chronic disease management will continue to rise." Further, the company said, "high growth opportunities in emerging markets will change the paradigms of product development and geographic rollouts."
According to Loyola University Chicago's Quinlan School of Business, the booming and evolving healthcare calls for "leaders who demonstrate innovation and leadership in the face of growing change—both in the U.S. and around the world." Prestigious business schools recognize the demand, so Healthcare Management MBAs (MBA-HCM) are plentiful across the board.
This in-demand degree program is designed to develop professionals who are responsible, effective leaders who have the knowledge, skill, and understanding to successfully manage and lead in any segment of the booming healthcare industry. Although curriculums will vary somewhat by school, students in MBA-HCM programs typically take core courses in areas such as economics, marketing, statistics, microeconomics, management communication, ethics, operations, legal studies, and leadership. Upon completion of the MBA core, students will move on healthcare courses with titles such as:
Comparative Health Care Systems
E-Health: Business Models and Impact
Financial Management of Health Institutions
Health Care Entrepreneurship
Health Care Reform and the Future of the American Health System
Health Services Delivery: A Managerial Economic Approach
Health Services System
Managed Care and Market Structure
Management and Economics of Pharmaceutical and Biotechnology Industry
Medical Devices, Management of Care for the Elderly
Private Sector Role in Global Health
Students will also complete an advanced study or "capstone" project that allows students to apply the knowledge and research skills they've gained during the program to solve a real-world problem. An internship is also a component of HCM-MBA programs as well as experiential learning and study abroad experiences.
Upon completion of the program, graduates can expect plenty of job opportunities in industries ranging from general medical and surgical hospitals to scientific research and development services to pharmaceutical and medicine manufacturing. At an average annual salary of $221,360, pharmaceuticals is the top paying industry for healthcare managers.
At $173,020 annually (average), scientific research and development services is the second highest paying industry for healthcare managers. Navigational, measuring, electromedical, and control instruments manufacturing is the third ($157,220); computer systems design and related services is the fourth ($154,380), and business, professional, labor, political, and similar organizations ($153,320) is the fifth highest paying industry for healthcare managers.
The median pay for healthcare managers is nearly $100,000 annually, with an average $176,130 annually for high performers. Besides the potential start at a six-figure salary, today's healthcare MBA graduates can expect an impressive 20% increase in employment for the 2016-2026 decade. This is much faster than the (7%) average growth rate for all occupations.
Looking for Online Healthcare MBA programs? Find a School here.
Sources
Das, Reenita. "10 Predictions For A Global Healthcare Market Set To Cross The $1.85 Trillion Mark In 2018." Forbes. Forbes Magazine, 21 Jun. 2017. Web. 30 June 2018.
"Global Healthcare Industry Outlook, 2018." Frost & Sullivan. Frost & Sullivan, 03 Jan. 2018. Web. 30 June 2018.
"MBA Healthcare Management (MBA-HCM)." Quinlan School of Business. Loyola University Chicago, 2018. Web. 30 June 2018.
"MBA Healthcare Management." The Wharton School. University of Pennsylvania, 2018. Web. 24 June 2018.
"Medical and Health Services Managers." Division of Occupational Employment Statistics. U.S. Bureau of Labor Statistics, 13 Apr. 2018. Web. 30 June 2018.