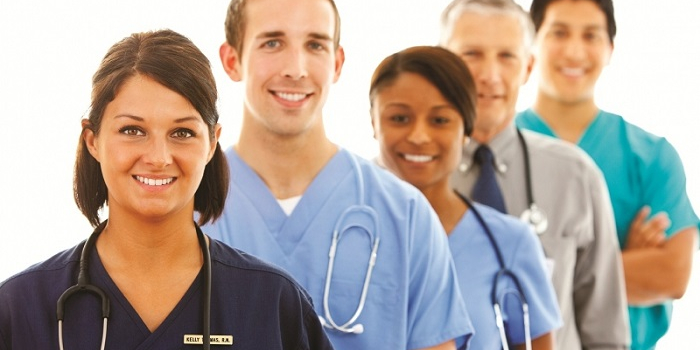 Healthcare is the world's fastest growing industry with one in eight Americans employed by the industry alone. This recession-proof industry is growing at such a rapid pace, that it is expected to become the largest employing major sector during the 2014-2024 decade, overtaking the state and local government and the professional and business services major sectors. The Bureau of Labor Statistics (BLS) says that the industry is also projected to increase its employment share from 12 percent in 2014 to 13.6 percent in 2024. And according to the Centers for Medicare & Medicaid Services, the U.S. currently spends more than $3 trillion on healthcare. 
What all of this means is healthcare is no longer a cottage industry—it's big business, so it needs strong leadership that has the ability to keep up with the industry's evolution. This is what today's Healthcare Management MBA programs are designed to produce, providing the industry with professionals who are innovative and equipped to lead in the face of growing change. Ivy league schools such as Yale, Harvard, and Cornell are leaders in this area, offering a steady supply of top-tier talent. However, it is impossible for a privileged few to keep up with the demand. In response, schools of all sizes and statuses now offer advanced degrees in healthcare. The latest addition to the growing list of options is the Joseph M. Katz Graduate School of Business at the University of Pittsburgh. 
In affiliation with University of Pittsburgh Medical Center (UPMC)—the region's largest healthcare system, with operating revenue of more than $12 billion, Katz Graduate School of Business will launch the Katz-UPMC EMBA in Healthcare Program in May of 2017. According to UPMC officials, the program is the first Executive MBA program for healthcare professionals. The 19-month accelerated MBA program is designed for healthcare professionals seeking high-level advancement." According to the school, "the program will equip students with the skills and tools that they need to lead organizations into the future." Business and management essentials are at the core of the program's curriculum and include Accounting, Financial Management, Information Systems, Marketing, Organizational Behavior, and Supply Chain Management. "Classes are taught by distinguished faculty of the Joseph M. Katz Graduate School of Business," says Katz, and "students will also learn from UPMC's world-renowned physicians and administrative leaders." 
While the Katz-UPMC EMBA in Healthcare is open to individuals at any organization, applicants must have significant healthcare experience. As such, the program expects to attract established healthcare professionals of all kinds including physicians, experienced administrators and managers in health care delivery, insurance, public health, pharmaceuticals, biotechnology, and medical devices. Because a strong emphasis is placed on significant healthcare experience, meaning most applicants will be well established in their respective careers, there is no GMAT or GRE requirement. 
If accepted, students will work through the program over the course of five semesters, meeting for classes Friday and Saturday, once a month. The first cohort, which begins May 2017, is expected to complete the accelerated EMBA program in December 2018. Tuition for the program is $95,000, which covers all books, cases, and simulations; meals during all class sessions; and access to University of Pittsburgh resources including fitness facilities, libraries, and public transportation in the City of Pittsburgh with the Port Authority of Allegheny County. 
For more information about the Katz-UPMC EMBA in Healthcare, visit Business.pitt.edu.
Sources 
"Employment Projections: 2014-24 Summary." U.S. Bureau of Labor Statistics. United States Department of Labor, 08 Dec. 2015. Web. 05 Sept. 2016.
 "Katz-UPMC Executive MBA in Healthcare." Joseph M. Katz Graduate School of Business. University of Pittsburgh, 2016. Web. 05 Sept. 2016. 
Llopis, Glenn. "Healthcare Leadership Must Shift From Cottage Industry To Big Business." Forbes. Forbes Media LLC, 02 June 2014. Web. 05 Sept. 2016. 
Mamula, Kris B. "UPMC to Supplement Income by Managing Colombian Facility." Pittsburgh Post-Gazette. PG Publishing Company, Inc., 27 July 2016. Web. 05 Sept. 2016. 
"National Health Expenditures 2014 Highlights." Centers for Medicare & Medicaid Services. Federal Government, 2015. Web. 05 Sept. 2016. 
"NHE Fact Sheet." Centers for Medicare & Medicaid Services. Federal Government, 08 Aug. 2016. Web. 05 Sept. 2016. 
Rege, Alyssa. "University of Pittsburgh First to Launch Executive MBA Program in Healthcare." Becker's Hospital Review, Leadership & Management. Becker's Healthcare, 18 July 2016. Web. 05 Sept. 2016.
"U.S. Health Care Workforce Larger Than Ever." NPR. NPR WBEZ, 19 Mar. 2012. Web. 05 Sept. 2016.