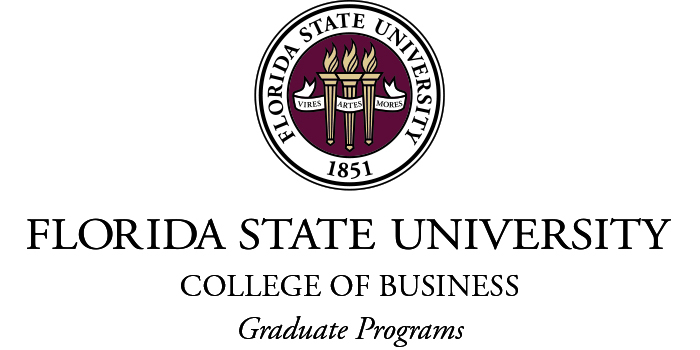 What is the latest news with Florida State University's Online MBA program: any upcoming enhancements?
We are constantly updating our classes, both in the way we deliver content as well as the integration of new distance-learning tools. Our goal is to ensure our students have the knowledge and skills they need to build successful careers. Our Online MBA program receives the highest marks for the quality of its students and the credentials of its faculty.
What type of student typically enrolls in the Florida State University's online MBA program? 
We have a wide variety of highly qualified students. Many of our students have years of work experience and are seeking to enhance their careers. We also have younger professionals hoping to round out their formal education. We seek out prospective MBA students who are ready for their next career challenge, and we are known for admitting online MBA students with the proven background needed to handle rigorous coursework. Students say they learn from each other's shared experiences as well as their professors.
We are interested in learning more about FSU's part-time Online MBA with a real estate specialization.  Can you tell us what makes this program unique? 
Our Real Estate program is one of the best in the nation, consistently ranked among the Top 10 public universities by U.S. News & World Report. The Online MBA with a Real Estate Specialization gives students around the world the opportunity to access this exceptional program and learn about real estate valuation, financing and development – real-world skills they can immediately apply to the workplace.  Our world-class real estate faculty members are outstanding researchers ,who remain highly interactive with the real estate industry.
How do students in the online MBA program interact with faculty? 
Students interact with faculty members several ways.  There is formal class interaction through discussion boards and assignments. Other times, further instruction, assistance and individual attention are delivered through email, skype or phone conversations. Our faculty members make timely responses a priority because we know our students are likely working most days, and their time is limited.
Are students required to spend time on campus or travel abroad?
While we hope all our students join us in person to celebrate their accomplishments at our graduation ceremonies, we do not require students to come to campus. Our Global Business Seminar, offered twice a year, provides an opportunity for studies abroad, but it is an elective.  We understand professional and family commitments of our students might not allow for this type of travel.
Can you share a short example or highlight of faculty achievement in the program?
Our highly qualified MBA faculty teach the same stellar curriculum across all MBA formats.  Many have received college and university teaching awards, and our MBA program director has received FSU's Distinguished Teaching Award, the university's highest faculty honor, and the MBA Professor of the Year seven times.  These kudos just underscore our commitment to excellence in the classroom, whether it is on campus or online. Our real estate faculty is ranked the No. 6 most prolific real estate faculty publishing in three core real estate journals. You can find more about our college's faculty rankings at https://business.fsu.edu/about-us/faculty-rankings.
What companies typically recruit MBAs from your program?
Many of our online MBA students are already employed, so they are working to advance within their firms or chosen fields. These students generally do not actively use our placement programs. However, all students have access to our recruiting resources, including FSU's robust career center. Faculty members also are helpful in connecting students to alumni and friends who can help with job searches and enhance the student's network.
What advice would you give a prospective candidate for your online MBA program? 
Set class time for yourself and keep those appointments. The hardest part of an online degree program is giving yourself time to do the work. Setting a regular schedule will help keep you from procrastinating. Also, if you have a challenge at home or work that impacts your ability to complete an assignment or class, please reach out to us as soon as possible. We want to work with you, but we cannot help if we do not know the issues.
Why should a prospective MBA candidate choose Florida State University?
A pioneer in online learning, FSU has been offering MBA classes in a virtual format since 2004. A multitude of schools have entered the online market since then, but unlike many other programs, ours continues to be taught by full-time faculty members who also teach on campus and are dedicated to student success. The program is flexible, and you can further tailor it to your interests by specializing in business analytics, management information systems, risk management and insurance, or real estate. We want to partner in your success.