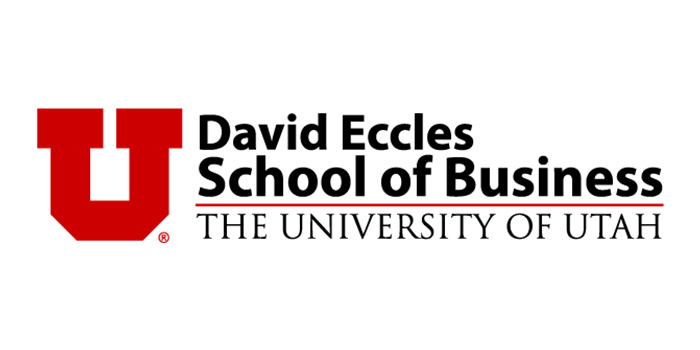 We had the opportunity to speak with Brad Vierig, Associate Dean of MBA Programs and Executive Education at the University of Utah David Eccles School of Business. University of Utah was ranked #10 in the Southwest in our 2019 Online MBA Report.
What type of student typically enrolls in University of Utah's online MBA program? 
Our program is tailored for accomplished professionals looking to gain a broad range of business and leadership skills. The average MBA Online student has around 9 years of professional work experience. While we look for applicants with strong academic records, we know that students come from a variety of backgrounds and we take a holistic view of the applicant and their professional and academic work experience. The majority of our students come from a non-business undergraduate background. The most successful students in our programs are driven to achieve their career goals, excel academically, and make the most out of their academic experience, applying what they learn directly to their work experience. The quality of our MBA Online student body speaks volumes to the success of our MBA Online program.
Do students work in a cohort or other system for student engagement?
Our students are constantly engaging and interacting with their classmates during their program. Our students participate in a three-day on-campus residency at the beginning of their first year to meet face-to-face with other students, build their personal networks, and engage with their faculty members. Our online courses also provide optional live weekly webinars, allowing students to interact and learn from their classmates throughout the program. Our students walk away with a network of professional colleagues because of the interactions available in our program, without having to sacrifice the flexibility needed to balance work, life, and school.
How do students in the University of Utah online MBA program interact with faculty? 
MBA Online students are taught by the same world-renowned faculty members that teach in our campus-based MBA programs. These industry leaders provide constant feedback and support for our students. Students are able to directly interact with faculty through our live weekly webinars and discussion-based format. Our courses are created in house with our students in mind and are structured so students are able to gain the most feedback and knowledge from responsive faculty with diverse business backgrounds. Our faculty are dedicated to providing students with the necessary skills to be competitive and successful in the business world.
What is unique about the structure of your online MBA program? 
Our program is designed so that students take two courses at a time, with 24/7 access to course materials in a mobile-friendly format, as well as full access to outstanding faculty and staff. Staff and executive career coaches are available to work individually with students to address needs and provide resources on how they can reach their career goals. Our 'flex option' creates even more flexibility for students who would like to pursue both on-campus and online courses to complete their degree, reduce course load or take a leave of absence as needed, and specialize their degree with elective options. The structure of our program provides the maximum amount of flexibility, so students receive the support and knowledge they need while maintaining their professional and personal obligations.
Tell us about the career services and professional resources that are offered to online MBA degree candidates
MBA Online students have one-on-one executive career coaching built into their program to help develop a career advancement action plan, access networking and other career advancement opportunities, and learn strategies for professional success. Our career coaches are available to meet on campus or over video conferencing software and can provide guidance on networking and professional opportunities wherever you live. And our students are seeing results: Our MBA Online students average a 34% salary increase by graduation, and an average 55% are promoted while still in the program. Even after graduation, our MBA Online students can receive post-graduation support from our Alumni Career Services.
Can you share a short example or highlight of faculty achievement in the program?
Just last year, our renowned professor Dr. Abe Bakhsheshy, who has taught at the David Eccles School of Business for more than 20 years, was awarded The New Pioneers – American Dream Award, which honors immigrants who have made tremendous contributions to Utah's community and economy. Not only do our professors contribute to the success of our business leaders, but they also constantly give back and help unite our community and state.
What companies typically recruit MBA's from your program?
Our MBA Online students are not only meeting their career goals but exceeding them. Our students have seen success in a wide variety of industries across the state and the nation. Some of the companies our graduates represent include Adobe, Intermountain Healthcare, Delta, Boeing, BD Medical, Goldman Sachs, Chevron, and more. No matter what industry you are interested in, there are opportunities for you to build your business skills and knowledge, connect with other professionals and alumni in the industry, and reach your career goals.
What advice would you give a prospective candidate for your online MBA program? 
Do your homework on the MBA programs that interest you and evaluate why you are pursuing an MBA and what you hope to get out of the program. The online format is not for everyone, but for students who hope to maintain their professional experiences while developing their business skills and knowledge, our program provides opportunities for you to excel. Reach out to our program, and we can meet with you one-on-one in person, over the phone, or over video conferencing to speak about your questions, application, professional experience, and career goals.
Why should a prospective MBA candidate choose University of Utah?
The University of Utah's MBA Online program is unlike any other. From our world-renowned faculty and staff, to our personalized one-on-one career coaching, to our forward-thinking curriculum and world-wide alumni network, our program rises above the rest. Students thrive because of our engaging and flexible format, dedicated staff and faculty, and quality curriculum. No matter where they are working and living, students are able to manage their academics around their professional and personal lives without sacrificing quality.  
Thanks to Brad Vierig for participating. For more interviews, check out our Online MBA Report Interview Series