We spoke with Joseph A. DiAngelo, Dean, Erivan K. Haub School of Business at St. Joseph's University about their Online MBA program.
Congratulations— St. Joseph's University was recently ranked #9 in Pennsylvania on our 2019 rankings.  What type of student typically enrolls in St. Joseph's University's online MBA program? 
Students in the SJU MBA program come from all academic and professional backgrounds, creating a diverse and engaging classroom environment.  While work experience is not required to enter the program, our typical student has five to seven years of work experience and is pursuing the degree part-time as he/she continues to advance a career.
Do students work as a cohort or in another way?
Our MBA program is self-paced, and students can choose to attend on a part-time or full-time basis. Classes are offered in the fall, spring and summer terms, and students can begin any semester. The flexibility of our online program allows students to plan courses according to their schedule, so they can balance school with work or personal demands. Students can graduate in one year or they can extend their time up to six years.
St. Joseph's offers 7 disciplines online (General MBA, Finance, Marketing, Business Intelligence, International Business, Leading and Health and Medical services).  Which ones are most popular and why?
Our most in-demand MBA majors are Business Intelligence & Analytics and Finance, as these disciplines are recognized for their academic rigor, expert faculty, and robust employment opportunities. MBA students take three electives in the program, and the majority of students pursue a General concentration that allows them to take three courses from a mix of disciplines in order to align their learning with their professional and educational goals.
How do students in the online MBA program interact with the faculty at St. Joseph's University? 
Our online program is delivered by the same expert faculty who teach on-campus. Our small online class sizes (average 20 students) allow for personalized attention, lively discussion, reflection, presentations and team projects. Synchronous sessions provide the opportunity for students to engage with their professor and classmates in real-time, and discussion board and writing assignments allow for individualized feedback.
What is unique about the structure of your online MBA program? 
Online classes at Saint Joseph's University run on an accelerated 8-week format, and two 8-week sessions are offered each semester. The benefit of this scheduling is that students can take two courses each semester, back-to-back, and be able to focus on one course at a time. At this pace, students can take six courses within an academic year, and finish the eleven course program in two years.
Tell us about the career services and professional resources that are offered to online MBA degree candidates?
The Career Development Center at Saint Joseph's University offers numerous events and activities that allow online students to network with peers, alumni, lecturers and business representatives.  Online students have access to job postings, one-on-one career counseling, virtual networking, mentoring, and webinars. They receive guidance on vital techniques including resume writing, interviewing, networking, and job search. Our alumni network is especially strong, with over 67,000 Hawks across the globe, and many alumni participate in our SJU Connects program, that pairs alumni mentors with current students.
Can you share a short example or highlight of faculty achievement in the program?
Ronald (Ron) K. Klimberg, Ph.D. is a Professor in the Decision and System Sciences Department of the Haub School of Business at Saint Joseph's. Before joining the faculty of Saint Joseph's in 1997, he was a professor at Boston University, an operations research analyst for the Food and Drug Administration, and a consultant. Ron was the 2007 recipient of the Tengelmann Award for his excellence in scholarship, teaching, and research. His research has been directed toward the development and application of quantitative methods, e.g., statistics, forecasting, data mining, and management science techniques, such that the results add value to the organization and the results are effectively communicated.
Additional information about SJU faculty can be found online at https://www.sju.edu/about-sju/faculty-staff
What companies typically recruit MBA's from your program? Companies that typically recruit our students include: Comcast, Deloitte, PricewaterhouseCoopers, Lockheed Martin, Boeing, J.P. Morgan, Johnson and Johnson, QVC, Aramark, AstraZeneca, Kellogg Company, GlaxoSmithKline, Independence Blue Cross, Vanguard, KPMG, SAP.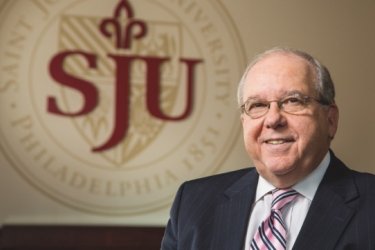 What advice would you give a prospective candidate for your online MBA program? 
Earning your MBA is one of the best investments you can make in yourself and your career. Strong time-management and a good support network are keys to success. Many times students are so focused on completion, they speed past opportunities. Set realistic goals and take advantage of the opportunities presented during your studies. Many of our students report that the skills they learn in their coursework can be immediately applied to their professional role, and often students earn a promotion or start a new position even before they graduate.
Why should a prospective MBA candidate choose St. Joseph's University?
Our MBA curriculum is formed and taught by highly-qualified faculty members, who create dynamic learning environments and are knowledgeable about best industry practices. Designed to strengthen leadership skills and managerial effectiveness, our MBA also fosters a genuine sensitivity to the ethical, moral and cultural aspects of contemporary society. Focus is placed on key competencies including: leading, critical thinking, interpersonal and communication skills, value-based decision making, and global perspective. The combination of rigorous academic preparation, specialized industry skills and a focus on business ethics continues to make a Haub education distinct.  It's the difference that employers notice when they interview our students or alumni, and it's what continually leads our graduates to positions of prominence in their companies and communities.
Thanks to Joseph A. DiAngelo for participating. For more interviews, check out our Online MBA Report Interview Series