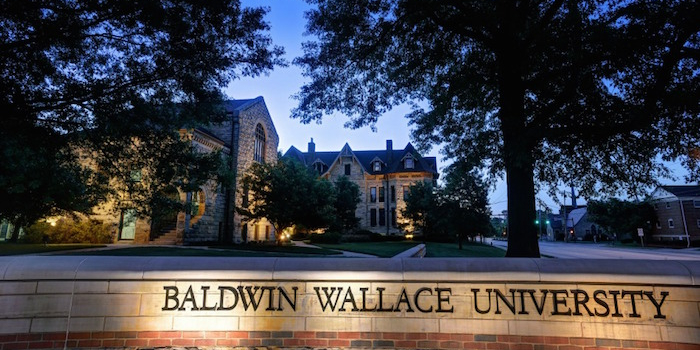 The number one graduate business school in Ohio, per U.S. News and World Report, Baldwin Wallace offers a rigorous, academically challenging online MBA degree.

Dale G. Kramer, Director, MBA, EMBA, and HRMBA Programs
The curriculum features an integrated systems approach to scholarship, combining academic theory with real-world application. Off-site students in the online MBA program have ample access to the top-ranked business faculty. Graduates can take advantage of a well-connected, successful network of over 6,500 MBA alumni. For professionals who truly seek a challenging, critically-engaging graduate school experience, this online MBA program is one of the best.
We were able to chat with Dale G. Kramer, Director, MBA, EMBA, and HRMBA Programs and he gave us some thoughtful and detailed information on this highly esteemed online program.
What do most of the students at Baldwin Wallace seek from your Hybrid MBA program?
    •    MBA degree in Management
    •    Desire to be in an MBA program surrounded by other working professionals and business leaders
    •    Blend of online coursework with onsite weekends at the start and completion of each semester (seven weekends over the two years of the cohort program are on campus)
    •    Brand equity of the Baldwin Wallace MBA degree
    •    Real business world approach of the program which includes a two-year applied project that the students conduct preferably with their employer.
    •    Ability to complete the Hybrid MBA program in two years even with substantial business travel responsibilities
How much flexibility is offered to complete the MBA?
    •    All faculty lectures and instructions are asynchronous which means the students perform their coursework at times that are most convenient with their schedules, wherever they may be.
    •    It is a two-year cohort program so the sequencing and pace of the program is prescribed
What is required of students in-between the on-site weekends?
    •    Completion of individual and team homework assignments
    •    Weekly lectures/teaching by the faculty
    •    Faculty and student initiated discussion of course topics/questions on the discussion board
    •    Team meetings (virtual or face to face) with their teams when a project has been assigned
How accessible are faculty to students who are remote and have little physical access to campus?
    •    Completely accessible.  The faculty is consistently engaged on line with students multiple times per week.  Additionally, some of the faculty have established on line office hours.  Faculty is also available to personally meet if feasible for the student.
What skills will graduates of this program take away that offer the most value in their careers?
    •    BWU MBA graduates are prepared to take on business leadership roles based upon the rigor and real world applied business learning experiences that they gained throughout the program.
    •    A skillset of leadership preparedness, critical thinking, innovation techniques, and professional communication/presentation know how
    •    Project management experience based upon the two year applied project that each student conducts in the program, and other assigned projects
    •    Connection to more than 6,500 graduates of the Baldwin Wallace University MBA program, and close business and educational relationships with their peer cohort students
Any other program highlights or areas of emphasis that deserve a mention?
    •    US News & World Report 2014 Graduate Business Schools Rankings:
    •    #1 in Ohio
    •    #51 in the USA
    •    #14 in the USA for online MBA programs for veterans
What kind of career services support does Baldwin Wallace offer enrollees in the Hybrid program?
    •    Access to an MBA point person in the office of Career Services
    •    Membership in the BWU MBA Association which conducts learning and networking events throughout the year.
    •    Access to the BWU MBA Association Linked In site with over 1,100 members
Any advice for incoming students working towards an online MBA?
    •    This is a rigorous, structured, and highly regarded Hybrid MBA program taught by faculty who are certified in on line instruction, and selected from the core faculty that teach in the Baldwin Wallace traditional MBA program.
    •    The two-year cohort program begins once per year in August.
    •    Average cohort size is 15 – 25 students.
    •    You may further research the program at www.bw.edu/academics/bus/programs/mba-online
Check out more interviews at Online MBA Report's Interview Series.