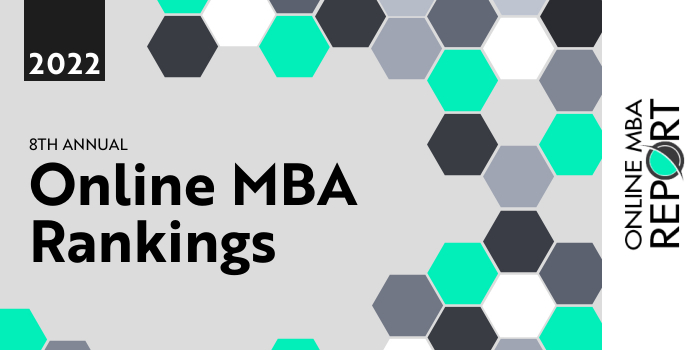 Our 2022 rankings of the Top Online MBA Programs in Indiana. For an explanation of ranking criteria, click here.
Top Online MBA Programs in Indiana - 2022 College Rankings

| Ranking | School | City |
| --- | --- | --- |
| 1 | Indiana University | Bloomington |
| 2 | Ball State University | Muncie |
| 3 | University of Southern Indiana | Evansville |
1. Indiana University Bloomington, Bloomington, Indianapolis, Indiana

Kelley School of Business (Kelley) at Indiana University Bloomington (IU Bloomington or IUB) is accredited by the Association to Advance Collegiate Schools of Business (AACSB International). Established in 1920 as the School of Commerce and Finance, Kelley opened with just 70 students. Today, the school serves nearly 15,000 students across 30 programs in Bloomington, Indianapolis, and online.
The Kelley Direct Online MBA attracts students from all 50 states and 29 countries. Kelley students have at least nine years of professional experience and nearly 65% report receiving a promotion while still enrolled in the Online MBA Program.
Kelly Online MBA students have the opportunity to customize the curriculum to fit their goals. The program provides a business fundamentals core, seven major options, and 50% electives. Course examples include Managing Accounting Information for Decision-Making, Topics in Directed Business Interaction, Leading Organization, Strategic Management, Digital Technology and Innovation, and Integrative Case Experience. Majors include Business Analytics, Digital Technology Management, Entrepreneurship and Corporate Innovation, Finance, Marketing, Strategy and Leadership, and Supply Chain and Operations.
Other program benefits include globally focused online elective courses, hands-on experience, Domestic Immersion courses such as the Washington Campus program, career development courses by Kelley's Graduate Career Services, live classes and in-person sessions (at the beginning and end of the program), and participation in AGILE (Accelerating Global Immersion Leadership Education).
Offered each quarter, AGILE allows students to gain international business experience while pursuing their online degree. Students will have opportunities to travel to places such as Johannesburg, South Africa; Yangon, Myanmar, Southeast Asia; Gaborone, Botswana; Havana/Vinales, Cuba, Sao Paolo, Brazil; New Delhi, India; and Beijing, China.
Kelley Online MBA students also have the option to complete an internship with major corporations such as Amazon, PwC, Ecolab, 3M, Nestle, Deloitte Consulting, Johnson & Johnson, Owens Corning, and Procter & Gamble. In addition to these companies, some of the top hiring companies for Kelley graduates include Google, Accenture, JP Morgan Chase, IU Health, Bank of America Merrill Lynch, Grant Thornton, and KPMG. More than 300 companies recruited Kelley students in 2017-2018 alone.
Indiana University Bloomington is accredited by The Higher Learning Commission (HLC). Founded in 1820, IUB is the flagship campus of Indiana University's seven campuses and two regional centers, which serve 91,000 students. IU Bloomington serves nearly half of these students (45,328) making it the largest campus in the IU System. More than 300 programs are offered across 16 degree-granting colleges and schools, plus the Hutton Honors College.
2. Ball State University, Muncie, Indiana

Ball State University (Ball State) houses AACSB-accredited Miller College of Business, which has seven graduate certificate programs and an MBA with eight concentrations. Graduate certificates are "stackable," so upon completion of two areas of business, courses can be applied to the MBA. Graduate certificate examples include Business Analytics, Logistics and Supply Chain Management, Business Essentials, and Health Economics. Certificates may be completed on campus, online or a combination of both. Graduates of the certificate programs who earn a minimum 3.2 GPA are not required to take the GRE or GMAT for admission to the MBA Program. 
The Miller MBA has can be completed on campus, 100% online or in hybrid format. There are no residency requirements for the fully Online Miller MBA. Full-time and part-time schedules are available for all options and students can begin any program in the Fall, Spring, or Summer. Courses are led by MBA faculty that hold doctorates in their areas of business. Students with a business degree will complete 30-34 credit hours of study, while individuals without a business degree will complete up to 43. All students must complete 24 credits of core courses and 6-9 credits of MBA electives that explore Finance, Marketing, Healthcare, Business Analytics, and Leadership.
Concentrations for the Miller Online MBA are optional and include Artificial Intelligence, Logistics and Supply Chain Management, Business Analytics, Information Technology Leadership, Construction Management, Health Economics Policy and Administration, Finance, and Healthcare Administration. The General MBA is for students looking for a more general approach to the MBA. This option requires 30 credit hours of study.
Miller Online MBA students will complete coursework for the program through a combination of asynchronous (no specific sign-on time each week) and synchronous (specific time to watch and participate in live webcast lectures and discussions) formats. Students will correspond with instructors and classmates using e-mail, discussion boards, file sharing, chats, and web page posting.
The Miller Online MBA Program takes two years to complete when students enroll in two courses each semester. Graduates of the program have access to more than 300 companies that participate in Ball State University's Cardinal Job Fair each year.
Ball State University is accredited by the Higher Learning Commission (HLC). Founded in 1918 as the Indiana State Normal School Eastern Division, Ball State serves more than 20,000 students enrolled in 110 majors and 12 preprofessional option in seven colleges. Ball State University also houses 357 student organizations and more than 150 study abroad programs.
3. University of Southern Indiana, Evansville, Indiana

The Online MBA Program at University of Southern Indiana (USI) is fully accredited by the AACSB. Housed in Romain College of Business, the program has seven fully online concentration options including Project Management, Data Analytics, Engineering Management, Healthcare Administration, Accounting, Human Resources, and Marketing. All USI Romain Online MBA options require 30 credit hours of study that can be completed in as few as 11 months. 
Students in the programs benefit from hands-on learning, collaborative projects, and the required Data-Driven Decision Making, Lean Six Sigma, and Seminar in Auditing courses. To qualify for admission to the USI Romain MBA, applicants must have a bachelor's degree from an institute accredited by the Higher Learning Commission (HLC) or other recognized accrediting body, a minimum 2.5 GPA in undergraduate coursework, and a minimum GMAT test score of 500 or a minimum GRE test score of 300.
Note that Beta Gamma Sigma (BGS) members, individuals with a graduate degree, those with an undergraduate GPA of 3.0 or above, and students with an undergraduate GPA of 2.5 or above, plus three years of full-time professional work experience qualify for a GMAT/GRE waiver.
Graduates of the Online MBA Program at University of Southern Indiana are prepared for leadership roles such as Product Manager, Market Research Analyst, Business Operations Manager, Operations Research Analyst, and Information Systems Manager. Graduates who specialize in a certain area qualify for a wide range or leadership roles. Depending on the area of specialization, potential titles include Personal Financial Advisor, Research Scientist, Architectural Manager, IT Manager, Pharmaceutical Product Manager, Executive Recruiter, Labor Relations Specialist, Digital Marketing Manager/Director, and Business Development Manager.
University of Southern Indiana is accredited by The Higher Learning Commission. Established in 1965, USI serves more than 9,750 students from 90 Indiana counties, 45 states, and 45 countries. The school offers more than 100 areas of study, divided among four colleges: Pott College of Science, Engineering, and Education; Romain College of Business; the College of Nursing and Health Professions; and the College of Liberal Arts.