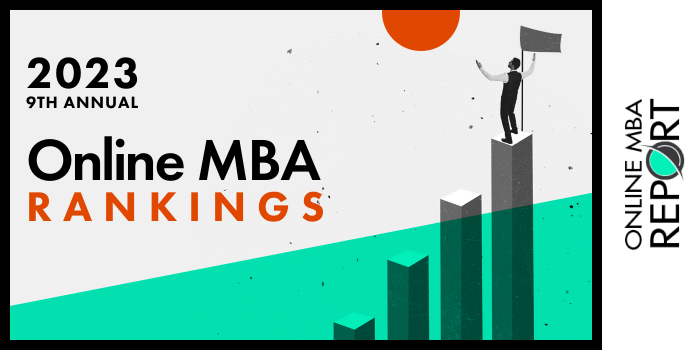 Our 2023 rankings of the Top Online MBA Programs in Colorado. For an explanation of ranking criteria, click here.
Top Online MBA Programs in Colorado – 2023 College Rankings

| Ranking | School | City |
| --- | --- | --- |
| 1 | Colorado State University | Fort Collins |
| 2 | University of Colorado, Denver | Denver |
| 3 | University of Denver | Denver |
1. Colorado State University, Fort Collins, Colorado

Established in 1960, Colorado State University's (CSU) College of Business pioneered MBA distance work through the mail and via VHS tape. In the 1990s, the College began offering Online MBA courses. Today, CSU College of Business has an MBA Program that can be completed 100% online in the evenings via Mosaic (CSU's Online Learning Platform) or anytime of the day or night through lecture capture videos. The Online MBA with Mosaic requires just one two-day, face-to-face orientation, while the video option does not require any campus visits. 
The Online MBA Program at CSU focuses on management and leadership. Course examples for the program include Dynamic Decision Making, Supply Chain Management, Building and Leading Exceptional Teams, Project Management: Information Technology, International Business, Self-Leadership in Organizations, Information Management, Ethical Leadership Symposium, and Corporate Risk Management.
The Online MBA at Colorado State University also explores innovation, finance, data analytics, and using business for a better world. Forty-two credits are required, with 40% dedicated to electives. This allows students to customize the program to meet their individual goals. For additional credentials, students may add a certificate in an area such as IT Project Management or Marketing Management. In addition, a Marketing Data Analytics Specialization is available via streamed digital media.
While the CSU Online MBA is provided in a flexible, distance format, all students have the opportunity to participate in the International Business Experience. This five- to 10-day, one-credit elective can be completed in the summer or winter in places such as Chile, Greece, India, Croatia, Portugal, or Spain.
With five start dates each year, the CSU Online MBA requires professional work experience. The GMAT and GRE scores are not required for admission and the program. Students can complete the program in as few as 21 months up to five years.
More than 80% of Colorado State University Online MBA graduates report at least a $10,000 raise after completing the program. Examples of career opportunities include Chief Executive Officer (CEO), VP of Supply Chain, Information Technology Director, Operations Director, Health Services Manager, Business Intelligence and Analytics Director, Marketing Director, Nonprofit Executive Director, Investment Banker, High-End Management Consultant, and Business Owner.
Founded in 1870 as the Colorado Agricultural College, Colorado State University is a public Tier 1 Research university and part of the three-school Colorado State University System. With a five-year average enrollment of more than 33,400 students, CSU provides over 250 programs across eight colleges and the Graduate School. Colorado State University is accredited by the Higher Learning Commission (HLC).
2. University of Colorado Denver, Denver, Colorado

The Business School at University of Colorado Denver (CU Denver) has been providing business training to students for more than 30 years. This AACSB accredited school has an MBA Program that features access to 300+ business partners, more than 100 networking events, and the option to attend online, on-campus or a combination of the two (hybrid).
The hybrid MBA Programs require at least two in-person meetings per term, on weekends, and participation in one international immersion. The Online Professional MBA is CU Denver's most flexible MBA Program. This 45 credit hour option features an optional Global Experience; more than 100 elective courses; career workshops and access to the Business Career Center team for life; Fall, Spring, and Summer starts; and 15 specializations, including six that are fully online.
Specialization examples include Bioinnovation and Entrepreneurship, Business Intelligence, Sports and Entertainment, Managing for Sustainability, International Business, Entrepreneurship, and Information Systems.
The GRE/GMAT is not required for admission to the Online Professional MBA Program and students can complete the program in as few as 16 months or as much as five years.
Graduates of the Business School at University of Colorado are prepared to pursue leadership positions in all industries. Across all graduate programs, students enjoy a near 80% employment rate within three months of graduation. Alumni have been recruited by companies such as Charles Schwab, KPMG, Arrow Electronics, S&P Global, Centura Health, First Bank, DaVita, Graebel, Plante Moran, Ball Corporation, and Marketo.
University of Colorado Denver opened in 1912 as an extension of the University of Colorado Boulder . The school became CU Denver in 1973, making it an independent campus. Organized into seven colleges and schools, University of Colorado Denver serves more than 15,000 students enrolled in approximately 115 degree programs. University of Colorado Denver is accredited by Higher Learning Commission (HLC).
3. University of Denver, Denver, Colorado

University of Denver (DU) houses Daniels College of Business. Established in 1908 and continuously accredited by the AACSB since 1923, Daniels is the nation's eighth oldest business school. Within the school are eight majors, 13 minors, nearly a dozen graduate options, and a variety of executive education workshops, short courses, and customized programs. All options combine business fundamentals with hands-on experiences via simulations, practicum projects, and interactions with professionals around the globe.
For professionals seeking a flexible program, Daniels College of Business has an Online MBA Program known as MBA@Denver. Program features include GMAT waivers, convenient January, March, June, and September start dates, and opportunities to network with more than 37,000 Daniels alumni through mentoring, company tours, and informational interviews.
Other program features include 10-week quarters, live on-screen classes, self-paced coursework, two required in-person domestic or global immersions, LinkedIn Premium benefits, and career support.
MBA@Denver Immersions allow students to travel to domestic and global destinations to meet peers, mingle with business leaders, and tour companies. During these three-day events, students will also work in group workshops to solve business problems. International immersions allow students to take  an optional extension course, which includes five additional days to travel, engage with local businesses, and meet with local speakers. Possible locations include London, Paris, Australia, Brazil, India, Israel, and Norway.
The Online MBA at University of Denver requires 60 credit hours including 13 required foundation courses, 16 elective course options, and one real-world capstone course. Three concentrations are available and include Finance, Executive Leadership, and Marketing. Students living near DU may explore on-ground concentrations such as Real Estate and the Built Environment, Business Analytics, and Accounting.
A Customized concentration option is also available. Students in this option may select courses from a variety of electives to create a focus area that suits their goals.
Course examples for the MBA@Denver include Developing an Entrepreneurial Mindset, Leading with Integrity, Supply Chain Management, Marketing for Social Impact, CEO Toolbox, Business Data and Analytics, Managerial Economics, and Financial Planning and Analysis. Students can expect to complete the Online MBA program at University of Denver in as few as 21 months.
Nearly 70% of MBA@Denver graduates receive a promotion and close to 90% receive raises within four months of completing the program. Program alumni work in areas such as Energy, Government and Military, Health, Transportation, Banking, and Consumer Goods and Services. Within these industries, students have worked in roles such as C-Suite Executive (CEO, CFO, COO), Director, Marketing and Sales Manager, Analyst, Vice President of Finance, and Program Manager.
Founded in 1864 as the Colorado Seminary, University of Denver is the oldest independent higher education institution in the Rocky Mountain West. The school serves 12,000 students enrolled in more than 220 programs across 12 colleges and schools. University of Denver is accredited by the Higher Learning Commission (HLC).