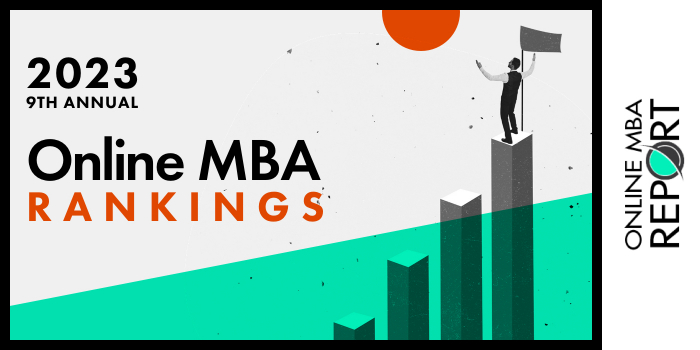 Our 2023 rankings of the Top Online MBA Programs in Texas. For an explanation of ranking criteria, click here.
Top 5 Online MBA Programs in Texas - 2023 Rankings

| Ranking | School | City |
| --- | --- | --- |
| 1 | Rice University | Houston |
| 2 | University of Texas at Dallas | Dallas |
| 3 | Baylor University | Waco |
| 4 | University of Dallas | Irving |
| 5 | University of North Texas | Denton |
1. Rice University, Houston, Texas

Rice University is home to the Jesse H. Jones Graduate School of Business, which has an AACSB-accredited Online MBA program known as the MBA@Rice. With an emphasis on entrepreneurship, the program includes access to the Liu Idea Lab for Innovation & Entrepreneurship, which hosts workshops, classes, competitions, and networking events. MBA@Rice students will also have opportunities to pitch to investors and advance their startups at the Rice Business Plan Competition—the world's largest intercollegiate startup event.
Other program features include 100% online assignments that include real-world case studies, video simulations, and collaborative projects; meetings with faculty members and peers each week for live, face-to-face class sessions over Zoom; and Global Field Experiences (GFE), which allow students to connect with peers, faculty, and mentors in locations around the world.
Students also benefit from small class sizes, which allow for more one-on-one attention from professors; access to advanced electives such as Optimizing The Workforce of the Future and Strategic Innovation and Competitive Advantage; and seven focus areas, allowing students to develop skills in a number of in-demand areas. Options include Corporate Strategy, Entrepreneurship, Healthcare, Corporate Finance, Marketing, Investment Management, and Energy.
The Online MBA Program at Rice University requires 54 total credits, including 36 core credits, 12 elective credits, three credits of Residential Intensive Learning Experiences (ILEs), and three additional credits of electives, ILEs or Global Field Experiences (GFEs). ILEs consist of a variety of seminars, guided leadership exercises, simulations, and immersions that bring students face-to-face with faculty, industry leaders, and peers. Domestic ILEs are often held at the Rice University campus in Houston. GFEs include intersessions, optional seminars, and study abroad opportunities .
Exams for the Online MBA at Rice University are held during the final week of each semester. Students can expect to complete the program in 24 months.
MBA@Rice graduates enjoy a 97% employment rate within three months of graduation Program alumni are often hired in the Technology, Consulting, Petroleum/Energy, and Financial sectors. Some top employers of MBA@Rice graduates include IBM, JP Morgan Chase, Amazon, Deloitte, HP, Google, McKinsey & Company, Accenture, GE, Apple, BCG, Chevron, Morgan Stanley, Citigroup, Ernst & Young (EY), Dell, Barclays, and ConocoPhillips, HP, Deutsche Bank, EDP Renewables, Shell, KPMG, Goldman Sachs, ExxonMobil, McKinsey & Company, and North Highland Management Consulting.
Rice University was chartered on May 18, 1891 as the William Marsh Rice Institute for the Advancement of Literature, Science and Art. When the Institute finally opened in 1912, it welcomed 77 students and a dozen instructors. Today, Rice University employs approximately 900 faculty members that serve 8,565 students. More than 75 programs are available across seven schools. Rice University is accredited by the Southern Association of Colleges and Schools Commission on Colleges (SACSCOC).
2. University of Texas at Dallas, Dallas, Texas

University of Texas at Dallas (UT Dallas) is home to Naveen Jindal School of Management. With more than 11,000 students and 60+ student organizations, Jindal is the largest of UT Dallas' eight schools. Within Jindal School of Management is an AACSB-accredited MBA Program with multiple delivery options. For students seeking the most flexible option, Jindal has an Online Professional MBA (PMBA) Program that can be completed in as few as 16 months or up to 72 months.
Students in this program have access to nine concentrations, 59 elective course options, and five MS/MBA combinations. Some MS options are STEM-designated. Students in these programs are eligible for three years of (OPT) Optional Practical Training after graduation. Online PMBA concentrations require 12 credit hours and include options such as Business Analytics, Information Technology Management, Marketing, Internal Audit, and Healthcare Leadership Management.
The Online MBA Program at University of Texas at Dallas allows students to pursue an academic certificates through the Executive Education area. Options include Executive and Professional Coaching, Strategic HR, Organizational Consulting, Transformational Leadership, and Project Management. Courses completed as part of an academic certificate can be used as elective coursework toward the MBA degree.
While the UT Dallas Online PMBA does not require campus visits, students are encouraged to participate in the school's International Study Program. Options include semester-long, summer, or 10-day experiences in places such as the Middle East, Asia, Central America, Europe, and South America.
Graduates of the MBA Programs at UT Dallas enjoy a 90% placement rate within 90 days of graduation. Program alumni have been hired at places such as Deloitte, Wells Fargo, Proctor & Gamble, Amazon, Toyota, Dell J.P. Morgan, FedEx, Nestle, Verizon, Hewlett Packard, Intel, SpaceX, Texas Instruments, and Fossil.
University of Texas at Dallas opened in the 1960s as the Graduate Research Center of the Southwest. Established by the owners of Texas Instruments, UT Dallas is an official member of the University of Texas System. The school serves 31,570 students enrolled in more than 140 degree programs across eight schools. University of Texas at Dallas is accredited by the Southern Association of Colleges and Schools Commission on Colleges (SACSCOC).
3. Baylor University, Waco, Texas

Baylor University (BU) is home to Hankamer School of Business (HSB), which houses an AACSB-accredited MBA program that can be completed in as few as 12 months. This accelerated, fully online program has four in-demand concentration options including Cybersecurity, Executive Communication, Global Trade and Supply Chain Management, and Marketing. Students may also pursue a General MBA, which explores all areas of business.
Course examples include Management Communication, Business Intelligence, Strategic Management and Business Policy, Business Analytics for Decision Making, Business Frameworks, Data Warehousing, Management Information Systems, Corporate Finance, Management of Organizational Behavior, and Business Intelligence.
Depending on the student's academic background, 48-60 credit hours of study must be completed to graduate. Upon completion of the program, students are prepared to pursue leadership positions in business, finance, consulting, or in their area of specialization. Graduates enjoy an 94% placement rate 90 days after graduation.
Baylor University MBA and Business alumni have been hired at Amazon, Dell, Google, Pepsi, Meta Platforms, Inc., Bank of America, AT&T, Hewlett Packard Enterprise (HPE), USAA, Atos, PwC, Nasdaq, ExxonMobil, McLane, , GE, Tenet Healthcare Corporation, Dell, H-E-B, Textron, Capital One, Baylor Scott & White, BASF, HCA Healthcare, and SAS Software. 
Chartered in 1845 by the Republic of Texas, Baylor University is the oldest continually operating university in Texas. Serving approximately 20,710 students from all 50 states and more than 90 countries, this Christian University provides 250+ degree programs across 12 academic divisions. Baylor University is accredited by the Southern Association of Colleges and Schools Commission on Colleges (SACSCOC).
4. University of Dallas, Irving, Texas
University of Dallas (UD) is home to Satish & Yasmin Gupta College of Business. Established in 1966 as UD's Graduate School of Management (GSM), the College is AACSB-accredited and provides undergraduate, master's, and doctorate degree programs to more than 1,500 students. Programs are AACSB accredited and taught at the main campus in Irving, Texas, and UD's ten-acre Eugene Constantin Campus, just outside of Rome, Italy.
Among UD Gupta's graduate programs is an Online MBA with seven concentrations. Options include Cybersecurity, Strategic Leadership, Business Analytics, Healthcare Analytics, Finance, Supply Chain, and Marketing. With a concentration, the program requires 39-42 credit hours. Without a concentration, students are required to complete 30 credit hours (10 classes).
The Online MBA Program culminates with a Capstone Consulting Experience. To date, University of Dallas MBA students have completed more than 900 projects for 500+ companies, including Fortune 1000 firms, nonprofit organizations, and entrepreneurial ventures. Examples of past clients include Pepsi, Neiman Marcus, COX, The City of Dallas, Dallas Area Rapid Transit (DART), United Way, Fujitsu, JCPenney, and the Boys & Girls Clubs of America.
The Online MBA at University of Dallas can be completed in 1-2 years without a concentration and in 2-3 years with a concentration. In addition to 100% online delivery, the program provides the option to complete coursework in a hybrid (online and on-campus) format.
Graduates of the MBA Program at University of Dallas hold positions in many different industries across the U.S. and around the world. Alumni are Chief Executive Officers (CEOs), Computer and Information Systems Managers, Chief Information Officers (CIOs), High-End Management Consultants, Chief Information Security Officer (CISOs), Marketing or Sales Managers, Chief Technology Officers (CTOs), IT Directors, Health Services Managers, Financial Managers, and Investment Fund Managers.
Founded in 1956, University of Dallas is one of just 23 Catholic universities in the country to earn a Phi Beta Kappa chapter. This private, co-educational, liberal arts university serves approximately 2,330 students from 49 states and 16 countries. Students at UD have access to 29 undergraduate majors and dozens of graduate programs across two colleges and one school. University of Dallas is accredited by the Southern Association of Colleges and Schools Commission on Colleges (SACSCOC).
5. University of North Texas, Denton, Texas

University of North Texas (UNT) is home to G. Brint Ryan College of Business. With nearly 9,000 students the Ryan College is one of the largest business schools in the U.S. Highlights include partnerships with companies such as Toyota, Grant Thronton, KPMG, Goldman Sachs, Wells Fargo, Peterbilt, and Lennox International; AACSB accreditation (since 1961); and an MBA program with 14 majors. Some options are STEM approved, while others can be completed 100% online. These include Health Services Management, Marketing, Organizational Behavior & Human Resources, Supply Chain Management, Marketing, Strategic Management, and Supply Chain Analytics.
All options require 36 credit hours (12 courses) including 18 credit hours in the MBA core, 15 credit hours in the major, and three elective hours. The curriculum is identical to the curriculum for the campus-based MBA program, which focuses on Ethics, Problem Recognition, Technology, Communication, Global Perspectives, Problem Solving, and Teamwork.
The Online MBA at University of North Texas has five start dates annually including January, March, June, August, and October. The program provides full- and part-time schedules, allowing students to complete the program at their own pace. However, the average completion time for the UNT Online MBA is 18 months to two years. Graduates are prepared for leadership roles across all industries.
The Ryan College of Business at UNT has some 700 alumni who are CEOs and company Presidents. Some of the top employers of University of North Texas graduates include PwC, Walmart, Amazon, Grant Thornton, AT&T, Fidelity, Walgreens, American Airlines, Comerica Bank, Celanese Corporation, and Cummins Inc.
Established in 1890 and employing more than 4,600 faculty and staff members, University of North Texas is one of the largest employers in the City of Denton, Texas. The school serves approximately 44,530 students, making it one of the top 10 largest universities in Texas and one of the largest in the U.S.  Students at UNT have access to more than 200 degree options across 14 colleges and schools. University of North Texas is accredited by the Southern Association of Colleges and Schools Commission on Colleges (SACSCOC).