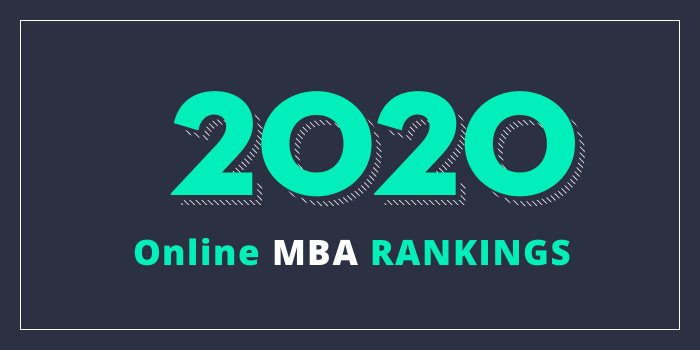 Our 2020 rankings of the Top Online MBA Programs in Texas. For an explanation of ranking criteria, click here.
Top 5 Texas Online MBA Programs - 2020 Rankings

| Ranking | School | City |
| --- | --- | --- |
| 1 | University of Texas at Dallas | Dallas |
| 2 | Rice University | Houston |
| 3 | University of North Texas | Denton |
| 4 | West Texas A&M University | Canyon |
| 5 | Texas A&M University | Commerce |
1. University of Texas at Dallas, Dallas, Texas

Since 1969, University of Texas at Dallas (UT Dallas) has grown from one building in a field into a top-tier university serving more than 29,500 students enrolled in eight schools and more than 140 academic degrees including top-ranked programs in business, engineering, science, audiology and arts and technology.
Naveen Jindal School of Management (JSOM) is the largest of UT Dallas' eight schools. It houses the Professional MBA (PMBA) Online, which allows students up to 72 months to complete the program. Students also have the option to complete the program in as few as 16 months. There are no on-campus requirements and students have full access to MBA Program Office and Jindal School Career Management Center staff. 
This AACSB-accredited program utilizes "streaming audio lectures, video clips, online exams, online submission of assignments, and interactivity for group projects using discussion forums, email, and web conferencing," says the school. The 53 credit hour online PMBA also highlights 24 hours of electives, along with an impressive 13 double MS/MBA options, including STEM, and 15 concentrations. Just a few concentration options include Accounting, Information Systems, Innovation and Entrepreneurship, Marketing, Real Estate, and Supply Chain Management.
In addition to STEM, MS options include Healthcare Leadership and Management, Innovation & Entrepreneurship and International Management Studies, to name a few.
All JSOM Online PMBA students are encouraged to participate in the school's International Study Programs, which "give direct exposure to business in a global context." Besides offering Exchange Programs and International Internships, the JSOM Study Abroad Office has conducted more than 35 faculty led international study trips in 16 countries for the past 15 years.
Jindal School of Management also offers a Professional MBA Flex that allows students to take classes on a part-time basis, usually six semester credit hours (two courses) per semester.
2. Rice University, Houston, Texas

On May 18, 1891, Massachusetts-born businessman William Marsh Rice chartered the William Marsh Rice Institute for the Advancement of Literature, Science and Art as a gift to the city of Houston, where he made his fortune. In 1907, astronomer and mathematician Edgar Odell Lovett became the first president of Rice. In 1912, the Rice Institute finally opened with 77 students taught by a dozen faculty. Today, Rice University serves 7,170 students taught by 694 full-time and 192 part-time instructional faculty. More than 50 undergraduate majors and dozens of graduate programs in eight schools.
The Jesse H. Jones Graduate School of Business at Rice University offers an AACSB-accredited online MBA program known as the MBA@Rice. Program highlights include live virtual classes, small class sizes, and mobile-friendly, multimedia coursework. The program, which has four focus areas including Corporate Finance, Corporate Strategy, Investment Management, and Marketing, develops students' understanding of "essential business principles such as financial accounting, business analytics, marketing strategy, leadership and finance," says the school. Students will "learn to apply these larger concepts throughout an organization" as they hone their skills in one of the focused specializations of study.
In each 10-week term, students will take courses totaling up to six credits. The first year will consist of all core courses, and the second year features a combination of core and elective courses. Sample courses include Business-Government Relations, Competitive Strategy, Corporate Investment Policy, Corporate Responsibility, Economic Environment of Business, Geopolitics of Energy, Futures and Options, Leadership, and Negotiations. 
Students must complete 54 total credits including 36 core credits, 12 elective credits, three credits of Residential Intensive Learning Experiences (ILEs) and three additional credits of electives or ILEs. ILEs consist of a variety of simulations, immersions, seminars, intersessions, and guided leadership exercises that bring students face to face with peers, faculty and industry leaders." Domestic ILEs are often held on the Rice University campus in Houston, Texas.
Global Field Experiences (GFEs) are also part of the program, which allow students to study abroad and to develop and practice new hands-on skills.
Exams for the MBA@Rice are held during the final week of each semester and the program can be completed in 24 months.
3. University of North Texas, Denton, Texas

Serving nearly 39,200 students, the University of North Texas is one of the state's oldest and largest universities. The school offers 106 bachelors, 88 masters, and 36 doctoral degrees across 14 Colleges and Schools. The College of Business (CoB) here offers an accelerated MBA that may be completed 100% online in just 14 months.
This AACSB-accredited program has six specializations including Marketing, Marketing Analytics, Organizational Behavior and Human Resource Management, Strategic Management, Supply Chain Analytics, and Supply Chain Management.
Courses for UNT's accelerated MBA programs are offered in eight-week sessions and the curriculum is identical to the school's traditional MBA program. Students can expect to take 18 hours in the MBA core, 15 hours in the concentration, and three elective hours, for a total of 36 credit hours. Course highlights include Administrative Strategy, Discovery and Learning with Big Data, Large Data Visualization, Managing Organizational Design and Change in Financial Management, and Organizational Behavior Analysis.
Depending on the specialization, students will also take seminar courses such as Seminar in Business Ethics and Social Responsibility, Seminar in Compensation and Motivation, and Seminar in Labor Relations.
The MBA program at UNT offers five start dates annually including January, March, June, August and October.
4. West Texas A&M University, Canyon, Texas

Established in 1876, the Texas A&M University System is one of the largest systems of higher education in the nation. Through a statewide network of 11 universities, a comprehensive health science center, eight state agencies, and the RELLIS Campus, the Texas A&M System educates more than 153,000 students and makes more than 22 million additional educational contacts through service and outreach programs each year.
Founded in 1910 and serving more than 10,000 students, West Texas A&M University (WTAMU) is a member of the Texas A&M University System. The school joined the System in 1990 and today it offers 60 undergraduate degree programs, 38 masters, and two doctorate programs across seven colleges and schools.
The Paul and Virginia Engler College of Business at WTAMU offers a 31 to 46 credit hour MBA program that may be completed entirely online or through a combination of online and campus courses. Students may choose the General MBA or add an optional emphasis area such as Computer Information Systems, Healthcare Management, Management, or Marketing.
Courses for the program are divided into multiple topic areas that cover accounting, quantitative analysis, computer application and technology, corporate finance, marketing, economic theory, management, business integration, and international business. Course highlights include Accounting in Health Care Organizations, Cultural Intelligence, Financial Management of Biotechnology and Health Care, International Human Resource Management, and Social Network and Media Analysis. All students will complete the MBA Portfolio Capstone course worth one credit hour.
The AACSB-accredited Engler Online MBA may be completed within a two-year period. However, some students have completed the program in as few as 12-18 months.
5. Texas A&M University - Commerce, Commerce, Texas

Established in 1889, Texas A&M University – Commerce (TAMUC) is part of the Texas A&M system. The school serves approximately 10,000 students enrolled in more than 100 degree programs across five colleges, a main campus in Commerce, and several additional campuses.
Texas A&M University's College of Business (TAMUC College of Business) offers an MBA program that may be completed entirely online. The largest online MBA program in Texas, the 30 to 48 credit hour program offers minor options that allow students to customize their program choices and position themselves for career advancement. Options include Accounting, Agribusiness, Business Analytics, Corporate Management, Cybersecurity, Digital Marketing, Economics, Entrepreneurship, Finance, Financial Planning, Healthcare Administration, International Business, Marketing, and Marketing Analytics.
Students may choose the MBA with a Minor or the General MBA, which requires six hours of electives. Students in both AACSB-accredited options will take courses such as Advanced Managerial Accounting, Applied Business Research, Financial Management, Marketing Management, and Strategic Management.
Another program highlight is the British Studies Program. TAMUC participates in a consortium of 11 universities in the British Studies Program, which allows students to earn an MBA in British Studies. This program requires a summer session at King's College in London.
Graduates of the TAMUC Online MBA work for top companies such as L3 Technologies, Innovation First International, Trend HR, Daseke, Inc., Mary Kay Corporation, and Dallas Black Dance Theatre, to name a few.