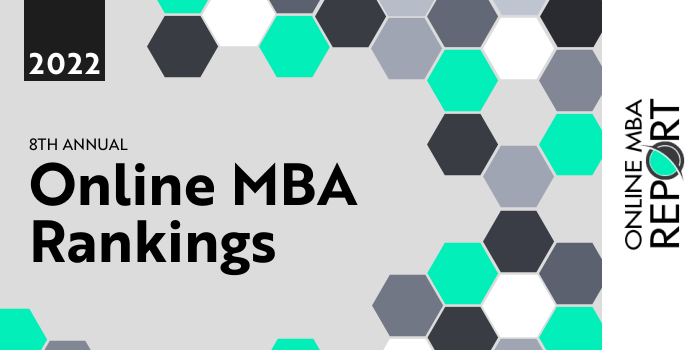 Our 2022 rankings of the Top Online MBA Programs in Ohio. For an explanation of ranking criteria, click here.
Top 5 Online MBA Programs in Ohio - 2022 College Rankings

| Ranking | School | City |
| --- | --- | --- |
| 1 | University of Cincinnati | Cincinnati |
| 2 | Ohio University | Athens |
| 3 | Kent State University | Kent |
| 4 | Xavier University | Xavier |
| 5 | University of Dayton | Dayton |
1. University of Cincinnati, Cincinnati, Ohio

University of Cincinnati (UC) is home to one of the country's top three Cooperative (Co-op) Programs. Participating students earn more than $75 million a year combined working for Fortune 500 companies such as Apple, Boeing, Disney, Nike, and P&G, among others. Students enrolled in programs through UC's Carl H. Lindner College of Business have access to the Co-op Program, along with a number of business programs that can be completed entirely online. Among these programs is an AACSB-accredited Online MBA that takes just one year to complete.
Consisting of 35-48 credit hours, the UC Linder Online MBA is research-intensive, with additional opportunities to engage in real-world work experiences. Electives allow students to concentrate in a specific area or earn a certificate. Online certificate/concentration offerings include: Health Care Policy and Regulation, Individual Taxation, Marketing, Health Care Administration, Corporate Taxation, Health Care Finance, and Health Care Operations.
Other UC Linder Online MBA features include optional study abroad experiences in more than 50 countries, the option to take courses in-person at UC's Uptown Campus, no GMAT requirement for students applying for Fall 2022, Spring 2023, and Summer 2023, and career services, including immersive two-day leadership and team-building experiences and a series of intensive communication workshops.
Graduates of the University of Cincinnati Linder Online MBA Program are often  hired for full-time positions within three months of graduation. Top hiring companies include Honda, AstraZeneca, BMO Financial Group, BP, Ernst & Young, Fifth Third Bank, GE Aviation, HSBC, KPMG US, Marathon Petroleum Corporation, Mead Johnson & Company, Morgan Stanley, Nielsen Holdings, PwC Switzerland, Shell Oil Company, Dow Chemical Company, The Goodyear Tire & Rubber Company, Kroger, Procter & Gamble, Toyota, and UTC Aerospace Systems.
The University of Cincinnati is an urban research university that has been accredited by The Higher Learning Commission (HLC) since 1919. Accreditation includes all regional campuses. In addition, as an Ohio Public Institution, every program at UC is approved by the Ohio Department of Higher Education (ODHE). Founded in 1819, UC serves nearly 46,710 students enrolled in more than 400 academic programs across 14 colleges and The Graduate School.
2. Ohio University, Athens, Ohio

The College of Business at Ohio University has a no GMAT or GRE required MBA Program that can be completed 100% online. Graduate Certificates are available online as well and can help students develop an area of expertise to advance in a current position or move into a new one. Select coursework from a Graduate Certificate can be applied to the Online MBA. Certificate options include Business Analytics and Advanced Business Analytics, Business Venturing & Entrepreneurship, Executive Management for Healthcare Professionals, Finance, Strategic Sales and Sales Leadership, Operations and Supply Chain Management, Human Resources management, and Management and Leadership.
Finance, Business Analytics, Operations and Supply Chain Management, Strategic Sales and Sales Leadership, and Business Venturing & Entrepreneurship are also available as Concentrations. The Online MBA Program has nine Concentration options total. Other options include Healthcare, Executive Management, Accounting, and Project Management.
All MBA students at Ohio University have the opportunity to work with the school's Graduate Career Acceleration Team (GradCAT). They can access career coaches, branding experts, and the career concierge as well as job-search resources that include webinars, personal assessments, and new job openings. Online resources can be accessed 24/7 and live coaching takes place via video conference or phone. Coaches, branding experts, and the career concierge are available for four months, and annual career coaching sessions, unlimited access to job-search technology platform, or networking opportunities are accessible for life.
The Online MBA Program at Ohio University may be completed in two years, full-time. Graduates of the program go on to receive promotions and salary increases in their current careers or to establish successful careers in industries such as Healthcare, Manufacturing, Information Technology, Government, Retail Management, E-commerce, Automotive, and Public Administration.
Ohio University is accredited by The Higher Learning Commission (HLC). Established in 1804 as the state's first university, this public research institution serves 28,000 students from across the state and online. More than 250 academic programs are available at Ohio University. Programs are housed across more than 25 colleges and schools.
3. Kent State University, Kent, Ohio

Kent State University (KSU or Kent State) is home to the AACSB-accredited Ambassador Crawford College of Business and Entrepreneurship, which has several flexible paths to earn an MBA. The Stackable Certificate Pathway to the Online MBA Our allows students to enroll in the Financial Management or the Leadership and Management Certificate Program. These stand-alone certificates consist of five two-credit courses and classes for each are delivered 100% online. Students can complete one certificate, stack a second certificate, then complete Capstone requirements to graduate with an MBA.
Another pathway is the Fully Online Kent State MBA, which serves students in Cleveland, Akron, and Youngstown, and professionals attending virtually across Ohio and the U.S. Examples of areas covered in the program include ethical and sustainable management, communication, digital technology, critical thinking, and teamwork.
The Kent State Online MBA blends classroom instruction, experiential learning, and optional education abroad experiences in places such as Prague, Czech Republic; Florence, Italy; and Geneva Switzerland. Courses for the program are case-based and delivered in eight-week modules. Three optional concentrations are available including Business Analytics, International Business Analytics and Human Resource Management.
Of the 37 credit hours required to complete the KSU Online MBA, 24 hours are core courses, nine are electives, and the Capstone is three credits. A one-credit Professional Development course is part of the program and the optional study abroad course can fulfill three out of the nine elective credits. Course examples include Global Conditions and Macroeconomics Policy, Leadership and Managerial Assessment, Analytics for Decision Making, Global Technology Strategy, Operations, Service and Supply Chain Management, Financial Accounting for Decision Making, Managerial Economics, Law and Ethics, and marketing Management. 
Other Online MBA Program benefits include access to a career coach and other career services, the option to enroll year-round in the Fall, Spring, and Summer semesters, and no business degree or business background requirements. The Online MBA Program at Kent State University can be completed in as few as 12 months. 
Top employers for graduates of the Ambassador Crawford College of Business and Entrepreneurship include EY, Sherwin Williams, Grant Thornton, Rocket Mortgage (formerly Quicken Loans), Progressive Insurance, KeyBank, FirstEnergy, Tom James Company, Qualtrics, and Fastenal.
Kent State University is accredited by The Higher Learning Commission (HLC). Established in 1910 as a teacher-training school, KSU consists of an eight-campus system that serves around 35,000 students from across the U.S. and 116 countries. Kent State University offers more than 300 programs in more than 40 colleges, departments, and schools.
4. Xavier University, Cincinnati, Ohio
The Williams College of Business at Xavier University provides 11 undergraduate major options and four master's degree programs to hundreds of undergraduate and graduate students. Among the College's master's degree programs is an MBA with part-time, full-time, and online options. All options are AACSB accredited and each requires 39-45 credit hours to graduate. For students who have already completed foundation courses, the Williams Online MBA can be completed in as few as 13 courses (39 credit hours).
Core classes for the Williams Online MBA at Xavier University consist of 27 credits across a variety of business disciplines from Business Information Systems to Marketing Strategy. Students in the program have the opportunity to concentrate their studies through nine required elective credits. Examples include Business Intelligence and Analytics, Values Based Leadership, Marketing, Innovation, Change and Entrepreneurship, Supply Chian Management, and Pricing. An optional Global Immersion Trip worth three credits is also part of the program.
Many courses for the Williams Online MBA require participation at set times. Each three-credit course requires an eight-week commitment with summer sessions condensed to six weeks. Two courses may be completed in a 16-week time period, allowing students to focus on one course at a time. Online courses for the program utilize a portal that includes email exchanges and video conferencing, discussion boards, and prerecorded audio and video files.
Recent graduates of the Williams College of Business at Xavier University enjoyed an 89% success rate. Top employers include Deloitte, Kroger, Fidelity, Arthur J Gallagher, Paycor, US Bank, Grant Thornton, Cintas, TQL, Nielsen Fifth Third Bank and Macy's.
Xavier University is accredited by the Higher Learning Commission (HLC). This private institution is the sixth-oldest Catholic and fourth-oldest Jesuit university in the United States. Founded in 1831 as a men's college, Xavier serves 7,000 students enrolled in 90+ undergraduate majors, 60+ minors, and 40+ graduate programs across four colleges.
5. University of Dayton, Dayton, Ohio

University of Dayton houses the AACSB-accredited School of Business Administration, which provides several paths to earn an MBA. The On-Campus MBA has flexible evening classes for working professionals. The Online MBA provides the most flexibility and is offers a path for every experience level. The One-Year Online MBA is designed for students who have earned a Bachelor's in Business within the last seven years. This path consists of 30-31.5 credits and it can be completed in 12 months.
The Accelerated Online MBA is for students with a Bachelor's in Business earned more than seven years ago or those with at least eight years of related work experience. This path consists of 31.5-39 credits and it takes 15 months to complete. The Online Foundational MBA is designed for students with a bachelor's degree in a non-business field. Consisting of 36-45 credits, this path takes 18 months to complete.
Known collectively as the [email protected], paths include in-person collaborative learning experiences, workshops, interactions with business leaders, and networking opportunities through required Immersions (students must attend at least two). Coursework is interactive and accessible 24/7, and includes video lectures and case studies. Live weekly classes allow students to develop relationships with professors and peers.
As part of University of Dayton, [email protected] students enjoy a high employment rate. Recent top UD employers include Fifth Third Bank, Sherwin-Williams, EY, PwC, the United States Army, Reynolds and Reynolds, TEKsystems, AmeriCorps, the United States Air Force, Parker Hannifin, RSM, Total Quality Logistics, and Centerville City Schools.
University of Dayton has been accredited by The Higher Learning Commission (HLC) since 1928. Founded in 1850 by the Society of Mary (Marianists) as St. Mary's School for Boys, the school opened in a frame building with just 14 students. Today, the University of Dayton sits on nearly 400 acres and it serves more than 12,000 students across five colleges and schools. UD offers 80 undergraduate and 50 graduate and doctoral programs, 100 minors, and nearly 50 certificates.