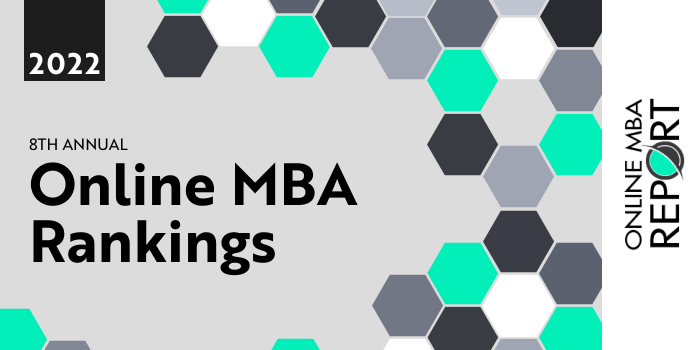 Our 2022 rankings of the Top Online MBA Programs in New York. For an explanation of ranking criteria, click here.
Top 5 Online MBA Programs in New York - 2022 College Rankings

| Ranking | School | City |
| --- | --- | --- |
| 1 | Syracuse University | Syracuse |
| 2 | Rochester Institute of Technology | Rochester |
| 3 | Hofstra University | Long Island |
| 4 | Marist College | Poughkeepsie |
| 5 | State University of New York at Oswego | Oswego |
1. Syracuse University, Syracuse, New York

Martin J. Whitman School of Management at Syracuse University (SU) was established in 1919 as the College of Business Administration. In 1920, the school became the 16th collegiate business school in the U.S. to be accredited AACSB International. The MBA Program was launched in 1965. The distance MBA launched in 1977 and today it is known as the MBA@Syracuse.
The program, which features the same content as the on-campus program, blends hands-on residency experiences with live, online classes. MBA@Syracuse students will complete 36 credits of core business courses, 15 credits of specialization-focused electives, and three credits of U.S. and global residencies. In 2018, students traveled to Dublin, Ireland and in 2019, residencies took place in Hong Kong and Syracuse.
Six optional specializations are available and include Supply Chain Management, Entrepreneurship, Accounting, Business Analytics, Marketing Management, and Finance. Schedules are flexible, with classes taking place six days a week, including weekends, from 7 a.m. to 9 p.m. All students will have the opportunity to participate in one-on-one career coaching, a self-directed career development course, and a resume review. The MBA@Syracuse can be completed in as few as 24 months.
Graduates of the Whitman Online MBA Program at Syracuse University have been promoted at or accepted job offers with Apple, Marriott, Boeing, JPMorgan Chase, Lockheed Martin, Amazon, ESPN, Accenture, Google, KPMG, and many other top companies. 
Syracuse University is accredited by the Middle States Commission on Higher Education (MSCHE). Founded in 1870, the school serves around 21,330 students from all 50 states and 120 countries. More than 200 majors and minors, and 200 advanced degree programs, are offered across SU's 13 colleges and schools. In addition to campuses in Syracuse, and Manhattan, New York, Washington DC, and Los Angeles, Syracuse University operates overseas centers in France, Italy, London, Poland, Chile, and Spain.
2. Rochester Institute of Technology, Rochester, New York

Saunders School of Business at Rochester Institute of Technology (RIT) offers an interdisciplinary, accelerated Online Executive MBA (EMBA) that requires one three-day on-campus orientation and one International Seminar that takes place over 8-10 days every October to coincide with coursework. All arrangements are made by RIT, and airfare and lodging are provided by the program. Destinations are announced each Spring, five months in advance. Past locations include Santiago, Milan, Johannesburg, Istanbul & Budapest, Prague, Beijing & Shanghai, Warsaw & Krakow, Munich, Ho Chi Minh City, Kuala Lumpur, and Taipei, Taiwan.
The Online EMBA at RIT delivers 49 credit hours of study in just 17 months (four semesters). Foundational courses such as Accounting, Finance, and Leadership, are part of the program as well as unique courses such as Product Commercialization and Technology Management. Classes are delivered via weekly synchronous sessions.
Other program features include the Capstone Consulting Program where students serve as consultants to actual businesses, two starts each year (late August and January), and AACSB accreditation. The program
Rochester Institute of Technology is accredited by the Middle States Commission on Higher Education (MSCHE). Dating back to 1829, the school serves more than 19,000 students, making it one of the largest private universities in the U.S. With additional campuses in China, Croatia, Dubai, and Kosovo, Rochester Institute of Technology offers more than 200 academic programs across 11 colleges and institutes.
3. Hofstra University, Hempstead, Long Island, New York

Hofstra University is home to the AACSB-accredited Frank G. Zarb School of Business. With five academic departments, the Zarb School provides dozens of graduate degree programs, undergraduate majors, dual-degree programs, and minors in all areas of business. For students seeking an MBA, the Zarb School has five options—the Traditional MBA, Executive MBA (EMBA), Co-Op MBA, Online MBA, and the New York City MBA. Dual options are available as well and include BBA/MBA, JD/MBA, and Sustainability Studies MA/MBA.
The Zarb School Online MBA at Hofstra University has three specializations: Strategic Business Management, Strategic Healthcare Management, and Finance. Consisting of 36 credit hours, the program features experiential opportunities, leadership assessment and executive coaching, and networking opportunities. The Online MBA also includes an optional global practicum and two four-day residencies that provide the opportunity to connect with peers and faculty, as well as industry executives, and notable Hofstra alumni through corporate visits in New York City.
Students in the program have 24/7 access to Hofstra Blackboard, where they can submit coursework, email professors and classmates, and check grades. Hofstra Blackboard is also used by MBA instructors to post documents, announcements, and other materials.
The Zarb School Online MBA at Hofstra University can be completed in just 16 months. Recent hiring companies and organizations include 1800flowers.com, Aetna, Apple, Bank of China, Citigroup, BDO USA, Deloitte, EY, Goldman Sachs, Grant Thronton, JPMorgan Chase, KPMG, Liberty Mutual, McKinsey Investments, National Guard, NY Presbyterian Hospital, PwC, Publisher's Clearing House, Supreme Court of the State of New York, U.S. Air Force, Unilever, UPS, Viacom, and Zurich North America.
Hofstra University is institutionally accredited by the Middle States Commission on Higher Education (MSCHE). The school began in 1935 as an extension of New York University (NYU) and under the name Nassau College. Serving close to 10,250 students today, Hofstra is Long Island's largest private university. Hofstra University offers 44 undergraduate, graduate, first professional, and dual degrees with more than 340 program options. Programs at Old Dominion University are housed across 14 colleges and schools, and the Academic Health Sciences Center.
4. Marist College, Poughkeepsie, New York

The School of Management at Marist College has an AACSB-accredited MBA Program that can be completed 100% online. Other program features include hands-on industry-related experiences, two Tracks (Accelerated and Part-Time), and Concentrations in Ethical Leadership, Financial Management, and Health Care Administration. The Accelerated Track takes just 14 months to complete and the Part-Time Track can be completed in three years up to seven. Accelerated MBA students may start the program in the Summer (June), Fall (August), or Spring (January). Part-Time MBA students can begin their studies in any of Marist College's five start terms. Around 90% of Part-Time MBA students have a full-time career while completing their studies.
Graduates of the Marist College MBA Program are prepared for advancement opportunities in their current careers or for leadership roles in all industries. Marist MBA graduates have been recruited by top companies such as IBM, Adobe, Pfizer, Cisco, JPMorgan Chase, Fidelity, Canon, Aetna, Garnet Health, Toll Brothers, and Garnet Health.
Marist College is accredited by the Middle States Commission on Higher Education (MSCHE). Chartered in 1946, the school serves just over 6,650 students enrolled in close to 120 programs across seven schools and two campuses in New York and Florence, Italy.
5. State University of New York at Oswego, Oswego, New York

The School of Business at State University of New York at Oswego (SUNY Oswego) is AACSB accredited. Serving approximately 1,650 undergraduate students and 250 graduate students, the School houses seven undergraduate majors, three degree programs in Broadcasting and Mass Communication, Psychology, and Accounting, an MBA program, and three five-year combined bachelor's/MBA degree programs. All options feature participation in case studies, simulations, group projects, and internship opportunities.
The SUNY Oswego MBA is offered 100% online and it consists of 36 credit hours. The GMAT is optional, and students can begin the program in Fall, Spring or Summer. For students who do not have a business background, the program provides a 21 credit hour Foundation covering management principles, concepts, and skills.
All students will complete the following Core MBA courses: Management Information Systems Credit, Managerial Finance Credit, Marketing Management Credit, Management Science, International Business Credit, and Organization and Management: A Global Perspective. Twelve credit hours of electives are part of the program as well as the three-credit Management Policy Capstone. The MBA Professional Internship is optional and worth three elective credits.
The SUNY Oswego Online MBA takes two years to complete. Graduates are prepared for leadership positions in the private, public, and governmental sectors of management. Examples of career opportunities include Logistics Manager, Chief Financial Officer (CFO), Human Resource Specialist, Chief Executive Officer (CEO), Project Manager, and Chief of Staff.
State University of New York at Oswego is accredited by the Middle States Commission on Higher Education (MSCHE). Founded in 1861 as the Oswego Primary Teachers' Training School, SUNY Oswego is a member of the State University of New York System, which consists of 64 colleges and universities. The school serves over 7,000 students enrolled in more than 170 undergraduate majors, minors, and graduate programs. Colleges and schools include the College of Liberal Arts and Sciences, the School of Education, the School of Communication, Media and the Arts, and the School of Business.