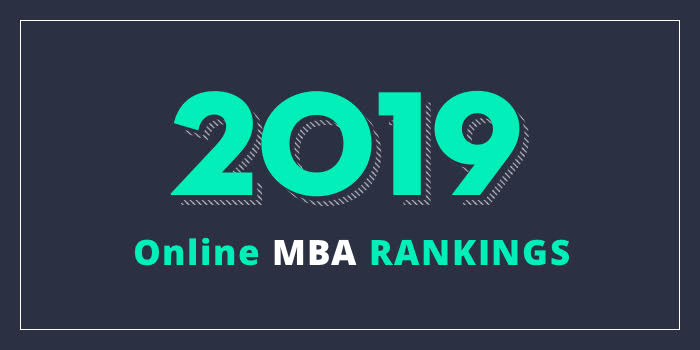 Top 5 Online MBA Programs in New York - 2019 Rankings

| Ranking | School | City |
| --- | --- | --- |
| 1 | Syracuse University | Syracuse |
| 2 | Clarkson University | Potsdam |
| 3 | State University of New York at Oswego | Oswego |
| 4 | Rochester Institute of Technology | Rochester |
| 5 | Hofstra University | Hempstead |
Our 2019 rankings of the Top 5 Online MBA Programs in New York. For an explanation of ranking criteria, click here.

1. Syracuse University, Syracuse, New York
Syracuse University's Martin J. Whitman School of Management offers a 54 credit hour online MBA known as MBA@Syracuse. The program consists of 36 credits of core business courses, 15 credits of specialization-focused electives, and three credits of U.S. and global residencies. Students may choose from six optional specializations including Accounting, Business Analytics, Entrepreneurship, Finance, Marketing Management, or Supply Chain Management.
This AACSB-accredited program combines "live online classes led by Syracuse University faculty, self-paced coursework, and hands-on learning through domestic and international residencies," says the school. While coursework for the MBA program may be completed entirely online, all students will participate in "three day-long residencies in cities around the world." The school says that these hands-on experiences are structured like businesses conferences.
Students will listen to local speakers who host "relevant discussions and interactive panels," meet with classmates for socializing, and engage with professor's fact-to-face for workshops and networking. For 2019, residencies take place in Hong Kong and Syracuse. Last year, students traveled to Dublin, Ireland to study "the industry-leading innovation" taking place there.
The MBA@Syracuse, including residencies, can be completed in as few as two years.

2. Clarkson University, Potsdam, New York
Clarkson University's David D. Reh School of Business offers an online MBA program that consists of 14 three-credit courses. Ten are core courses and four are electives. Core course highlights Leadership and Organizational Behavior, Corporate Ethical and Social Responsibility, Decision Analysis and Supply Chain Modeling, and Financial and Managerial Accounting for Decision Making. Just a few elective options include Strategic Project Management, Negotiations and Relationship Management, High Performance Leadership, and Communicating Globally.
Accredited by the AACSB, the Clarkson Online Reh MBA program offers a number of concentrations, including Global Supply Chain Management, Data Analytics, Leadership, and Entrepreneurship. The Program also allows students to take courses part-time or full-time, and students may earn a Dual MBA/MS in Data Analytics by completing five online courses and a capstone project. Clarkson Online Reh MBA students may begin the program in any term, and since the program is on a quarter calendar students can take courses all year round.
Students can expect to complete the program in less than two years, even if they haven't taken a business class.

3. State University of New York at Oswego, Oswego, New York
State University of New York at Oswego (SUNY Oswego) offers a customizable MBA program that can be completed entirely online. Available through the School of Business, the program consists of 36-57 credit hours, including 36 graduate credit hours of core, and  elective and elective study which builds upon a 21-credit-hour foundation of accepted management skills, concepts and principles. Per the school, the online MBA "is intended to be equally applicable to private, public and governmental sectors of management."
Students can also earn a Public Accounting MBA that has online course options, a Health Services Administration MBA that can be completed online or an advanced Certificate in Nursing Home Administration offered 100% online.
SUNY Oswego's online MBA programs run year-round, including offerings in winter and summer, enabling accelerated degree completion. The AACSB-accredited program can be completed in just two years.

4. Rochester Institute of Technology, Rochester, New York
The Saunders School of Business at Rochester Institute of Technology (RIT) offers an interdisciplinary, accelerated Online Executive MBA (EMBA) that requires just one three-day on-campus orientation. The program offers foundational courses such as Leadership, Accounting and Finance, as well as "distinctive" courses such as Product Commercialization and Technology Management. Classes are delivered via weekly synchronous sessions, "offering high-quality video and audio functionality for optimal interaction," explains the school.
Other program highlights include a curriculum that is identical to the on-campus program, with many of the same faculty teaching both formats, a required International Immersion Experience (airfare and lodging is are provided by the program), and the Capstone Consulting Program where students serve as consultants to actual businesses.
Note that the RIT Saunders Online EMBA offers two starts each year (late August and January). Because it is a cohort-based program, "all students enter the program at the same time, take the same classes, and move through the program with their initial cohort," explains the school. "Some courses will be taken with another cohort (i.e., dual-cohort) and students are assigned to teams at the start of the program and will remain with their team for the duration of the program."
The RIT Saunders Online EMBA delivers 49 credit hours of study in just 17 months (four semesters) and it is AACSB-accredited.

5. Hofstra University, Hempstead, New York
Hofstra University's Frank G. Zarb School of Business is home to New York's first distance learning programs in Strategic Healthcare Management and Strategic Business. With the exception of two residency requirements, both 48 credit hour programs may be completed entirely online. Per the school, students will enjoy "small class sizes in a cohort-based format with a totally customized "digital classroom" environment that also allows for seamless interaction between faculty members and students."
The two residencies allow students to meet other students that they will be working with, network, and build business relationships. Students will also meet faculty members and Zarb School administrators.
The first residency is an orientation that takes place mainly on the Hofstra campus. The second residency takes place at the end of the second year of this two-year program. It consists of "an intense 3-4 day on-campus learning of a business capstone project through an integrative course. There will be interaction with industry panels, graduation events and activities, and local visits to companies in the New York area."
Both AACSB-accredited Zarb MBA Programs are open to domestic and international students. Students hail from 51 states and U.S. territories, and 73 countries.