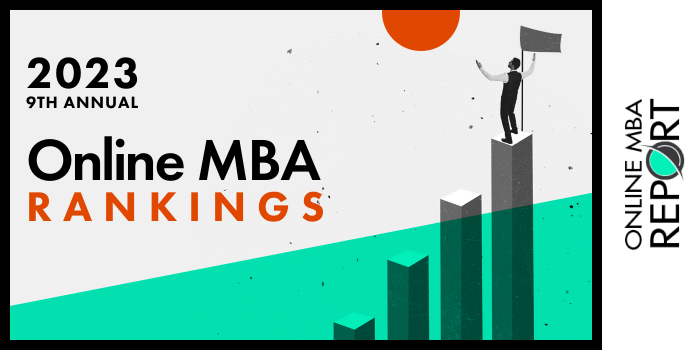 Our 2023 rankings of the Top Online MBA Programs in Florida. For an explanation of ranking criteria, click here.
Top 5 Online MBA Programs in Florida - 2023 College Rankings

| Ranking | School | City |
| --- | --- | --- |
| 1 | University of Florida | Gainesville |
| 2 | Florida State University | Tallahassee |
| 3 | University of Miami | Coral Gables |
| 4 | Florida International University | Miami |
| 5 | University of South Florida | St. Petersburg |
1. University of Florida, Gainesville, Florida

In 1999, Warrington College of Business at University of Florida (UF) became one of the first schools to offer a fully AACSB-accredited, 100% online MBA program. Today, students have two options: the Accelerated 16-month Online MBA and the Traditional 24-month Online MBA. The Accelerated UF MBA is designed for students who have earned an undergraduate degree in business within seven years before applying for the program. This option is also open to students in the University of Florida Outreach Engineering Management (OEM) Master's program. Both options require at least two years of full-time professional work experience, and there are no required campus visits.
Courses for the UF Warrington Online MBA are organized across four Modules and students have the option to expand their studies through career-focused specializations. Examples include Human Capital, Strategy, Real Estate, Marketing, Business Analytics, Supply Chain, and Finance. Specializations are provided through Hough Graduate School of Business.
The UF Warrington Online MBA provides additional opportunities to specialize in different areas through the programs required elective courses. In the first year of the Traditional program, students will take three elective courses. In the second year, students will complete six elective courses.
All Online MBA students will complete one experiential learning course. A few options include The Washington Campus, the online business simulation, a Global Immersion Experience (GIE), or an on-campus elective.
Graduates of the Online MBA program at University of Florida receive employment offers within three months of graduation and more than 90% accept offers before graduation. Program alumni are recruited by companies in sectors such as Financial Services, Consumer Packaged Goods, Technology, Manufacturing, and Retail. Some top hiring companies for graduates across all UF MBA programs include Lockheed Martin, Accenture, Microsoft, JP Morgan Chase & Co., Amazon, Merck, 3M, Home Depot, IBM, ExxonMobil, UPS, Lowe's, General Mills, Nike, Johnson & Johnson, Owens Corning, Porsche Consulting, Walmart, and Hewlett-Packard (HP).
Founded in 1858 as Gainesville Academy, University of Florida opened with just over 100 students. Today, UF is a top 10 public, comprehensive, land-grant, research university that serves 60,795 students enrolled in more than 300 programs across 16+ colleges and schools. University of Florida is accredited by the Southern Association of Colleges and Schools Commission on Colleges (SACSCOC).
2. Florida State University, Tallahassee, Florida

Florida State University (FSU) houses the College of Business (COB). Founded in 1950, the COB is one of the nation's youngest business schools. The College serves close to 7,000 students enrolled in 16 academic degrees across five departments, and eight research centers and institutes. More than 1,000 students are enrolled in the COB's master's degree programs, with hundreds enrolled in the MBA Program. Six formats are available, including Accelerated, Evening Part-Time, JD/MBA, MSW/MBA, Part-Time Online, and Part-Time Online/Real Estate Specialization.
The Online MBAs require 39 credit hours of study, including 27 credit hours in the core. Course examples include Marketing Strategy in the Global Environment, The Legal and Ethical Environment of Business, Financial Reporting and Managerial Control, Strategy and Business Policy, Information and Technology Management, and Business Conditions Analysis.
Students in the Real Estate Specialization will also take Real Estate Valuation, Real Estate Finance, and Real Estate Investment. Real Estate students will also choose an additional course from a list of MBA options offered each semester. Examples include Risk Management and Insurance, Business Analytics, Management Information Systems, and Marketing.
The Part-Time Online MBA (without the Real Estate Specialization) provides the option to specialize in a number of other areas. This includes Management Information Systems (MIS), Marketing, Risk Management and Insurance (RMI), Business Analytics, and Healthcare Management. Students who choose the RMI Specialization will choose between two Tracks: Financial Planning and Risk Management.
All FSU COB MBA students may participate in the Global Business Seminar for Graduate Students. This study abroad experience includes travel to Seoul, South Korea to explore major corporations such as Samsung Electronics, Kia, Hyundai, and LG. The Online MBA also features several cultural excursions.
Graduates of Florida State University have an overall placement rate of 96%. Some of the top employers of FSU graduates include BDO USA, Deloitte, Lockheed Martin, PwC, Walt Disney Company, KPMG, PepsiCo, Target Corporation, Enterprise Holdings, L3Harris Technologies, ALDI, inc., Techtronic Industries (TTI), Arthur J. Gallagher & Co., Publix, Insight Global, the Florida Department of Health, and the Florida Department of Environmental Protection.
Founded in 1851 and serving approximately 44,600 students, Florida State University is one of the oldest and largest universities in Florida. The school provides 276 degree programs across 16 colleges and schools. With more than 100 campuses, centers, and institutes across the state and around the world, Florida State University is accredited by the Southern Association of Colleges and Schools, Commission on Colleges (SACSCOC).
3. University of Miami, Coral Gables, Florida

University of Miami (UM) is home to Herbert Business School, which is one of just five business schools in the entire U.S. with EQUIS accreditation. The school is also AACSB-accredited. Within the Herbert School is an Online MBA Program that can be completed in just 20 months full-time or 28 months part-time. An accelerated option allows students to complete the Online MBA in just 16 months. Program features include a participation in real-world international business case studies; a globally focused curriculum; participation in networking events; collaborative projects; and learning through a combination of live online classes, asynchronous coursework, and virtual and in-person immersion experiences. 
The curriculum for the UM Herbert Online MBA program consists of 42 credits. Course examples include Innovative Business Strategies for Future Leaders; Management of Digital Transformation; Responsible Business; Financial Accounting and Reporting; Fundamentals of Finance; and Foundations of Marketing Management.
The GMAT is not a requirement for admission to the UM Herbert Online MBA and students may start the program in September, January, or May.
Graduates of the MBA Programs at University of Miami have gone on to work for major companies and financial institutions such as American Express, Deutsche Bank, Norwegian Cruise Line, Viacom, Carnival, Capital One, IBM, Visa, Amazon, Capital One, Coca Cola, Mastercard, Miami Heat, and Citi.
Chartered in 1925, University of Miami is a private research university with three campuses across Miami-Dade County including Coral Gables (main), the Leonard M. Miller School of Medicine campus near downtown Miami, and Rosenstiel School of Marine and Atmospheric Science, located on an 18-acre waterfront campus on Virginia Key in Biscayne Bay. The school serves more than 19,000 students enrolled in nearly 350 undergraduate majors, master's, and doctoral programs across 12 colleges and schools. University of Miami is accredited by the Southern Association of Colleges and Schools Commission on Colleges (SACSCOC).
4. Florida International University, Miami, Florida

Florida International University (FIU) is home to the Alvah H. Chapman Jr. Graduate School of Business, which has an Online MBA program with three options. All are designed for busy, working professionals and include the Online Healthcare MBA, the Professional MBA Online, and the Professional MBA Online with a Specialization in Sports Management.
The Professional Online MBA (PMBA Online) features an optional two-day residency in Miami, During this in-person event, students will have the opportunity to engage with expert speakers on current topics in business; participate in team-building workshops, case studies, and networking events; and attend an etiquette luncheon. The Residency is included in tuition.
Depending on whether the student attends full- or part-time, prerequisite requirements, and other factors, the FIU Online PMBA may be completed in as few as 18 months.
The Online Healthcare MBA is an 18-month program that focuses on the practical applications and theories of business and management within healthcare settings. The Professional MBA (PMBA) Online has three different pacing tracks, allowing students to choose a pace that fits their schedule. Three Professional Development Seminars (PDS) are required in the first eight-week term of the program. These include Professional Development I – Presentation Skills Seminar, Professional Development II – Collaboration in the Virtual Age, and Professional Development III - Lean Six Sigma (LSS) Yellow Belt, Personal Branding & Career Readiness, or Data Visualization.
The PMBA with a Sports Management Specialization is provides in partnership with FIU; Real Madrid C.F.; and Real Madrid Graduate School — Universidad Europea (EURM UE), This 17-month program brings together sports leaders, executives and faculty from around the world to provide the skills needed to manage sports organizations across the globe. Students in this program have the option to attend two residencies in Miami and Madrid.
All FIU Online MBA programs utilize discussion boards, email, and chat; academic coaches; and online e-advising and e-tutoring, for seamless program delivery. Five start dates are available and all options are AACSB accredited. Graduates are prepared for advancement opportunities with their current employer or for leadership roles across industries.
Founded in 1965, Florida International University is Miami's first and only four-year, public research university. Serving more than 56,000 students, FIU is also one of the top 10 largest universities in the nation. This R1: Doctoral University provides more than 190 degree programs across 24 colleges and schools. Florida International University is accredited by the Southern Association of Colleges and Schools Commission on Colleges (SACSCOC).
5. University of South Florida, St. Petersburg, Florida

University of South Florida (USF) is home to Muma College of Business, which has an Online MBA Program with just one residency requirement. This provides the opportunity for students to network with peers, meet faculty, and interact with industry leaders. Students in the program also have the option to participate in Immersion Courses and/or short-term study abroad experiences in locations around the world.
Other program features include online workshops and webinars; additional networking events; asynchronous courses; teambuilding projects; weekly discussions; and collaboration sessions. To develop skills in a specific area, the USF MUMA Online MBA has Concentrations in Blue Economy; Compliance, Risk and Anti-Money Laundering; Cybersecurity; Healthcare Analytics; Finance; and Data Analytics.
The Online MBA at University of South Florida can be completed in as little as one year full-time, or two-three years part-time. Upon completion of this AACSB-accredited program, graduates are prepared for leadership roles in across all industries in the U.S. and around the world. Recent USF Muma MBA graduates have been recruited by a number of international companies and some have secured positions at a number of top Florida corporations.
University of South Florida was founded in 1956. The school serves approximately 49,765 students across campuses in Tampa, St. Petersburg, and Sarasota-Manatee. Students choose from 180 undergraduate majors and degree programs at the graduate, specialist, and doctoral levels. Programs at USF are housed across 14 colleges. University of South Florida is accredited by the Southern Association of Colleges and Schools Commission on Colleges (SACSCOC).