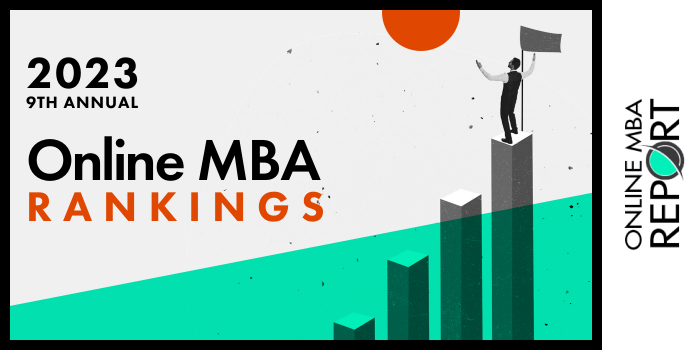 Our 2023 rankings of the Top Online MBA Programs in California. For an explanation of ranking criteria, click here.
Top 5 Online MBA Programs in California - 2023 College Rankings

| Ranking | School | City |
| --- | --- | --- |
| 1 | University of Southern California | Los Angeles |
| 2 | Pepperdine University | Malibu |
| 3 | Santa Clara University | Multiple |
| 4 | University of California, Irvine | Irvine |
| 5 | University of California, Davis | Davis |
1. University of Southern California, Los Angeles, California

University of Southern California (USC) houses Marshall School of Business (USC Marshall). Established in 1920 as USC College of Commerce and Business Administration, USC Marshall is Southern California's oldest AACSB-accredited business school.
For professionals seeking a flexible MBA program, USC Marshall has a No GMAT Online MBA that can be completed in just 21 months. Serving 360 students with an average 10 years of work experience, the USC Online MBA (USC OMBA) features asynchronous activities such as moderated discussion boards; case studies and simulated real-world business problem; interactive games and other virtual learning experiences; and content, such as video presentations, produced at the Marshall in-house studio.
Synchronous activities consist of class sessions twice per week; private faculty sessions via webcam; and collaborative projects and assessments. Students in the USC Marshall OMBA will also have access to instructors during regularly scheduled virtual office hours and via email.
The USC OMBA requires a single one-week, on-campus residency. Otherwise, all coursework and activities take place online. Courses for the program include Fundamentals of Business (10 units); Opportunity Recognition and Implementation (9.5 units); Managing Inside the Firm (9.5 units); Managing Outside the Firm (9.5 units); Business Environment & Leadership (9.5 units); and Role of the Manager (three units).
To enhance the degree, students may enroll in any number of electives, a certificate program, or a dual degree program. Electives cover subject areas such as project management, Lean Six Sigma, and entrepreneurship. Certificate programs are 11 credit hours and include options such as Technology Commercialization, Optimization and Supply Chain Management, Business Analytics, Library and Information Management, and Financial Analysis and Valuation.
Recommended dual degree programs include the MBA/MS in Systems Architecting and Engineering, MBA/MS in Industrial and Systems Engineering, MBA/Master of Social Work, or the MBA/MS in Gerontology.
Upon completion of the Online MBA Program at University of Southern California students will have an extensive portfolio of their best work and accomplishments. USC Marshall graduates go on to land leadership positions in areas such as Technology, Health Care, Entertainment, Government, Media, and Financial Services. Program alumni are often recruited by companies such as Goldman Sachs, NASDAQ, JP Morgan & Co., HSBC, Ernst & Young, PwC, Apple, Deloitte, Google, Morgan Stanley, and Accenture.
Across programs, USC graduates have also been hired places such as Walmart, Tesla, Walt Disney, Verizon, Siemens, VIZIO, United Airlines, Target, NASA, United Health Group, UPS, the U.S. General Servies Administration (GSA), T-Mobile, Sony, The Aerospace Corpooration, AstraZeneca, NVIDIA, Bank of America, Bain & Company, Cushman & Wakefield, DreamWorks, Eli Lilly and Company, Procter & Gamble, Nike, PepsiCo, and the NYC Office of Management and Budget.
Established in 1880, University of Southern California is the oldest private research university in California. The school employs approximately 21,840 faculty and staff that serve 49,500 students, making USC the largest private sector employer in the City of Los Angeles. University of Southern California provides 600 graduate and professional programs across 23 schools, academic divisions, and research institutes. University of Southern California is accredited by the WASC Senior College and University Commission (WSCUC).
2. Pepperdine University, Malibu, California

Pepperdine University (Pepperdine) is home to Graziadio Business School (Graziadio). Founded in 1969, Graziadio serves more than 2,000 students from around the world. With 47 partner universities in 25 countries, students in all programs at Graziadio have the opportunity to participate in a one-week, multi-week, or trimester study abroad experience in Asia, Europe, Africa, South America, or Australia.
Graziadio Business School at Pepperdine houses 18 institutes and centers, five AACSB-accredited MBA programs, and nine certificate, master's, doctorate, and professional programs. Among the school's MBA programs is an online option that requires just one weekend immersion in Los Angeles. During the Immersion, students will participate in workshops that allow students to develop and strengthen community-building and leadership skills.
The Graziadio Online MBA consists of 52 units (15 courses), seven concentration options, and a General Track. Concentration options include Digital Innovation and Information Systems; Business Analytics; Entrepreneurship; Leadership and Managing Organizational Change; Marketing; Finance; and Global Business.
All MBA students may participate in the Education to Business Program. This experiential learning activity provides the opportunity to work with brands such as Adobe and Coca-Cola. Other program features include small class sizes, executive-style classrooms, faculty mentors, technology support, reference facilities, and career resources.
THE GMAT is not required for admission to the Online MBA at Pepperdine, and students can complete the program in as few as 24 months full-time or up to 48 months part-time. Around 50% of Pepperdine Online MBA graduates accept a job before graduating. Roughly 68% accept job offers three months after graduation. Examples of hiring companies include AT&T, Boeing, Ernst & Young (EY), Northrop Grumman, IBM, Bank of America, Kimberly-Clarke, and Amgen. 
Pepperdine University enrolls close to 10,500 students served by more than 700 faculty members across campuses in Malibu, West LA, Calabasas, Irvine, and Online. Established in 1937 by entrepreneur George Pepperdine, the school provides more than 100 majors, minors, and graduate programs organized across one college and four schools. Pepperdine University is accredited by the WASC Senior College and University Commission (WSCUC).
3. Santa Clara University, El Camino Real, Santa Clara, California

Santa Clara University (SCU) is home to the Leavey School of Business (LSB or Leavey). Established in 1923, LSB achieved AACSB accreditation, becoming one of the first professional schools of business to be awarded this recognition. The LSB MBA program was recognized with accreditation in 1959, the Executive MBA was accredited in 1999, and in the same year it launched (2007), the Accelerated MBA received accreditation.
Among the MBA Programs at SCU is the Leavey MBA with a mobile app for 24/7 access from anywhere in the world. With the exception of two residency weekends, the program can be completed entirely online. Students have access to five concentrations including Data Science and Business Analytics; Marketing; Leading Innovative Organizations; Finance; and Entrepreneurship and New Venture Creation.
Designed by Silicon Valley veterans, the curriculum for the SCU Leavey Online MBA is designed to help students become a Silicon Valley Professional (SVP). Course examples include Doing Business in Silicon Valley; Challenges in Leading and Managing Strategic Change; Marketing is Everything; Leading People and Organizations; Analytical Decision Making; Ethics for Managers; Analysis, Design, and Management of Enterprise Platforms; Business Analytics; Operations Management; and Business Communications.
Just a few online elective options include Tech Marketing: Winning Strategies for Effective Messaging; Data Science with Python; Alternative Investments: Partnerships and Venture Capital; Global Business Perspectives; Strategic Talent Management; New Product Innovation; Designing and Managing Dynamic Marketing Channels; Achieving Brand Leadership; and Mobile Marketing. 
The Leavey Online MBA at Santa Clara University has four quarterly start dates (Fall, Winter, Spring, and Summer), and the program may be completed in as few as two years.
Graduates of the Online MBA program at Santa Clara University are prepared to pursue leadership positions in all industries. Program alumni have been hired at companies such as Amazon, Google, Apple, Tesla, IBM, Cisco, LinkedIn, GoPro, Mozilla, Adobe, eBay, Comerica Bank, and Dolby.
Founded in 1851, Santa Clara University is a Jesuit institution situated in the heart of Silicon Valley. With 985 full- and part-time faculty members, SCU serves approximately 9,180 students enrolled in more than 50 majors, minors, and programs across six colleges and schools. Santa Clara University is accredited by the WASC Senior College and University Commission (WSCUC).
4. University of California, Irvine, Irvine, California

Paul Merage School of Business at University of California, Irvine (UCI) has an MBA program designed for working professionals. The Flex MBA (formerly known as the Fully Employed MBA) allows students to customize the program to their lifestyle and goals. The curriculum includes a combination of live (synchronous) classes online, four Saturdays per quarter, and asynchronous coursework delivered through videos, chats, and lectures. Asynchronous coursework can be accessed on the students own time. Weekly deliverables are also part of the program and students have the option to choose the delivery method for any remaining core classes on a quarterly basis. Students can continue to take all online courses or switch to on-campus courses.
Other program features include networking opportunities; connections to researchers and innovators through Merage's Centers of Excellence; the Consulting Projects Course (CPC); and access to Merage workshops, competitions, and the Merage Career Center, which provides training, education, and resources to help students advance their careers.
The CPC provides the opportunity for students to complete a project over 10 weeks for credit. A number of companies participate in course. Examples include Deloitte, PepsiCo, Connexion by Boeing, Verizon, Northwestern Mutual, Mazda, The Gallup Organization, and the Altos Group.
The UCI Merage Online MBA program consists of 19 courses, including nine core courses, seven electives (with 50-60 options annually), and three offsite experiential residentials. This includes one international residential trip. Electives are provided in 10 areas, allowing students to create a specialization. Sample areas include Information Systems, Real Estate, Organization and Management, Strategy, and Interdisciplinary Studies.
Elective examples include Strategy in a Digital Age; Applied Real Estate Security Analysis and Portfolio Management; Negotiations; Networks, Platforms, and Ecosystems in Business Strategy; Applied Game Theory, Brand Management Simulation, Technologies & Analytics Consulting, Analyzing Organizations from the Inside, and Python for Management.
During the Online MBA program at UCI, students are routinely promoted or receive salary increases. Other Merage alumni have been hired at places such as PwC, Apple, EY, Deloitte, AT&T, Mattel, BDO, CoreLogic, KPMG, JPMorgan Chase, SAP, Applied Medical, Amazon, and Moss Adams.
With more than 1,200 faculty members and 10,000 staff, University of California, Irvine is the largest employer in Orange County California. Established in 1965, the school serves approximately 37,245 students enrolled in more than 220 programs across 18 colleges, schools, and divisions. University of California, Irvine is accredited by the WASC Senior College and University Commission (WSCUC).
5. University of California, Davis, Davis, California

The Graduate School of Management at University of California Davis (UC Davis) has a STEM-designated MBA program that can be completed entirely online. Known as the MBA@UCDavis, this AACSB-accredited, program features live collaborative assignments and projects; connections to corporate partners across Northern California and UC's global alumni network; and live online classes that utilize a state-of-the-art technology learning management system known as The Digital Campus.
During online sessions, students will have opportunities to interact in small groups with professors and peers. Collaborative projects are part of the program as well as case studies and self-paced coursework. Weekly video lectures are easily accesses 24/7 and course content can be searched and viewed at a variety of speeds. 
The MBA@UCDavis requires 72 units with core courses that provide a foundation in functional areas of business such as Accounting, Strategy, Economics, Finance, and Marketing. Electives such as Organizational Behavior, Technology Management, and Entrepreneurship allow students to cover broad areas of interests or focus in a specific area. Course examples for the program include Management Information Systems, Management of Innovation, Markets and the Firm, Digital Marketing, Data Analysis for Managers, The Individual and Group Dynamics, and New and Small Business Ventures.
MBA@UCDavis students will participate in two In-Person Residentials, where they will Have the opportunity to interact with peers, professors, and business leaders in Silicon Valley, Napa Valley, and Davis, CA. During these face-to-face experiences, students will complete collaborative team assignments; participate in guest speaker events and presentations; and engage in simulated case studies and leadership scenarios.
Start dates for the MBA@UCDavis include January, April, June, and September. GMAT waivers are available to qualified applicants and the program may be completed in 24-36 months.
Graduates of the Online MBA program at University of California Davis enjoy an 84% job placement rate within six months of graduation. Alumni go on to launch their own start-ups, they get promoted to C-suite positions, and they are leaders in a variety of industries. Graduate School of Management alumni have been hired at places such as Google, Meta, Tesla, Amazon, LinkedIn, Williams Sonoma, Uber Sephora, American Eagle Outfitters, Expedia, Zendesk, Nordstrom, HubSpot, AppFolio, Sumo Logic, and Instacart.
University of California Davis opened in 1908 as the research and science-based instruction extension of UC Berkeley known as University Farm. Today, UC Davis is one of the nation's top 10 public universities, and the largest in area of the 10-campus UC system. Serving approximately 38,350 students, the school is also the third largest university in the UC System. More than 200 majors and graduate degree programs are provided across 11 colleges and schools. University of California Davis is accredited by the WASC Senior College and University Commission (WSCUC).