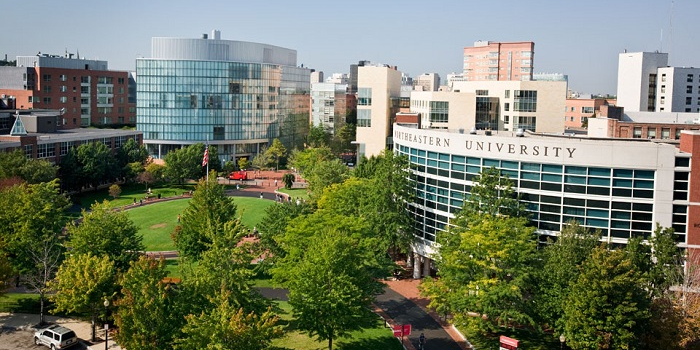 The D'Amore-McKim School of Business offers its prestigious MBA degree program in a convenient online format. Students in the Online MBA program can build on their current career success, expand managerial skills and knowledge base, and put new learning to use immediately.
Matthew Foster, Director of Online MBA Programs answered our questions about the online offering at Northeastern University.
What type of student typically enrolls in your online MBA program? 

Director of Online MBA Programs 
Our students are typically in their mid-30's with 11 year's professional work experience.
Are students required to spend time on campus?
Students are not required to spend time on campus as the program can be completed 100% online. We offer optional intensive 1-week campus residency courses providing students with the opportunity to earn 3 elective credits while engaging with their classmates and faculty face to face.  We offer these courses at our main Boston campus as well as our Charlotte, NC and Seattle, WA campuses.  
How do students in the online MBA program interact with faculty?  
Students can engage faculty via asynchronous and synchronous methods.  Faculty conduct weekly live sessions using Blackboard Collaborate which are recorded for students who cannot attend.  As referenced above, students may also interact with faculty live if they participate in an optional campus residency course. 
What is unique about the structure of your online MBA program? 
The most unique aspects about our Online MBA are the ability for students to pursue one of 8 specializations through their elective choices as well as our optional campus and international residency courses.  I described the campus residency courses above. 
Our 10-day international field study courses are an exceptional and unique opportunity for students to learn about international and multinational businesses directly from executives in country while earning 3 elective credits.  Students from all MBA modalities (full-time campus, part-time evening, and online) participate in these courses providing a great opportunity for face to face interaction and networking among our students.  The course provides rare networking access with the host company executives as well.  Last year we offered our field study courses in China, Russia, Turkey/Greece, and Peru. 
What opportunities do online MBA students have for networking?
In addition to their classmates, Online MBA students have several opportunities for networking including campus hosted job fairs, graduate student clubs, and through our optional campus and international field study courses.  Northeastern University has 200,000+ alumni. 
Do you offer career services and professional resources to online MBA degree candidates?
Yes, all students are invited to attend networking and professional development events on campus.  Online students at the 50% completion mark are eligible for more specific career services including counseling and workshops. 
What advice would you give a prospective candidate for your online MBA program? 
I advise prospective students to evaluate an Online MBA program based on what is truly unique.  What were unique differentiators even a few years ago are commonplace now.  Northeastern University has offered co-operative education for more than a century and I am proud of the fact that this culture extends to our Online MBA program by way of our international field study course offerings. 
Check out more interviews at Online MBA Report's Interview Series.