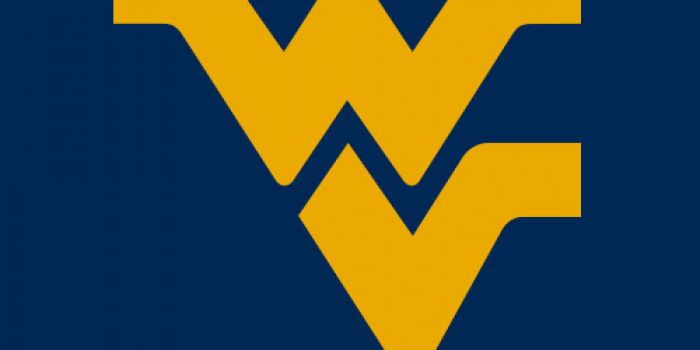 Recently we had the pleasure of discussing West Virginia University's Hybrid Online MBA with Nichole Grossman Director of Graduate Admissions and Recruitment at West Virginia University's College of Business and Economics.
West Virginia University's Online MBA Program is ranked in the top 20 nationally in our 2015 Online MBA Rankings. From your perspective, what differentiates West Virginia University from the other leading online MBA programs?  
Nichole Grossman: The Online Hybrid MBA program at WVU offers students the flexibility of an online program with the networking opportunities of an on-campus program.  Students are brought together once per semester to work on items associated with a particular course in a team setting.  This hybrid approach allows our students to gain the best of both learning styles while getting to know their classmates.  Students are also offered the opportunity to pursue an Area of Emphasis allowing them to specialize in a specific area relevant to their career goals.  This flexibility is not usually found in an on-line hybrid MBA program. 
From an admissions perspective, what qualities does West Virginia University seek in a prospective online MBA candidate?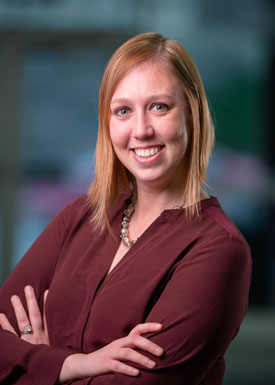 Nichole Grossman - Director of Graduate Admissions and Recruitment - West Virginia University College of Business and Economics
Nichole Grossman: Successful applicants are self-motivated individuals who are driven to enhance their education to reach new career goals.  As our students work full-time while pursuing the program, it is important that the student be invested in their own educational success.  Students who take their education seriously are able to leverage their newfound skills and our wonderful Center for Career Development resources to grow in their career, not only immediately upon graduation, but for years to come.
As an online program, West Virginia University obviously has students from across the US and even the globe. What is the typical demographic makeup of a given class?
Nichole Grossman: We have 2 intakes each year.  In January, we start a new cohort of 30-35 students.  In August, we start 2 new cohorts brining in a total of 65-75 students.  The students in these cohorts represent 10-15 states (depending on the year), various work experience backgrounds from engineering to healthcare and hospitality to finance.  Students work in teams throughout the program which are carefully crafted to ensure that team members are able to learn extensively from their teammates experiences and expertise.  This diversity provides students with a rich educational experience which encourages and facilitates students' ability to think about a business problem from all angles. 
Your online MBA program offers three areas of emphasis, Energy Finance, Forensic Accounting and Fraud Examination, and Integrated Marketing Communications. What percentage of students choose each? 
Nichole Grossman: We have also recently added an Area of Emphasis in Business Data Analytics.  There are limits to how many people can do each area of emphasis, and for some AOEs, there are strong pre-requisites required.  For instance, the Business Data Analytics AOE requires students to have prior knowledge of statistics and programming.  Therefore, many of our students would not be eligible for this AOE.  Those that are eligible, find great benefit to being able to add this skillset to their MBA experience.  Overall, I would say roughly 20% of our student body pursues an AOE in any given cohort.
Four mandatory 3-4 day residencies are built into WVU online MBA program - Orientation, Washington DC Experience, Building the Business Professional, and the Mock Venture Capital Fair. Orientation is obvious, but tell us about the other three: 
Nichole Grossman: First, I want to point out that while the first residency does incorporate orientation sessions, it is actually tied to the students' Leadership course.  They will use this time to partake in various team building and leadership exercises including a full day at the Adventure West Virginia ropes course.
Washington DC Experience – This residency is linked to our strategy course.  Students will spend 4 days visiting with various companies, governmental agencies, politicians, lobbyists, etc. to learn about how these industries use basic strategic techniques covered in the course to pursue their various business goals. 
Building the Business Professional – This residency is geared toward developing a student's soft skills.  This is accomplished through public speaking activities, negotiations, or making a marketing pitch.  The specific hands-on approach to this residency changes as new techniques show up in the business world.
Mock Venture Capital Fair – The last residency comes half-way through your Integrated Global Business course.  Your team will start the semester by working through a simulation.  When residency rolls around, it is time for your team to pitch your business idea to mock venture capitalists.  The influx of capital into your business idea will then be imputed into the simulation, and you will complete the last 2 quarters of the simulation adjusting to/incorporating this funding outcome.
What makes the WVU online MBA "military friendly"? 
Nichole Grossman: First off, we offer a $100/credit discount to active duty military and veterans.  We have worked closely with our local National Guard unit to facilitate cohorts of students from their location going through the program.  This may mean that there needs to be flexibility when working with students who are suddenly deployed.  We are accustomed to the needs of military students and work closely with them on a regular basis to ensure they are able to complete the education even in unusual circumstances.
Lastly, what advice do you have for people interested in pursuing their MBA via WVU's Online MBA? 
Nichole Grossman: Reach out to the admissions staff!  We are here to answer your questions and are happy to do so.  It is always great to speak with current students (to whom we can connect you) to get a better sense of the student experience.  Lastly, I would say to be prepared prior to submitting your application.  Do your research, think about how you will fund the degree, and understand how the MBA fits into your career goals.  This will alleviate a lot of stress in application process.
Thanks to Nichole for participating. For more interviews, check out our Online MBA Report Interview Series.