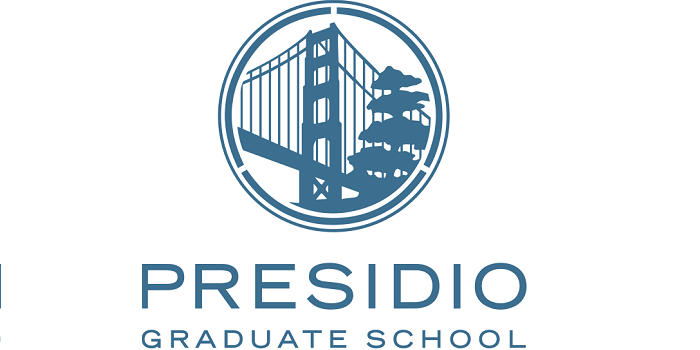 We spoke with Kari Dorth about the Presidio hybrid MBA and the latest updates on the program.  
What is the latest news with the Presidio's hybrid in-person and online MBA: any upcoming enhancements?
PGS recognizes the value of offering monthly in-person classes combined with weekly virtual class time with students and professors. This unique hybrid format supports a learning experience similar with today's remote workforce and gives students practice with virtual meetings and in-person group presentations. We are constantly building on the ever changing and growing skills and tools necessary in today and tomorrow's workplace. Our MBA/MPA Dual Degree program is also incorporating the UN SDG's into the curriculum and as well as GRI (Global Reporting Initiatives) training as part of the program.
What type of student typically enrolls in the Presidio's MBA program?
PGS students come from all industries and backgrounds. Some students are looking for a career shift to a more satisfying role, and others are here to grow within their current industry. What makes a student succeed at PGS is their commitment to incorporating sustainability within business practices and benefiting from public private partnerships in order to transform the system and build or become a part of a more resilient company. Our students know that sustainability is a good decision; we teach them how to act on this and define their own path towards what is important to them.
Presidio threads sustainability in all coursework. Can you share more about this emphasis?
Learning is evolving and it is important to ensure we are teaching students the most relevant skills and providing them with the tools necessary to succeed beyond just a paycheck. Every course taught at PGS brings into conversations and projects the possibility of creating a more just and sustainable world and the actions necessary to implement these innovative strategies. Our students work directly with employees of companies and organizations on real world issues and provide solutions proving how a triple bottom line (people, planet, profit) approach is a powerful way of measuring success.
Please share with us an overview of your classroom space in San Francisco and how often students spend time on- campus.
PGS provides a chance for students to learn both online as well as in-person with the flexibility to commute from anywhere and not have to relocate for graduate school. Our hybrid course design includes virtual collaboration and an opportunity for students to meet face-to-face once a month. Full-time students meet in downtown San Francisco from 9am-5:30pm each day over the four-day residency each month attending one class per day. Part-time students taking two classes per semester meet Saturday and Sunday each month. Community events and social events are organized each residency and students are encouraged to take advantage of the San Francisco culture and resources beyond the classroom. All students participate in live webinars with their professors and classmates each week in the evenings to continue the engagement and connection between the monthly in-person sessions.
Presidio offers ample opportunity for collaboration. What are some of the hallmarks of this approach?
Students work in small teams on projects for every course, including at least three courses where they are collaborating on a project with external partners from a variety of companies and industries. There are several ways students are involved in the community as well, through student-organized clubs and fellowships including a Sustainable Food Club, Impact Investing Group, Net Impact Chapter, Center for Civic Leadership and Social Justice, and the International Travel Club.
​​​​​
Can you share a short example or highlight of faculty achievement in the program?
Combining full-time program directors with adjunct professors allows us to tap into a wide variety of teachers who have both academic and industry specific expertise and utilizing a teaching team in many of the courses supports collaboration and student attention. One example is our MPA and Dual Degree Program Director, Donna LaSala. Donna brings the connection of business and policy together in the classroom and has an extensive background working with public and private companies and addressing civic leadership principles that are so important for success in today's world. Conversations, projects, and required readings in her class include topics such as gender and race equity, income/wealth mobility, ethical frameworks for performance measurement, and data analysis. She is an inspiration of what is possible and takes the necessary action to get the job done. 
Does Presidio offer concentrations? Which are most popular and why?
PGS recently launched five concentrations within our MBA in Sustainable Solutions degree program. These concentrations are Civic Leadership and Social Justice; Innovation for Sustainability; Energy, Climate, and Social Responsibility; Multi-Sector Solutions and Public Private Partnerships; and Sustainable Finance. Students also have the ability to pursue an MBA/MPA Dual Degree in Sustainable Solutions that focuses more closely on the value of multi-sector collaboration adapting UN's Sustainability Development Goals into actionable strategies for business and not- for-profits and government agencies.
What companies typically recruit MBAs from your program?
Graduates of PGS have the opportunity to develop relationships with our partner organizations and alumni and are well equipped to succeed in any industry especially as sustainability directors, consultants, impact investing, CSR, energy, food and agriculture, education, and technology. HP, Google, HIP Investors, Recology, Salesforce, and Facebook are just a few examples of where our alumni are working.
What advice would you give a prospective candidate for your online MBA program?
Put your heart first when writing your essay. PGS takes a holistic approach to admissions. We prepare students for success well beyond graduation and seek out candidates with a passionate vision. Strong excel skills are also essential and PGS expects students to come into the program with working knowledge of accounting and statistics which allows professors to dedicate time and resources towards applying this knowledge effectively through action and not just theory.
Why should a prospective MBA candidate choose the Presidio Graduate School?
PGS is not a school for everyone and does not offer a traditional MBA; the programs are rigorous and require dedication and perseverance on multiple levels. We are looking for candidates who not only have a passion and desire to do well, but to do well for the greater good. We require students to participate and collaborate to get the most from their education and beyond. We offer the flexibility of an online program and the personal touch of an in-person classroom. The world needs leaders who are willing to adapt to the changes necessary to support the future of our world, and PGS is where they come to launch their passion into action.
Thanks to Kari Dorth for participating. For more interviews, check out our Online MBA Report Interview Series.