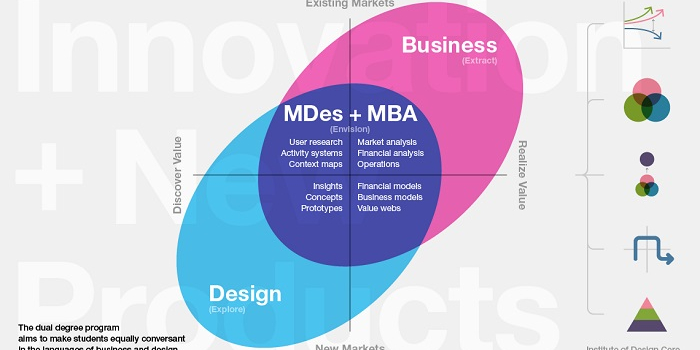 Over the last decade or so, universities have helped businesses understand that creativity is an exceptional quality to possess. In an article posted on the Illinois Institute of Technology (IIT) Institute of Design website, a contributor wrote, "through a shift in academic programming connecting design to business, universities are helping businesses understand creativity is a tangible asset. It's not just about visual production, but about applying the design process to a range of challenges to develop innovative solutions."
The article goes on to say, "designers graduate from Design MBA programs with frameworks and methods that can be leveraged to create start-ups, lead innovation in industry, or excel in consulting companies. Design MBA programs provide students with the skills to lead cross-disciplinary teams with the desirable ability to align stakeholders. Companies of all types are looking for the next big thing," says the article, "but the current trend reflects a new way of addressing an old problem. Discovering the value in design is creating new avenues for growth for industry and the graduates hired."
The growing demand for MBA students with a creative background, particularly design, has led to the development of a number of newer programs to add to the existing pool. For example, Kellogg School of Management at Northwestern University now offers a unique program known as the MMM Program. This immersive, dual degree program "gives students a rigorous business education integrated with a strong foundation in design innovation," says the school.
The first degree-granting program of its kind, the MMM prepares graduates to succeed in careers that lie between the intersection of design, business, and technology by teaching "best-in-class methodologies for driving innovation, utilizing design thinking tools such as user-centered research methods, creative ideation, rapid prototyping, and operational implementation." Students leave the program ready to design and manage end-to-end solutions, understanding how to strike a balance between big-picture approaches and detail-oriented processes." Graduates are prepared for careers in corporate innovation, product management, design consulting, technology, and many others. Many graduates even go on to start their own businesses.
MMM graduates receive an MBA from Kellogg and an MS in Design Innovation from the Segal Design Institute at the McCormick School of Engineering and Applied Science. Other top Design MBA options include:
IIT's Master of Design + MBA (MDes + MBA)
The MBA in Design Thinking at Darden School of Business at University of Virginia
California College of the Arts' MBA in Design Strategy (DMBA)
The MBA/MA in Design Leadership at Johns Hopkins Carey Business School
Maryland College Institute of Arts' MBA/MA in Design Leadership
The MBA with a Certificate in Design and Innovation Management at Ferris State University-Kendall College of Art and Design
Though curriculums for these and other Design MBA programs are similar, course titles vary. Sample courses include:
* Accounting for Decision Making
* Applied Advanced Analytics
* Business & Technology Meets Art & Design
* Business Analytics
* Business Models and Value Webs
* Communication Design
* Design and Innovation Process Management
* Design Connoisseurship
* Designing & Managing Business Processes
* Designing with Intelligence
* Engaging Stakeholders in Innovation
* Innovation and Design Experience
* Innovation Frontiers
* Innovation in Context
* Interaction Design for Embedded Systems
* Leadership By Design
* Managing Interdisciplinary Teams
* New Venture Design
* Product Design Workshop
* Programming Design
* Research-Design-Build
* Sustainable Design and Systems Management
* Systems and Systems Theory in Design
* Whole-Brain Communication
Besides a unique curriculum, most Design MBA programs have at least one international experience and the opportunity to complete one or more internships. Most programs take two years or less to complete, and in some cases, a portion of the program may even be completed online.
Design Management Salaries and Employment Outlook
According to the Bureau of Labor Statistics (BLS), employment of management occupations is projected to grow six percent from 2014 to 2024, about as fast as the average for all occupations, which will result in about 505,400 new jobs. Employment growth will be driven by the formation of new organizations and expansion of existing ones, which will require more workers to manage these operations. The median annual wage for management occupations was $100,790 in May 2016, which was the highest wage of all the major occupational groups.
Programs to Consider:
[listing]
Sources
"Management Occupations." Occupational Outlook Handbook. U.S. Bureau of Labor Statistics (BLS), 17 Dec. 2015. Web. 08 Aug. 2017.
"MMM Program - Full-Time MBA." Kellogg School of Management. Northwestern University, 2017. Web. 08 Aug. 2017.
"U.S. News Feature on Design MBA Programs Includes IIT Institute of Design." IIT Institute of Design. Illinois Institute of Technology (IIT), 14 Nov. 2011. Web. 08 Aug. 2017.