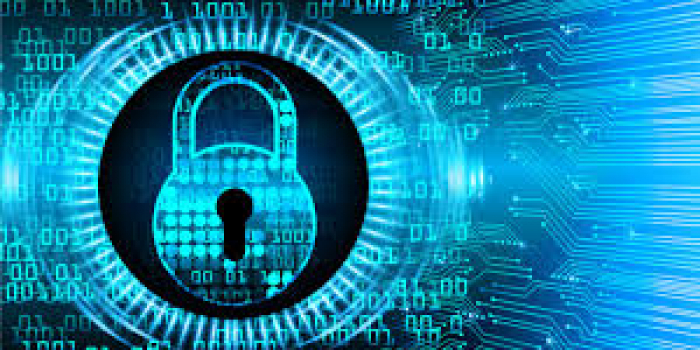 Schools that Offer an Online MBA in Cybersecurity

| | | |
| --- | --- | --- |
| American University | Washington | DC |
| Bellevue University | Bellevue | Nebraska |
| Cardinal Stritch University | Milwaukee | Wisconsin |
| Cedarville University | Cedarville | Ohio |
| Grand Canyon University | Phoenix | Arizona |
| Florida Institute of Technology | Melbourne | Florida |
| Lawrence Technological University | Southfield | Michigan |
| Maryville University | St. Louis | Missouri |
| Touro University Worldwide | Los Alamitos | California |
| University of South Florida | Tampa | Florida |
One of the hottest industries for MBAs today is cybersecurity. Not only is strengthening the resilience and security of cyberspace one of today's top homeland security missions, businesses around the globe have experienced an unprecedented number of hacks and data breaches that have left them clambering to put out some of the most formidable fires. Recent research by Cisco shows that nearly 30% of breached organizations lose revenue," reports Forbes, and "breaches can impact companies of all types, from large corporations to small hospitals. On the black market, healthcare records reportedly sell for $5 apiece."
What This Means for Today's Cybersecurity MBAs
While hacks and data breaches are bad news for businesses, it's good news for MBAs with cybersecurity skills. In fact, the demand for Cybersecurity MBAs around the globe is so high, employers can't fill millions of open positions fast enough. Non-profit information security advocacy group ISACA predicts that there will be "a global shortage of two million cybersecurity professionals by 2019," reports Forbes, and according to a recent report by Cybersecurity Ventures, the cybercrime epidemic will triple the number of open cybersecurity positions over the next five years.
According to a recent Forbes report, in the U.S. alone, each year "40,000 jobs for information security analysts go unfilled, and employers are struggling to fill 200,000 other cybersecurity related roles." And "for every ten cybersecurity job ads that appear on careers site Indeed, only seven people even click on one of the ads, let alone apply." Many MBAs "may want to click," reports Forbes, but some feel that they may not have the right skills to compete. Well, there's an easy fix for that.
Cybersecurity MBA Programs
Thanks to the tremendous demand for talent, many business schools now offer MBA programs with a solid cybersecurity component such as a concentration, focus or certificate. And many of these programs are available 100% online, in hybrid format or both. Just a few online options include:
Florida Institute of Technology, Nathan M. Bisk College of Business
Lawrence Technological University, College of Business and Information Technology
Maryville University, John E. Simon School of Business
St. John's University, Peter J. Tobin College of Business 
Touro University Worldwide, School of Business and Management
University of South Florida, Muma College of Business 
Programs like these prepare graduates for careers in some of the most in-demand areas of cybersecurity such as security analyst, security manager, and chief information security officer (CISO).
Cybersecurity MBA Curriculum
So what does a Cybersecurity MBA look like? For starters, the focus area is quite technical, given the nature of cybersecurity, so students will take courses such as:
Cryptology
Data Networks, Systems, and Security
Distributed Information Systems
Host-Based Security
Information Security and Risk Management
Other courses may include Decision Processes for Business Continuity and Disaster Recovery, Risk Management and Legal Compliance, and Security in the Enterprise. All students will complete core MBA courses such as Managerial Economics, Financial Management, Managerial Accounting, and Organizational Behavior, and programs often culminate in a Capstone Project, which focuses on integrating concepts through project work and applied cases.
Cybersecurity Jobs
If you have an MBA in Cybersecurity, just about every company, business or organization is on the lookout for people with your skills. However, according to Forbes, "large healthcare, financial and global manufacturing firms need armies of cybersecurity professionals, as do professional services firms like Deloitte and EY." The Department of Homeland Security (DHS) is another viable option.
Right now, the DHS is recruiting cybersecurity professionals with skills in the areas of Cyber Incident Response, Cyber Risk and Strategic Analysis, Vulnerability Detection and Assessment, Intelligence and Investigation, Networks and Systems Engineering, Digital Forensics and Forensics Analysis, and Software Assurance. Candidates can view current DHS cybersecurity job opportunities by searching DHS jobs on USAJOBS and typing "cyber" in the "Keyword" field.
Candidates can also learn more about the DHS cyber mission at DHS.gov, and sign-up for e-mail updates on cybersecurity job opportunities and upcoming events.
Earnings for Cybersecurity MBAs
While most cybersecurity jobs start at a minimum of $100K annually, CISO's average around $204K, and can reach nearly $400K a year. In metro areas, average salaries reached $380K in 2016. 
Research Firm IDC predicted in 2016, that by 2018, "when CISO positions elevate to the C-Suite alongside chief financial officers (CFOs) and chief operating officers (COOs), it will arguably move the salary needle into the half-million dollar range for some." Compensation for cybersecurity jobs has increased so rapidly, that it has "overtaken" other IT jobs, reports analytics firm Burning Glass.
"Cybersecurity jobs commanded a $6,500 premium over other IT jobs in 2015," according to the firm. And in another Forbes report, Veronica Mollica, founder and executive security recruiter at Indigo Partners, Inc. said, "the cybersecurity job market is on fire" and "our candidates are facing competing offers from multiple companies with salary increases averaging over 30%. Current employers are scrambling to retain talent with counter offers including 10% and higher salary increases for information security team members to remain on board."
Considering an Online MBA? Use our interactive map to find information on schools and colleges offering Online MBA programs in your state and across the U.S.
Sources
"Cybersecurity Jobs Report 2018-2021." Cybercrime Magazine. Cybersecurity Ventures, 13 June 2018. Web. 22 June 2018.
"DHS Cybersecurity." DHS.gov. U.S. Department of Homeland Security (DHS), 24 Oct. 2017. Web. 22 June 2018.
"Homeland Security." Dhs.usajobs.gov. United States Office of Personnel Management, n.d. Web. 22 June 2018.
ISACA.org. ISACA, 2018. Web. 22 June 2018.
Kauflin, Jeff. "The Fast-Growing Job With A Huge Skills Gap: Cyber Security." Forbes. Forbes Magazine, 17 Mar. 2017. Web. 22 June 2018.
Logsdon, Mark. "Getting a career in cyber security: there's no better time than now." Axelos Global Best Practice. Alexos, 02 Feb. 2016. Web. 22 June 2018.
Morgan, Steve. "Top Cyber Security Salaries In U.S. Metros Hit $380,000." Forbes. Forbes Magazine, 09 Jan. 2016. Web. 22 June 2018.
University of South Florida. "Cybersecurity Concentration." USF.edu. University of South Florida (USF) Muma College of Business, 2018. Web. 22 June 2018.