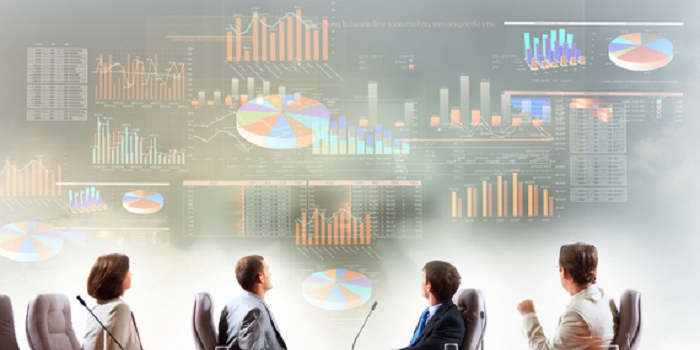 Business Intelligence (BI) is an umbrella term that refers to a variety of software applications used to analyze an organization's raw data. As a discipline, Business Intelligence is made up of several related activities, including data mining, querying, reporting, and online analytical processing.
Companies use BI to improve decision-making, cut costs and identify new business opportunities. BI is more than just corporate reporting and more than a set of tools to coax data out of enterprise systems. Chief Information Officers (CIOs) use BI to identify inefficient business processes that are ripe for re-engineering. –CIO from IDG
Just about every industry can benefit from business intelligence, but some of the largest sectors that use BI to support decision-making include oil, retail, food and beverage, and apparel. Because BI has become an integral part of many businesses within these and other industries around the world, MBAs with a background in business intelligence are in high demand. In response to the demand, most schools now offer a specialization, concentration or certificate in business intelligence, or plenty of elective options that students can use to customize their own focus area.
The MBA in Business Intelligence may include courses in subjects such as Business Intelligence Systems, Database Management Systems, Business Intelligence in Healthcare, Data Warehousing and Administration, and Business Intelligence and Financial Modeling. Sample course titles may Decision Support and Dashboarding, Strategy in Global Environments, Big Data and E-Commerce, Management Information Systems, Human Behavior Management Organizations, Fundamentals of Business Intelligence, Data Mining, Research and Statistics for Managers, Data Warehousing, Leading Individuals and Teams, Applied Multivariate Statistical Methods, Database Design and Management, Data Analysis, and Legal and Ethical Environment.
Courses such as these allow students to acquire knowledge and skills in the areas of:
  Corporate performance management
  Customer relationships management
  Dashboards and scorecards
  Data mining
  Data visualization
  Expert and advanced intelligent systems
  Hands on experience with leading BI tools
  Online analytical processing
  Real-time data warehousing
The number of credits required to complete the MBA in Business Intelligence will vary by school, but many programs require anywhere from 36-50+ credit hours of study to graduate. Most programs also have an internship requirement and one or more international experiences.
In addition to the Business School at University of Colorado Denver and Baker College (available online), just a few B-schools that offer an MBA in Business Intelligence include:
Heider College of Business at Creighton University - MS-Business Intelligence and Analytics/MBA (MS-BIA/MBA)
H. Wayne Huizenga College of Business & Entrepreneurship at Nova Southeastern University - MBA Concentration Business Intelligence/Analytics (available online)
College of Business at Colorado State University Fort Collins - MBA with a Graduate Certificate in Business Intelligence
Muma College of Business at University of South Florida - MBA Specialization Analytics & Business Intelligence (available online)
Southern New Hampshire University - MBA Business Intelligence (available online)
Keller Graduate School of Management at DeVry University - MBA Business Intelligence and Analytics Management Concentration (available online)
The College of Business at University of New Haven - MBA Business Intelligence Concentration
Mihaylo College of Business and Economics at California State University, Fullerton - MBA Business Analytics Concentration (formerly Business Intelligence)
Because business intelligence is, well, big business, and most graduates start out in management positions, graduates of these programs and others can expect to earn a handsome starting salary. This is especially true if the graduate lands a position at a major corporation or firm. According to the Bureau of Labor Statistics (BLS), the average median wage for management occupations in the U.S. is $100,790 annually. High performing managers could average $147,000 or more annually.
If you would like to find other online programs that offer an MBA in Business Intelligence, use our School Finder here.
Sources
"11-0000 Management Occupations (Major Group), Occupational Employment and Wages, May 2016." U.S. Bureau of Labor Statistics. U.S. Department of Labor, 31 Mar. 2017. Web. 09 Aug. 2017.
"11-1021 General and Operations Managers, Occupational Employment and Wages, May 2016." U.S. Bureau of Labor Statistics. U.S. Department of Labor, 31 Mar. 2017. Web. 09 Aug. 2017.
Mulcahy, Ryan. "Business Intelligence Definition and Solutions." CIO. IDG Communications, Inc., 06 Mar. 2007. Web. 09 Aug. 2017.
Ofori-Boateng, Christian. "Industries That Use Business Intelligence To Support Decision Making." Go.christiansteven.com. Christiansteven Software, USA & UK, 29 May 2016. Web. 09 Aug. 2017.