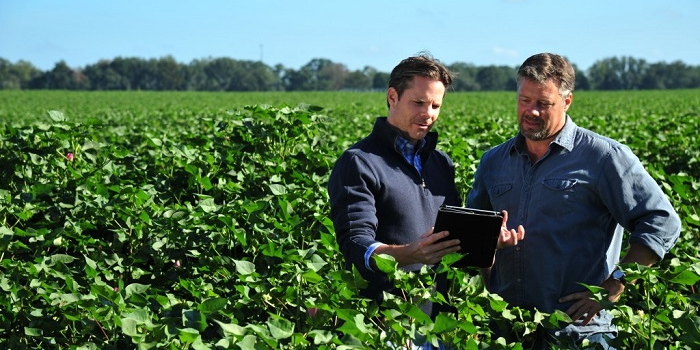 Schools That Offer an Online MBA in Agribusiness

| College | City | State |
| --- | --- | --- |
| Iowa State University | Ames | Iowa |
| Kansas State University | Manhattan | Kansas |
| Purdue University | West Lafayette | Indiana |
| Southern Arkansas University | Magnolia | Arkansas |
| Southern Illinois University | Carbondale | Illinois |
| University of Guelph | Guelph and Toronto | Ontario, Canada |
What is Agribusiness?
According to the World Bank Group (WBG), food and agribusiness is a $5 trillion industry that represents 10% of global consumer spending. Small and medium enterprises (SMEs) employ the largest numbers of people globally. Evidence suggests that this is particularly true in the food industries of both developed and developing countries.
Food-and-agribusiness companies on average have demonstrated higher total returns to shareholders (TRS) than many other sectors: the TRS of more than 100 publicly traded food-and-agribusiness companies around the world increased an average of 17% annually between 2004 and 2013, compared with 13% for energy and 10 percent for information technology."
Agribusiness Growth, Education, Careers
As a result of such tremendous growth in food and agribusiness, the U.S. Department of Agriculture (USDA) estimates that many more agribusiness careers are available than there are qualified people to fill them. The shortage is greatest for managers, financial specialists, and marketing/sales representatives. In response to shortage, some of the nation's most recognized colleges and universities have developed new degree programs or enhanced existing ones that allow students to major or specialize in agribusiness, agronomy, and other related areas at both the graduate and undergraduate levels. Some programs are even offered online. 
Several top online MBA options include:
Debbie and Jerry Ivy College of Business at Iowa State University, Blended MBA Agronomy
Gordon S. Lang School of Business and Economics at University of Guelph, MBA Food and Agribusiness Management
Purdue University in Partnership with Indiana University's Kelley School of Business and the Center for Food and Agricultural Business, MS-MBA in Food and Agribusiness Management
Rankin College of Business at Southern Arkansas University, MBA Agribusiness Emphasis
The College of Business at Southern Illinois University, MBA Agribusiness Economics
The Colleges of Agriculture and Business Administration at Kansas State University, Master of Agribusiness (MAB) and Professional MBA Dual Degree (MAB-MBA)
The MBA with a Specialization in Agribusiness requires courses such as Agricultural Policy, Advanced Futures and Options Markets, International Agricultural Trade Theory and Policy, Global Food Supply Chain Management, Advanced Agribusiness Marketing, and Advanced Agribusiness Management. Students will also take MBA courses such as Managerial Economics, Operations Management, Marketing Management, and Quantitative Analysis for Business Decisions, to name a few.
Earnings for Agribusiness Managers
Besides having the skills needed to pursue management positions in areas such as marketing, sales, and accounting for major firms such Eli Lily, Tyson Foods, Merck, Archer Daniels Midlands, CHS, Cargill, Koch Industries, AGCO, DuPont, and Land O'Lakes, graduates of Agribusiness MBA programs can pursue careers in credit analysis for regional agribusiness banks, and consulting for private firms and government agencies. And salaries are handsome. According to SimplyHired, the average salary for agribusiness managers is $127,870 annually. The Bureau of Labor Statistics (BLS) reports that agricultural managers average $79,940 (mean annual) up to $136,940.
Considering an Online MBA? Use our interactive map to find information on schools and colleges offering Online MBA programs in your state and across the U.S.
Sources 
"Agribusiness." The World Bank. World Bank Group, 2019. Web. 19 Jun. 2019.
"Companies With Ag Operations In The Fortune 500, Those Which Should Be." AgriMarketing.com. Henderson Communications LLC, 22 June 2015. Web. 19 Jun. 2019.
Conway, Alyssa. "7 Most Popular Agribusiness Companies of 2015." WATTAgNet. WATT Global Media, 04 Jan. 2016. Web. 19 Jun. 2019. 
"Farmers, Ranchers, and Other Agricultural Managers." U.S. Bureau of Labor Statistics. U.S. Bureau of Labor Statistics, 13 Jun. 2019. Web.19 Jun. 2019.
Goedde, Lutz, Maya Horii, and Sunil Sanghvi. "Pursuing the Global Opportunity in Food and Agribusiness." McKinsey & Company. McKinsey & Company, July 2015. Web. 19 Jun. 2019.
SimplyHired.com. SH, Inc., 2019. Web. 19 Jun. 2019.