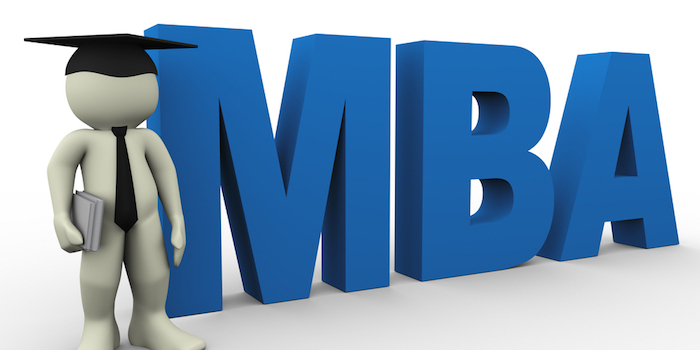 The average cost for a two-year MBA exceeds $60,000, with top business schools costing $100,000 or more in tuition and fees. Though expensive, a person with a master's degree alone typically earns $400,000 more than someone who only holds a bachelor's degree, according to the U.S. Census Bureau, while the expected median starting salary for MBA graduates in the U.S. was $100,000 in 2015, with top business schools such as Harvard, Stanford, and Wharton delivering the highest earnings over a 20-year period.
Although the cost of earning an MBA is clearly justified by the increased lifetime earnings following graduation, the upfront costs can be overwhelming. Fortunately, there are a number of ways to meet tuition costs that do not involve taking out loans. Among the most popular options are scholarships. 
One of the most common types of scholarships is the merit scholarship. The National Association of independent Schools (NAIS) describes merit scholarships as a type of financial aid that recognizes a very specific talent, skill, or promise (such as science, art, or leadership) where the applicant has demonstrated that talent, skill, or promise. Not to be confused with need-based grants, which are awarded on the basis of financial need alone, merit-based awards may come from the school or from outside sources. 
According to a 2014 U.S. News & World Report article, "business schools usually award a variety of merit-based scholarships, which some institutions call fellowships, and the types of scholarships can vary from school to school." For example, Harvard Business School offers an array of fellowships, including need-based, nonprofit, summer, leadership, science, and others ranging from around $10,000 to $20,000 or more, while B-schools such as Kelley School of Business at Indiana University and Ross School of Business at the University of Michigan offer full-tuition scholarships.
Some students may think that MBA scholarships are out of reach, but that's just not true. Many schools have actually boosted the amount of scholarship and fellowship money for students and some schools even offer full-tuition scholarships. These schools may have anywhere from a few full-tuition scholarships available up to a staggering 136 (Ross). And at Harvard, nearly 50% of the class receives an average of approximately $35,000 per year in need-based HBS Fellowships alone. Overall, most B-schools offer scholarships, grants, and/or other institutional awards that do not have to be repaid.
The first step to applying for these awards is to apply for federal financial aid and for financial aid directly through the school. Each school will have its own application process for the scholarships offered, so you will have to work closely with your school's financial aid office to determine your eligibility. Each student typically qualifies for at least two or three programs—including outside scholarships. 
Outside Scholarships
Outside scholarships are awards offered by sources outside of the college or university you are attending. The following are just a few examples of the types of outside scholarships available: 
Women MBA students
Minority MBA students
International MBA students
Gay & Lesbian MBA students
MBA students in particular career/discipline areas (Finance, Marketing, etc.)
Continuing MBA students, including research grants
Take a look at the Outside Scholarship Resources guide offered by Tuck School of Business at Dartmouth, or try GoGrad, for information about specific scholarship programs and how to contact them. Another good source is the MBA Scholarship Book: Your Guide to the Best Scholarships Available from 100 Full-Time MBA Programs by Steve Sed. And it's well worth the research. Outside scholarship awards may range from several hundred dollars up to several thousand dollars or more.     
Employer Sponsorship, Tuition Assistance 
Although it is not categorized as scholarships, employer sponsorship and tuition-assistance are other excellent options to help pay for your MBA. According to a New York Times article, "despite the recession, most companies have not cut back on benefits for further education. More interest in paying for education may reflect companies' growing awareness of the importance of continuing learning in the workforce." Simply put, companies want to invest in future leaders who will propel company performance. Just a few of the thousands of companies that offer sponsorship or tuition assistance programs are Apple, Bain and Company, Bank of America, Chevron, Ford, Intel, Wells Fargo, and Target Corporation, which offers a program that pays for a part-time MBA. 
Even if your company doesn't have a defined sponsorship or tuition-assistance program, they might be interested. It's up to you to convince them of your value to the company, says KapTest Editor Kim Rice. To present a compelling case, Rice says you should:
Sell the ROI of an MBA—for your company
Highlight program specifics
Call attention to your strong work performance
Know exactly what kind of financial aid you're asking for
Know your company (i.e. consider the company's current economic situation, talk to human resources about your plan) 
It's also a good idea to "establish relationships and gather allies to help make your case for MBA tuition reimbursement" or sponsorship. "This could be your direct supervisor or a close mentor," says Rice. Network with MBAs at work who earned their degree while working to "ascertain whether there is a precedent for your company funding employees' higher education," she says. 
At the end of the day, you shouldn't let tuition costs stand in the way of achieving your goal of earning an MBA. With the help of your financial aid office, employer, and an ample amount of research on your own, you will likely discover dozens of sources that are willing to help you cover tuition, fees, housing, books, and other related costs—without the debt.
Sources
"Financing Your MBA Degree, Scholarships and Resources to Cut Your Grad School Costs." MBA Scholarships | GoGrad.org. GoGrad.org, n.d. Web. 21 June 2016. 
Mitchell, Mark J. "Merit-Based Awards: Trends and Perspectives." National Association of Independent Schools (NAIS). National Association of Independent Schools (NAIS), 31 Aug. 2012. Web. 21 June 2016. 
"Need-Based Aid vs. Merit-Based Aid." The Princeton Review. The Princeton Review, n.d. Web. 21 June 2016. 
"Need-Based Fellowships." Financial Aid. Harvard Business School, n.d. Web. 21 June 2016.
O'Connor, Shawn. "Grad School: Still Worth the Money?" Forbes/Leadership. Forbes Magazine, 05 Apr. 2012. Web. 21 June 2016.
"Outside Scholarships for MBA Students." University of California Berkeley Haas School of Business (n.d.): n. pag. Web. 21 June 2016.
"Outside Scholarship Resources." Tuck School of Business (n.d.): n. pag. Dartmouth College. Web. 21 June 2016. 
Peterson's Staff. "Is the Cost of a Graduate Degree Worth It?" Peterson's. Nelnet, 31 Mar. 2016. Web. 21 June 2016. 
Rice, Kim. "6 Tips for Getting MBA Tuition Reimbursement From Your Employer." Business School Insider. KapTest, 26 Nov. 2014. Web. 21 June 2016. 
Schweitzer, Karen. "What Is the Average Cost of an MBA Degree?" About.com Education. About, Inc., 30 Apr. 2015. Web. 21 June 2016. 
Sed, Steve. MBA Scholarship Book: Your Guide to the Best Available Scholarships from 100-full-time MBA Programs. Charleston, SC: GetyourMBAScholarship.com, 2014. Print. 
Smith-Barrow, Delece. "3 Ways to Be a Good Candidate for MBA Scholarships." U.S. News. U.S. News & World Report, 11 Dec. 2014. Web. 21 June 2016.
"Top B-Schools for Full-Tuition Scholarships." Bloomberg.com. Bloomberg, 19 Mar. 2013. Web. 21 June 2016. 
Yang, Jingying. "Find a Sponsor to Pay for That M.B.A." The New York Times. The New York Times, 14 Mar. 2011. Web. 21 June 2016. 
Zhang, Maggie. "15 Companies That Will Help Pay Your College Tuition." Business Insider. Business Insider, Inc., 16 June 2014. Web. 21 June 2016. 
Zillman, Claire. "Congrats, MBA Grads! You're Getting a $45,000 Raise." Fortune - Leadership - Business School. Fortune, 18 May 2015. Web. 21 June 2016. 
Zlomek, Erin. "Elite Business Schools Hike Tuition for the Class of 2016." Bloomberg.com. Bloomberg, 19 Mar. 2014. Web. 21 June 2016.