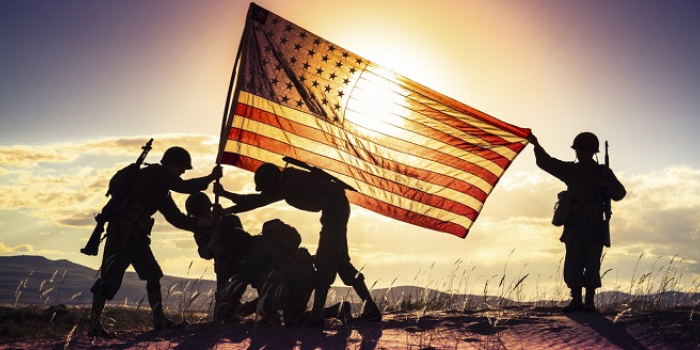 The U.S. is chock-full of military-friendly colleges that offer everything from special tuition rates for veterans to 100% free tuition. Schools such as Colorado State University have taken "military-friendly" to even higher levels by also providing coverage for housing, textbooks and even meal plans. And according to USA Today College, Provisions in the Veterans' Access to Care through Choice, Accountability, and Transparency Act of 2014 now require all public universities to offer in-state tuition to veterans making use of their GI Bill. What all of this means is, there has never been a better time for veterans who would like to earn a degree in one of literally hundreds of different areas that fit their distinctive background. 
While there is no shortage of career paths suited to veterans—Criminal Justice, Training and Development, Engineering, Fire Science, Network Administration, and Information Security are just a few—one school decided to develop a program specifically designed to help servicemen and women transition from the battlefield to the boardroom. University of Southern California's (USC) Marshall School of Business named this program the "Master of Business for Veterans (MBV)." 
Open to veterans, active duty and reserve personnel, the Marshall MBV is a unique 10-month program that aims to "leverage the management and leadership experience already gained during military service," says the school. "The MBV provides formal business knowledge and develops critical thinking skills. Participants will discover the transferability of military experience and skill sets to the business environment, as well as the ability to launch, manage and grow a business." Students may complete the program in just two semesters, which includes 18 "very full" class days each semester. Besides an accelerated format, this AACSB accredited program is super convenient, requiring class attendance on alternating Fridays and Saturdays. This allows students to continue to meet job, military, and family obligations during the course of the program. 
Marshall MBV students can expect to spend the first semester of the program focusing on understanding organizations and measuring effectiveness from the perspective of financial accounting and performance, competitive market analysis, external communication, labor, customer and financial markets, statistical and decision analysis, and analysis and evaluation of new enterprises and new ventures within large organizations. 
The second semester focuses on strategy, growth and implementation of organization from the perspective of formulation and implementation of different strategies, financial growth strategies, comparative management, product development and new market strategies, organizational leadership and communication, and skill development necessary to move the venture forward. Courses such as Accounting, Strategy, Entrepreneurship, Marketing, Finance, Statistics, Leadership, and Communications help students meet their goals each semester. A Career Development course is also on the menu and is offered during the final session. 
Marshall MBV, Marshall MBA Compared 
The Marshall MBV is an on-campus program that costs $52,500, which is half the price of the Marshall MBA. Each cohort consists of 20-40 military students compared to 50-70+ students for the MBA program. As mentioned, the MBV takes just 10 months to complete, compared to two to three years for the MBA. According to Marshall, the amount of content provided in the 10-month program is equivalent to one year of the EMBA.
Getting In 
Besides military service, the Marshall Admissions Committee "assesses each candidate on a number of dimensions including prior academic performance and professional leadership experience. The Committee seeks "students with the intellectual and interpersonal abilities to contribute to the classroom experience, to excel academically and who possess the leadership potential to succeed." Eligibility for the MBV requires: 
A four-year undergraduate degree from an accredited school
A minimum of three years military service, with verifiable leadership or management experience on active or reserve forces duty
Verifiable academic or work-related math skills 
Interviews are a requirement of the MBV application process for those candidates who meet the program requirements, and will be conducted by invitation only after a completed application has been reviewed. USC Marshall School of Business conducts most interviews with candidates by telephone or online platform. Each year's MBV program starts in August. 
For more information about the USC Marshall MBV, visit the official Marshall MBV website here. 
Sources
Adams, Susan. "The 10 Best Jobs for Veterans." Forbes. Forbes Magazine, 04 Feb. 2014. Web. 21 Dec. 2016. 
Gillies, Trent. "USC Offers MBA Tailor Made Just for Veterans." CNBC. CNBC, LLC., 25 May 2015. Web. 21 Dec. 2016. 
"Master of Business for Veterans (MBV)." USC Marshall School of Business. University of Southern California, 2001-2013. Web. 21 Dec. 2016. 
Military.com. "Top Ten College Degrees for Veterans." Military.com. Military Advantage, A Monster Company, n.d. Web. 21 Dec. 2016. 
Randolph, Kathryn Knight. "Free College Tuition for Veterans at Select Schools." Fastweb. A Monster Company, 14 July 2011. Web. 21 Dec. 2016. 
"S.2450 - 113th Congress (2013-2014): Veterans' Access to Care through Choice, Accountability, and Transparency Act of 2014." Congress.Gov. Library of Congress, 09 June 2014. Web. 21 Dec. 2016. 
Stockwell, Carly. "All Public Colleges Will Soon Offer Veterans In-state Tuition." USA Today College. Gannett Satellite Information Network, 09 Mar. 2015. Web. 21 Dec. 2016. 
"USC Marshall School of Business." USC Marshall School of Business. University of Southern California, 2001-2013. Web. 21 Dec. 2016.