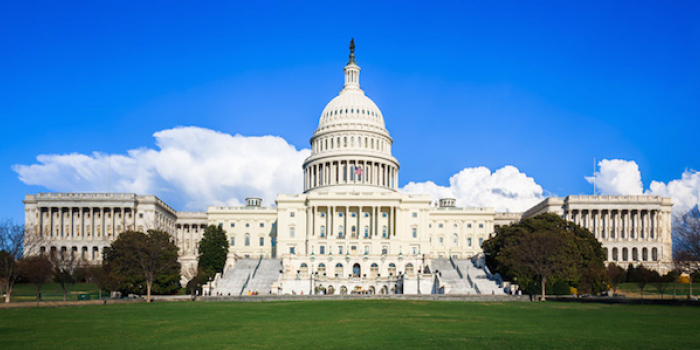 Schools That Offer Government MBA Programs
Carnegie Mellon University
Concordia University Ann Arbor, Michigan
Columbia Southern University
George Washington University
Grand Canyon University
Liberty University
Marquette University
Northcentral University
Rutgers University
Southern New Hampshire University
With a workforce of nearly 22 million people working at the state, local, and federal levels, government employs more people than any other organization in the country—and it's just getting bigger. In 1989, nearly 18 million workers were employed in government. This means that every decade, for nearly three decades, it added well over 1.2 million new employees. Earnings are impressive as well, especially at the higher levels. As of January 2016, the average salary for employees in senior-level and scientific or professional positions was $123,175, with a maximum salary range of $170,400 to $185,100. 
Government work may not be the first thing on the minds of most MBA graduates, but considering the growth, stability, and potential earnings that come with it, maybe it should be! 
Besides the potential to earn just as much as MBAs working in private industry, working in government offers tons of benefits programs and family friendly perks that other positions do not. For starters, many government positions offer student loan forgiveness. Can you imagine having all of your student loans forgiven while earning a salary that's more than double the national average? Other benefits include inter-agency transfers with no breaks in service, relocation bonuses (for difficult-to-fill positions), retention allowances, recruitment bonuses (for difficult-to-fill positions), and incentive awards. Government employees also enjoy free employee development programs, 26 three-day weekends, the option to telework at least one day a week, at least 13 days of vacation leave as well as 13 days of sick leave each year, flexible spending accounts (FSAs), and the Federal Employees Health Benefits Program (FEHB), which includes at least 180 health plan options. 
Other benefits such as long-term care insurance, group life insurance, no cost Medicare, social security credit, the Civil Service Retirement System, the Thrift Savings Plan (TSP), and the Federal Employees Retirement System (FERS) are also on the menu. Even with all of these benefits and competitive salaries, the government still has a tough time filling top positions. This means that the demand is very high for highly qualified individuals to fill mid- to senior-level positions, management, and leadership positions. Simply put, the government is always hiring in these areas—even when no one else is. 
One of the many government departments that target these highly qualified individuals is the U.S. Department of Labor (DOL). The Department offers an MBA Fellows Program, which is a "two-year program designed to attract outstanding individuals with business skills acquired either through graduate education and/or related equivalent experience, who can implement a business approach to managing the Department of Labor. Participants receive extensive training, challenging rotational assignments, and shadowing experiences during their tenure in the program." 
Another DOL program is the Presidential Management Fellows (PMF) Program. It also targets masters and professional degree holders for leadership positions. Other programs offered through the U.S. Securities and Exchange Commission and the U.S. Postal Service set out to hire outstanding MBAs (who complete their programs) for mid- to upper-level management positions. The Treasury Department and the National Aeronautics and Space Administration (NASA) also offer professional development programs that target MBAs. 
Even without these programs, the DOL and most other government departments and agencies are always on the lookout for advanced degree holders with expertise in various fields such as business administration or management, economics, public policy, political science, international relations or studies, accounting, financial management, medical, information technology/information systems, human resource management, and pre-law and law. Let's take a look at salaries for management positions in some of these fields.
The DOL reports that general and operations managers averaged $119,460 in 2015, and compensation and benefits managers averaged $121,630. Computer and information systems managers averaged $141,000, while financial managers averaged $134,330. Human resources managers averaged $117,080, while administrative services managers averaged $94,840. Medical and health services managers averaged $106,070 in 2015. 
Choosing the Right MBA for a Career in Government 
Besides specializing in the fields mentioned earlier, MBA students can further refine their focus by opting for a Government MBA or an MBA that focuses on public policy, political science, nonprofit management or other related area. Innovative programs such as the MA in Government/MBA at Johns Hopkins University (JHU) "prepares managers to move between the public and private sectors, or work for agencies that span the two," says JHU. The program "combines the public sector management strengths of the MA in Government with the private sector business savvy of the MBA." An added benefit of the program is the MA portion can be completed entirely online. Other online programs to consider include: 
Carnegie Mellon University, Tepper School of Business, MBA/Public Policy & Management
Concordia University Ann Arbor, Michigan, Haab School of Business, MBA Public Administration
Columbia Southern University, College of Business, MBA Public Administration
George Washington University, GW School of Business, MBA Government Contracts
Grand Canyon University, Colangelo College of Business, MBA/MPA, Emphasis in Government and Policy
Liberty University, School of Business, MBA Public Administration
Marquette University, Graduate School of Management, MBA/MA Political Science
Northcentral University, School of Business, MBA Public Administration
Rutgers University, The State University of New Jersey, Rutgers Business School, MPP/MBA
Southern New Hampshire University, School of Business, MBA Public Administration
While other b-schools may not offer a formal program for MBAs interested in government work, they may offer elective courses that will allow you to create your own focus. In addition, other schools often attract recruiters from government offices who come there to handpick talent from their MBA programs. The College of William & Mary, Mason School of Business is just one example. Schools such as this  regularly attract recruiters from the FBI, the National Parks Service, the New York State Governor's Office, the U.S. Department of State, and the Environmental Protection Agency (EPA). 
To get an idea of the types of jobs the government has to offer, visit USAjobs.gov. To search in your state, visit your state's official job/career website (i.e. work.illinois.gov, jobs.ca.gov, IN.gov, nvjobs.nv.gov, labor.ny.gov, etc.). 
Sources 
Dinan, Stephen. "Federal Workers Hit Record Number, but Growth Slows under Obama." Washington Times. The Washington Times, LLC, 09 Feb. 2016. Web. 02 Oct. 2016. 
"DOL Internship Program." Office of the Secretary. United States Department of Labor, n.d. Web. 02 Oct. 2016. 
"Government/MBA." Kreiger School of Arts & Sciences. Johns Hopkins University, 2016. Web. 02 Oct. 2016. 
Jeffrey, Terence P. "21,995,000 to 12,329,000: Government Employees Outnumber Manufacturing Employees 1.8 to 1." CNS News. Media Research Center (MRC), 08 Sept. 2015. Web. 02 Oct. 2016. 
"Join the Team - Working for the 21st Century." U.S. Department of Labor. U.S. Department of Labor, n.d. Web. 02 Oct. 2016.
"May 2015 National Occupational Employment and Wage Estimates." U.S. Bureau of Labor Statistics. U.S. Bureau of Labor Statistics, 30 Mar. 2016. Web. 02 Oct. 2016. 
"Pay & Leave, Salaries & Wages, Rates of Basic Pay for Employees in Senior-Level (SL) and Scientific or Professional (ST) Positions." OPM.gov. United States Office of Personnel Management (OPM), Jan. 2016. Web. 02 Oct. 2016. 
"The Benefits of Working for the Government." Experience.com. Experience, Inc., 2016. Web. 02 Oct. 2016. 
"U.S. Department of Labor Salaries." Glassdoor.com. Glassdoor, Inc., n.d. Web. 02 Oct. 2016.