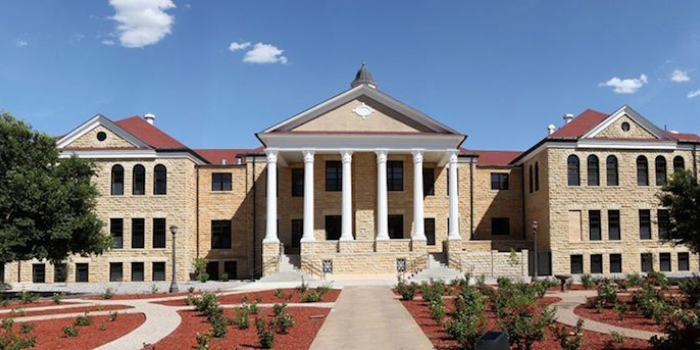 The Fort Hays State University online MBA was ranked in the top tier nationally for high quality education in the U.S. News & World Report rankings released in January 2015.  The FHSU MBA program is a high-quality program with a core curriculum that supports the most important aspects of business. Additionally, it offers several career-relevant concentrations which allow students to deepen their knowledge in a specific content area.
Dr. Bannister, Dean , Ms. Incitti, Assistant Dean, and Ms. Dolecek, Graduate Coordinator for the College of Business and Entrepreneurship collaborated to answer our questions about the online MBA program offered at Fort Hays State University.
What type of student typically enrolls in your online MBA program?
Our online MBA program allows students to take advantage of all the benefits of a traditional on-campus program with the convenience of flexible, online instruction. The majority of our online MBA students have a part-time or full-time job, with the average years of experience being 10 years. Students learn with other students from across the globe who bring a wealth of diverse, real-world experience to the classroom. We have physicians, managers, active duty military, accountants, pharmaceutical representatives, entrepreneurs and other professionals currently in our program.
Where are most of your students located?
About half of our current online student population is from the state of Kansas. The other half reside in locations across the U.S. and internationally.
How do students in the online MBA program interact with faculty?
The faculty who teach in our online program also teach the on-campus courses. Online students interact with faculty through our online course management system, email, Skype, and phone.
What is unique about the structure of your online MBA program?
Students can take advantage of the rich history of a well-established, face-to-face MBA program, with all the benefits of online learning. Students enjoy small class sizes (25:1) and learn on their schedule, not ours.
Students work closely with their advisor to tailor their program to fit their needs and career goals. We have 11 concentration areas to best suit the professional and personal goals of our students. Students can choose from a concentration in Finance, Health Care Management, Sports Management, Human Resource Management, Information Assurance, International Business, Leadership Studies, Management Information Systems, Marketing, General MBA Studies, and Tourism and Hospitality Management. 
What opportunities do online MBA students have for networking?
With small class sizes, students network within their classes. Some classes include group simulation exercises or projects, which encourages students to network and establish relationships with other students.
In addition, the FHSU MBA program has a private LinkedIn group available only to FHSU MBA current students, faculty, and alumni. Students are also invited to attend the annual MBA Etiquette Dinner, Tea Up for the Semester event, and various on-campus receptions. Many of the big events are recorded for online students who are unable to attend in person.
Do you offer career services and professional resources to online MBA degree candidates?
FHSU MBA students can take advantage of career placement assistance and career counseling for a lifetime through the FHSU Career Services office.
What advice would you give a prospective candidate for your online MBA program?
Whether you choose to earn an MBA for professional advancement or personal enrichment, consider the Fort Hays State University MBA. The FHSU MBA offers high quality instruction from full-time faculty and affordable, competitive tuition with an online program that allows campus to come to you. Our core curriculum covers all key aspects of modern business theories and practices, while our concentration courses allow you to focus on an area that best suits your professional and career goals.
Check out more interviews at Online MBA Report's Interview Series.