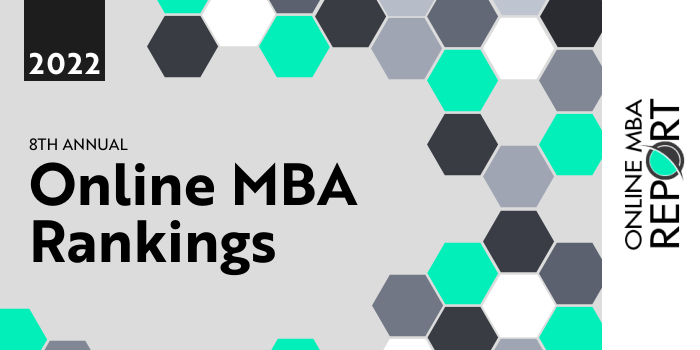 Our 2022 rankings of the Top Online MBA Programs in Tennessee. For an explanation of ranking criteria, click here.
Top Online MBA Programs in Tennessee - 2022 College Rankings

| Ranking | School | City |
| --- | --- | --- |
| 1 | University of Memphis | Memphis |
| 2 | University of Tennessee Chattanooga | Chattanooga |
| 3 | University of Tennessee Martin | Martin |
| 4 | Lipscomb University | Nashville |
1. University of Memphis, Memphis, Tennessee

Fogelman College of Business and Economics (FCBE) at University of Memphis (U of M) has an MBA Program designed for working professionals with demanding schedules. This 36 credit hour, AACSB-accredited program is delivered 100% online in an asynchronous format, which allows students to learn from anywhere at any time. There are no required online meetings or campus visits, and the program can be completed in two years up to five or more.
Course examples for the FCBE Online MBA include Global Strategic Marketing, Business Analytics for Managers, Leadership and Negotiation, Global Financial Management, Information Systems in the Global Enterprise, and Supply Chain Operations Management. The Global Strategic Management Capstone will be completed in the last semester of the program.
Other FCBE Online MBA features include resume building resources, networking events, career training resources, and access to the FCBE Professional Development Center (PDC), which offers resources such as the Fogelman Internship and Career Network (FIN).
Graduates of the FCBE Online MBA Program at University of Memphis have been recruited by major companies and organizations such as Deloitte, Verizon, FedEx, Walmart Pharmacy, St. Jude, the United States Armed Forces, Toshiba, Nike, McDonald's Corporation, GE Transportation, Hilton Worldwide, Methodist Hospitals, First Credit union, Terminix, AutoZone, and Wright Medical Technology.
University of Memphis is accredited by the Southern Association of Colleges and Schools Commission on Colleges (SACSCOC). This public research university was established in 1912 as West Tennessee State Normal School. Serving close to 21,625 students, U of M offers more than 375 areas of study, subjects, and disciplines leading to degrees and certificates at all levels. Programs at U of M are housed in 13 colleges and schools.
2. University of Tennessee Chattanooga, Chattanooga, Tennessee

The MBA Program at University of Tennessee Chattanooga (UTC) is part of Gary W. Rollins College of Business, which serves nearly 2,500 students enrolled in close to 20 degree programs and minors. Housing five departments including Accounting, Business Analytics, Finance and Economics, Management, and Marketing and Entrepreneurship, Rollins College of Business offers the area's only AACSB accredited business graduate degree programs.
The UTC Rollins MBA Program may be completed entirely online (no need to set foot on campus) or in a flexible hybrid format that combines in-person and online classes. The program features experiential learning opportunities, cooperative education assignments, and three career-focused concentrations including Business Analytics, Finance, and Healthcare Administration. Students in the program may also enroll in the General Track and customize a focus area through electives.
For the 100% Rollins Online MBA, interaction with instructors and colleagues takes place virtually via Zoom, email, online chats, and phone calls. Hybrid students will choose from a variety of in-person and online asynchronous courses. Both options require 12 courses (36 credit hours), including eight core courses, three elective courses or three concentration courses, and one capstone course. Students in both programs have access to support services such as graduate career services and coaching, counseling services, and the UTC library.
Part-time and full-time study options are available for both programs with four start dates: Fall, Spring, Summer 1, and Summer 2. Full-time Online MBA students can complete the program in as little as 18 months, while part-time students can graduate in as little as 24 months.
Nearly 90% of UTC Rollins College of Business graduates find full-time employment following graduation. Close to 85% of these students are employed in positions related to their degree.
University of Tennessee at Chattanooga is accredited by the Southern Association of Colleges and Schools Commission on Colleges (SACSCOC). Founded in 1886, UTC serves more than 10,000 students enrolled in 97 undergraduate programs, 88 graduate programs, and 50 minors in six colleges and schools. 
3. University of Tennessee Martin, Martin, Tennessee

The College of Business and Global Affairs at University of Tennessee at Martin (UT Martin or UTM) houses the AACSB-accredited MBA Program that has been educating business students since 1978. The UT Martin MBA has two delivery options: Hybrid and Online. Both options feature small class sizes, collaborative projects, and a curriculum that focuses on leadership and global management.
The Online MBA is cohort-based, there are no required campus visits, and students communicate with classmates and instructors through discussion boards, email, virtual classrooms, and virtual group meeting rooms. The Hybrid MBA requires five visits to campus per semester, All UTM MBA students have virtual access to the UT Martin Library, which features journal articles and a variety of other materials and periodicals. Assignments and exams for the Online MBA are completed and submitted online.
UT Martin MBA students may choose the General Business option or select from three concentrations including Agricultural Business, Human Resource Management, and Sports Business. The General MBA consists of 30 credit hours and the MBA with a Concentration consists of 33 credit hours. Students in both the Fully Online and Hybrid Programs will take courses such as Business Policy and Strategy, Corporate Finance, Analytics and Operations Management, Marketing Strategy, and Leadership and Organizational Behavior.
Both the Online MBA and Hybrid MBA can be completed in as few as 18 months. Graduates of the MBA Program at UT Martin work in leadership positions across the U.S.
University of Tennessee at Martin is accredited by the Southern Association of Colleges and Schools Commission on Colleges (SACSCOC). Serving approximately 6,700 students from 45 states and 15 countries, Ut Martin dates back to 1900, when the Hall-Moody Institute was founded. The school offers more than 100 academic areas of study within 18 undergraduate degree programs, and five graduate degrees with 22 specialized concentrations. Programs at University of Tennessee at Martin are housed across more than 25 colleges and departments.
4. Lipscomb University, Nashville, Tennessee

The Online MBA Program at Lipscomb University is AACSB accredited. Housed in the College of Business (COB), the program an option that requires in-person meetings one night per week, and another that can be complete entirely online. Both options consist of 36 credit hours and they can be completed in 22 months, part-time, and both follow the cohort-model.
The Lipscomb Online MBA has four optional areas of focus: Health Care Management, Leadership, Accounting, and Management. Students also have the option to participate in the Global Business courses, which consists of a week-long trip to an international or domestic location to immerse in the destination's culture and business scene. Past trips include Chile, Germany, Bangkok, Israel, Austin, Texas, and Washington DC.
Other program features include small class sizes, a cohort-based learning model, collaborative projects, networking events, one-on-one mentorships, and professional development opportunities. The MBA Program at Lipscomb is also AACSB accredited.
Lipscomb University is accredited by the Southern Association of Colleges and Schools Commission on Colleges (SACSCOC). Founded in 1891 by ministers David Lipscomb and James A. Harding, Lipscomb began as Nashville Bible School. The school serves nearly 5,000 students enrolled in more than 240 undergraduate majors and minors, master's degrees, and doctoral programs across 10 colleges.