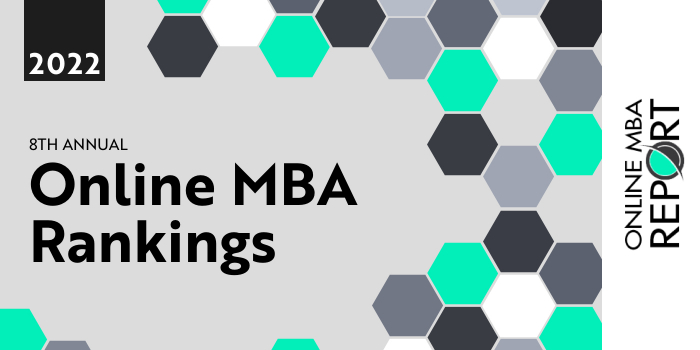 Our 2022 rankings of the Top Online MBA Programs in Connecticut. For an explanation of ranking criteria, click here.
Top Online MBA Programs in Connecticut - 2022 College Rankings

| Ranking | School | City |
| --- | --- | --- |
| 1 | Quinnipiac University | Hamden |
| 2 | University of Hartford | West Hartford |
1. Quinnipiac University, Hamden, Connecticut

The School of Business at Quinnipiac University (QU) provides more than 20 programs to 2,100+ students. All QU Business students have access to internship opportunities with major companies and organizations such as EY, Deloitte, Pratt & Whitney, KPMG, the Boston Bruins Foundation, Grant Thornton, First Realty Management, Yale New Haven Health, Goldman Sachs, the New York Mets, Morgan Stanley, and PwC.
The Online Professional MBA at QU School of Business is a 33 credit hour program that includes 18 credits of Core Professional MBA courses and 15 of Professional MBA electives. Students have the option to create a focus area from required electives or select from six available concentrations including Leadership, Healthcare Management, Strategic Business Communication, Innovation and Market Disruption, Marketing, and Business Analytics.
Electives are available in the areas of Organizational Leadership, Strategy, Business Analytics, Entrepreneurship, Supply Chain Management, Finance, International Business, Marketing, and Health Care Management. Examples include Data Mining for Competitive Advantage, Logistics Management,  Cases in Corporate Finance, Health Care Industry Regulation, International Business Negotiation, New Product Marketing, Technology and Innovation Management, Managing Marketing Channels, and Strategic Sourcing and Supply Management.
The QU Online Professional MBA has three start dates: Fall (late August), Spring (late January), and Summer (late May). The program is AACSB accredited and it can be completed in two years.
As part of the School of Business at Quinnipiac University, Online MBA graduates enjoy a 99.7% success rate.
Quinnipiac University is accredited by the New England Commission of Higher Education (NECHE). Founded in 1929 as the Connecticut College of Commerce, QU serves nearly 10,000 students across three campuses in Hamden and North Haven, Connecticut. Quinnipiac University offers close to 200 programs across eight professional schools and the College of Arts and Sciences.
2. University of Hartford, West Hartford, Connecticut

The Barney School of Business at University of Hartford (UHart) provides more 20 majors, degree options, and post-graduate certificates to hundreds of students. At the graduate level, The Barney School has an MBA option that can be completed entirely online. Program features include hands-on professional experiences, 10 concentrations, part-time and full-time options, networking opportunities, and optional study abroad experiences.
Concentrations for the program include Risk Management and Insurance, International Business, Management, Entrepreneurial Studies, Project Management, Finance, Supply Chain Management, Business Analytics, Healthcare Management, and Marketing. Though optional, participation in the study abroad program is encouraged. Short- and long-term experiences are available and may consist of coursework, conferences, presentations, and internships. Spain, London, and Bermuda are just a few past destinations.
Students may begin the UHart Online MBA Program in the Fall, Spring, or Summer. The program is AACSB accredited and it can be completed in 24 months. Graduates are prepared to pursue careers in Marketing, Finance, Management Consulting, Logistics, Technology, and other fields in large corporations, start-ups, small businesses, government agencies, and nonprofit organizations.
University of Hartford has been continuously accredited by the New England Commission of Higher Education (NECHE) since 1961. Chartered in 1957, UHart is a four-year private university that serves around 5,925 students from 49 states and 44 countries. Around 200 programs spanning the Arts, Business, Education, Engineering and Technology, Health, and Humanities are provided across seven colleges and schools.