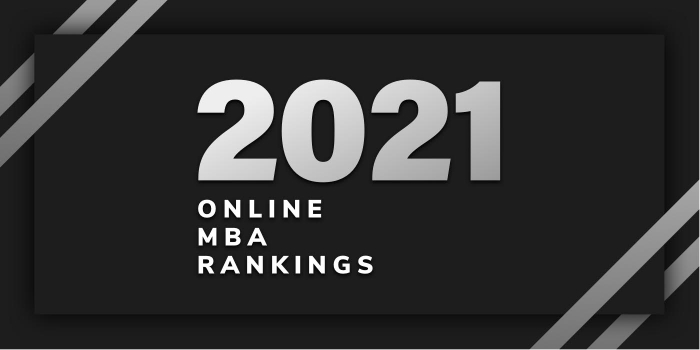 Our 2021 rankings of the Top Online MBA Programs in Virginia. For an explanation of ranking criteria, click here.
Top 5 Online MBA Programs in Virginia - 2021 Rankings

| Ranking | School | City |
| --- | --- | --- |
| 1 | The College of William & Mary | Williamsburg |
| 2 | George Mason University | Fairfax |
| 3 | James Madison University | Harrisonburg |
| 4 | Virginia Commonwealth University | Richmond |
| 5 | Liberty University | Lynchburg |
1. The College of William & Mary, Williamsburg, Virginia

On February 8, 1693, King William III and Queen Mary II of England signed the charter for a "perpetual College of Divinity, Philosophy, Languages, and other good Arts and Sciences" to be founded in the Virginia Colony. With original plans for the school dating back to 1618—decades before Harvard—William & Mary (M&W) is the second-oldest institution of higher learning in America.
A 17-year-old George Washington received his surveyor's license through W&M and would later return as its first American chancellor, Thomas Jefferson received his undergraduate education here, as did presidents John Tyler and James Monroe.
The Raymond A. Mason School of Business at W&M offers a 49-credit MBA program for working professionals. This interdisciplinary program consist of 12 courses and it may be completed entirely online. Each course is 7.5 weeks, with just 22 students per course. Students begin the program with the unique Renaissance Manager course, which explores "design thinking as an iterative approach to identifying and solving problems," says the school.
The program also explores "the importance of both deep expertise and broad knowledge, understanding systemic connection as a part of creative problem-solving, how a willingness to experiment promotes a growth mindset, and the ability to synthesize new ideas from seemingly unrelated or opposing ideas," and more.
Other highlights include courses such as Global Managerial Economics, Integrated Technology, Leadership for the 21st Century, Revolutionary Leader Practicum, and Strategy.
Students will attend just one on-campus residency. This Friday thru Sunday event includes speakers, team-building activities and networking functions and students will have the opportunity to "discuss core business topics such as leadership, finance and marketing, as well as current events and global issues." Students will meet the school's Executive Partners (EPs), "a select group of retired professionals who volunteer their time as mentors to all Mason School of Business students."
Students can expect to complete the AACSB-accredited W&M Mason Online MBA in just two years.
2. George Mason University, Fairfax, Virginia

George Mason University (GMU) was founded in 1957 as University College, the Northern Virginia branch of the University of Virginia, offering courses in Engineering and the Liberal Arts. Named for statesman and patriot George Mason, GMU has grown into a public, coeducational institution of higher learning consisting of 12 colleges and schools offering more than 200 undergraduate and graduate degrees.
The School of Business offers a 48 credit hour online MBA that provides the opportunity to earn a Graduate Certificate in Business Analytics (BA). BA Certificate students will gain the skills needed for big data through hands on-use of modeling and other techniques. In addition to the BA Certificate, GMU Online MBA students will have the opportunity to participate in GMU's Global Residency program, consisting of a week abroad, where they will "visit and study companies in a foreign country while completing a team project and gaining a transformative view of business from another country's perspective," says the school.
All Mason Online MBA students will engage in four areas of study: Analytical Decision Making, Collaborative Communication and Leadership, Contemporary Issues in Business, and Knowledge of Functional Business Disciplines. Courses for the program are offered in convenient, part-time online asynchronous format and include Advanced Data Mining For Business, Financial Reporting and Decision Making, Global Business Perspectives, Management of Information Technology, and Project Management, to name a few.
GMU graduates enjoy an 80% employment rate within six months of graduation. Mason Online MBA graduates go on to "fulfill a range of in-demand leadership roles," including Analyst, Contract Specialist, Contracting Officer, Director, Logistics Analyst, Negotiator, Project Manager, Senior Analyst, Senior Consultant, Senior Financial Analyst, and many others.
3. James Madison University, Harrisonburg, Virginia

James Madison University (JMU) was founded in 1908 as the State Normal and Industrial School for Women at Harrisonburg. This public university serves around 21,500 students enrolled in nearly 300 degree programs in dozens of departments, colleges, and schools. The College of Business (CoB) is one of 5% of business schools with accreditation by the AACSB. MBA options are designed for working professionals and include the Executive Leadership MBA, Information Security MBA, and the Innovation MBA. 
Programs are offered in a hybrid format, which means students are required to meet at a satellite location once every other month or on a one-week in person, two weeks online rotating schedule (Innovation MBA). All programs highlight networking opportunities, professional workshops, and an option to participate in an international 10-12 day residency "full of rich learning and networking experiences," says the school.
The Executive Leadership and Information Security MBAs take 28 months to complete and the Innovation MBA takes 21 months to complete.
4. Virginia Commonwealth University, Richmond, Virginia

Virginia Commonwealth University (VCU) was established in 1838 as the medical department of Hampden-Sydney College (Medical College of Virginia). The school established the first U.S. campus in Qatar, it is the only Virginia institution to offer health professions, dentistry, medicine, nursing, and pharmacy, and it is a top 100 research university by the National Science Foundation.
VCU serves just over 29,400 students enrolled in more than 200 programs in 16 colleges and schools. The School of Business serves around 3,620 students at the undergraduate and graduate levels. The school's Online MBA Program requires 18+ months of professional experience and a bachelor's degree.
Each semester, students will take two three-credit courses and a one-credit course. Three-credit courses focus on Leadership and Management in areas such as Economics, Finance, and Operations. One-credit courses focus on contemporary business issues including Cybersecurity, Entrepreneurship, Globalization, Innovation, Pricing, and Risk Management. Students in the program are required to participate in a video conference one night a week to collaborate with others in the program. There are also three residency weekends on campus: Beginning of year 1: orientation, professional development and leadership, beginning of year 2: corporate social responsibility, and end of year 2: hackathon and graduation.
Students can expect to complete the AACSB-accredited VCU Online MBA in two years.
5. Liberty University, Lynchburg, Virginia

Liberty University was established in 1971 by American Southern Baptist pastor, televangelist, and conservative activist Jerry Falwell, Sr. This private, evangelical Christian university serves more than 100,000 students, including more than 30,000 military and over 700 international students. The school offers 750+ programs of study, with many offered both residentially and online.  Programs are offered in 15 colleges and schools.
The Liberty School of Business offers a 45 credit hour MBA program that may be completed entirely online. The curriculum builds students' "existing knowledge and experience" to develop their "critical thinking, leadership, and management skills," says the school. The program is designed for those seeking to advance in their current position or explore other areas within the field of business administration.
Students have the option to choose the 45 credit hour online MBA with a specialization or the 36 credit hour program with no concentration. More 20 specializations are available. Some options include American Legal Studies, Criminal Justice Administration, Finance, Healthcare Management, International Business, International Legal Studies, Nonprofit Leadership, Public Administration, and Strategic Media and Digital Content, to name a few.
Students may transfer up to 50% of MBA program credit hours from another institution, courses are eight weeks, and there are eight different start dates each year with no set login times. The Liberty University Online MBA may be completed in two years and it is accredited by the Accreditation Council for Business Schools and Programs (ACBSP).