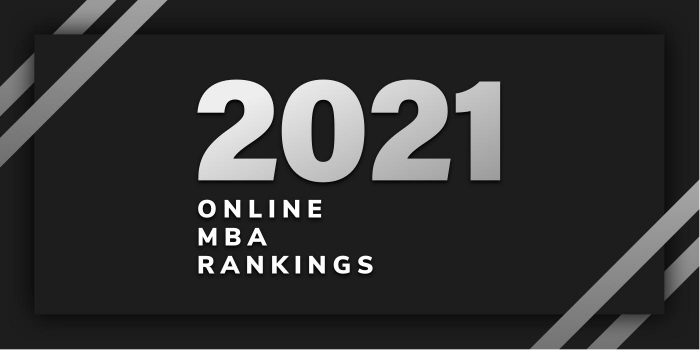 Our 2021 rankings of the Top Online MBA Programs in Florida. For an explanation of ranking criteria, click here.
Top 5 Online MBA Programs in Florida - 2021 Rankings

| Ranking | School | City |
| --- | --- | --- |
| 1 | University of Florida | Gainesville |
| 2 | University of Miami | Coral Gables |
| 3 | Florida State University | Tallahassee |
| 4 | Florida International University | Miami |
| 5 | University of South Florida | St. Petersburg |
1. University of Florida, Gainesville, Florida

Founded in 1853 and serving nearly 58,000 students, the University of Florida (UF) is one of the largest and oldest universities in the state. The school houses more than 200 bureaus, education centers, institutes, and research & service centers, along with more than a dozen colleges and schools.
In 1999, the Warrington College of Business at University of Florida became one of the first schools to offer a fully accredited, 100% online MBA program. The school says the "innovative 24-month option does not require a single campus visit." The school also offers a 16-month accelerated option for those who have an undergraduate degree in business and graduated in the last seven years.
A concurrent Outreach Engineering Management (OEM) Master's (OEM/MBA) is also available. This degree option "reduces the amount of time and coursework required for students to obtain both the MBA and the OEM degree from UF."
Course highlights for the online MBA include Business Plan Formation, Business-to-Business Marketing, Customer Analysis, Introduction to Real Estate, Marketing Analytics, Measuring and Managing Value, and The Art & Science of Negotiation.
All online MBA students are encouraged to enroll in UF's MBA Global Immersion Experiences (GIE). Students register for the two-credit course that meets in person and online over the course of the semester and includes a seven- to 10-day experience abroad in Argentina, Brazil, China, Ireland, United Arab Emirates, and others.
The Online MBA programs at UF's Warrington College of Business are AACSB-accredited.
2. University of Miami, Coral Gables, Florida

Established in 1925, University of Miami (UM) serves more than 17,000 students enrolled in more than 180 majors and programs across 11 schools and colleges. One of the region's top research universities, UM houses the School of Business Administration, which offers an inline MBA known as the "UOnline Professional MBA." This 42 credit hour, AACSB-accredited program is "taught by the same high-caliber faculty members that also teach on-campus," says the school, and it takes 24-48 months to complete.
Focus areas for the program include Accounting Practice, Corporate Finance, and Financial Decision Making. Accounting Practice requires an additional nine credit hours of study and Corporate Finance and Financial Decision Making require an additional five credit hours.
Though the MBA program is delivered entirely online, students may attend an optional, on campus residency and/or an optional on campus orientation and campus tour. The residency is a "week-long immersion session, during which you will take one full, accelerated course on campus." The orientation allows students to meet faculty, University staff, and fellow classmates before their studies begin.
The GMAT is not a requirement for admission to the UOnline Professional MBA Program.
3. Florida State University, Tallahassee, Florida

Founded in 1851, Florida State University (FSU) is the oldest continuous site of higher education in Florida. Serving nearly 42,600 students. FSU is also one of the largest universities in the state serving. With notable alumni such as Benjamin Crump, Deion Sanders, Jim Morrison, and Sara Blakely, members of the New York Yankees, and over twenty current and former generals and admirals in the U.S. military, FSU also has a network of more than 360,000 alumni from Florida and around the world.
The College of Business at FSU (COB FSU) serves more than 6,000 students enrolled in dozens of bachelor's, master's and doctoral degree programs. The school offers two online MBA programs: the Part-Time MBA and the Part-Time MBA with a Real Estate Specialization. The 39 credit hour Part-Time MBA offers a General Track or a Specialization in Management Information Systems or Risk Management and Insurance. The program may be completed in two to 2.5 years or seven semesters.
Online MBA students may participate in the Global Business Seminar for Graduate Students, which provides the opportunity to study abroad in Seoul, South Korea at firms such as Samsung Electronics, Hyundai, Kia and LG. The program, which also features several cultural excursions, focuses on the "globalization and sustainability of Korean multinational firms," says the school.
The Part-Time MBA with a Real Estate Specialization also consists of 39 credit hours and features a "rigorous set of elective courses focused on real estate and analysis." The program, which also offers a study abroad option, may be completed in two to 2.5 years. As part of the FSU College of Business, both the Part-Time MBA and Part-Time MBA-Real Estate are AACSB-accredited.
4. Florida International University, Miami, Florida

Founded in 1965, Florida International University (FIU) is Miami's first and only four-year, public research university. The school, which has the highest research classification offered by the Carnegie Foundation for the Advancement of Teaching, has earned more than $1 billion during the past decade and it operates the world's only underwater ocean laboratory—Aquarius. Serving nearly 54,000 students, FIU is one of the top 10 largest universities in the nation.
More than 250 programs are offered at FIU, including popular majors such as Business, Management, Marketing, and Related Support Services; Communication, Journalism, and Related Programs; Multi/Interdisciplinary Studies; Psychology; and Social Sciences.
The FIU Alvah H. Chapman Jr. Graduate School of Business offers a fully online MBA tailored for busy, working professionals. Known as the "Professional MBA (PMBA) Online," the program offers the flexibility to study anytime, anywhere, and at the students own pace. Students may choose from three different pacing tracks, five term starts, and ten specializations. In addition, the PMBA Program offers unique performance-based scholarships of up to $15,000.
FIU lists the following specialization options: Business Data Analytics, Business Law, Entrepreneurship and Innovation, Finance, International Business, Leadership, Marketing Channel Strategy, Real Estate, Sports Management, and Strategic Negotiations. Each specialization consists of two courses (out of the 14 total in the program).
In addition selecting a specialization, students will are required to take three Professional Development Seminars (PDS) during the first quarter of the program. Professional Development - Work Preference Indicator Assessment, Professional Development - Presentation Skills Seminar, and Professional Development - Career Services Seminar. An optional two-day MBA residency in Miami is available and highly recommend. The school says that the residency is "is a great opportunity for students to come to our beautiful campus to meet their professors, the program's administrators, and network with their peers."
During the two-day residency, the program focuses on "developing soft, career-enhancing skills. Activities include expert speakers on hot topics, case-method analysis, team-building workshop, an etiquette luncheon, and networking events." The residency is included in tuition. 
The FIU PMBA utilizes discussion boards, chat, and email, online e-advising and e-tutoring, and academic coaches. This AACSB-accredited program requires 42 credit hours of study to graduate and students interested in the healthcare industry may choose the Online Healthcare MBA. This program also requires 42 credit hours of study, which may be completed in as few as 18 months.
Depending on factors such as whether student attends full- or part-time, prerequisite requirements, and more, the FIU PMBA may be completed in as few as 18 to 21 months, or 33 months.
5. University of South Florida, St. Petersburg, Florida

Founded in 1956, the University of South Florida (USF) serves more than 50,000 students at locations in Tampa, St. Petersburg, and Sarasota-Manatee, Florida. The school is the fourth largest public research university in Florida and one of the largest in the U.S. USF students choose from 180 majors and degree programs at the graduate, specialist and doctoral levels, in 14 colleges.
The Muma College of Business at USF offers an AACSB-accredited MBA Program that may be completed entirely online. The school says the Online MBA is not a "one-size-fits-all" program. With an advisor, students have the option to "choose electives curated for this limited access program according to particular career aspirations," or they "may opt to select one of four concentrations unique to the online program. Concentrations include Compliance, Risk, and Anti-Money Laundering, Cybersecurity, Data Analytics, and Healthcare Analytics.
Courses are asynchronous and the program highlights teamwork, weekly discussions, and collaboration sessions. Most MUMA MBA students are working full-time while enrolled and complete the program in two-three years. Others may choose to enroll full-time and finish in one year.
Recent USF MUMA MBA graduates are employed at international companies as well as in positions at some of Florida's top corporations.