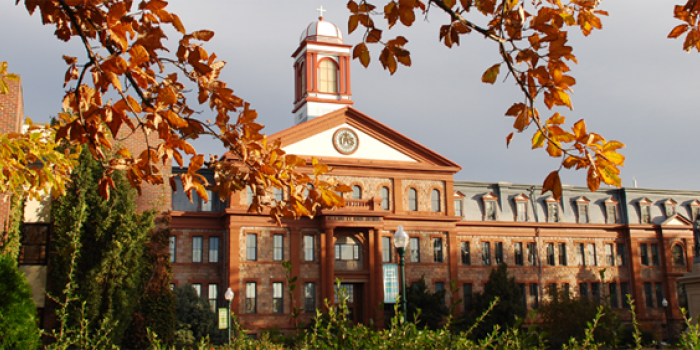 Regis University's Master of Business Administration (MBA) degree is designed to produce exceptional leaders by developing the knowledge, skills and perspectives that will enable graduates to perform creatively, ethically and effectively in complex organizations.
We spoke with Daniel Mihelich, Chair of the MBA Program about the online MBA at Regis University. 
What type of student typically enrolls in your online MBA program? 
Regis students in the MBA Program are normally working adults with at least two years of business experience. Our program has a small number of students who are moving into the master's program immediately after finishing undergraduate school. Regis also has a significant number of foreign students in the MBA program who are on student visas. The number of foreign students on our program is growing.
Are students required to spend time on campus?
We find many students prefer a hybrid of traditional classroom and online experiences, but our entire program can be earned online.
How do students in the online MBA program interact with faculty? 
There are several ways for students to interact with course facilitators. First, students use a system called "World Class" that Regis uses to administer online coursework. This system provides online message boards through which students interact with each other and with their instructors. Second, the University has an email system that is part of "World Class" and another that is independent of it. Either system can be used, but the "World class" system is preferred. Third, most instructors, including myself, telephone students every two or three weeks in the program to ensure they are learning and to answer questions that may be too long or complex for electronic conversations.  Finally, some faculty use systems like "SKYPE" to communicate with students to answer questions and to ensure learning.
What is unique about the structure of your online MBA program? 
·       Regis doesn't just offer one course in business ethics; every one of our MBA courses is a course on ethics, a primary theme and mission of our university.
·       Regis doesn't just offer one course corporate social responsibility and environmental sustainability; every one of our MBA specializations includes one or more lessons in courses on these subjects.
·       Regis offers an MBA specialization in STRATEGIC MANAGEMENT. No other Jesuit University offers this specialization and Regis is one of only a very few business schools in the USA that offers even one course in this very critical area of business.
·       Regis offers an MBA specialization in ORGANIZATIONAL PERFORMANCE MANAGEMENT. No other Jesuit University offers this specialization. Regis University collaborated with Aubrey Daniels institute to develop this specialization. The specialization exists only at Regis University.
·       The MBA degree may be completed entirely on line.
What opportunities do online MBA students have for networking?
Networking is accomplished through several methods. The one most likely used is the "World Class" management system where student interaction is key to meeting program outcomes. In this case, students who are of a similar mindset (i.e. strategic management) are grouped into the same structure. The Regis Alumni Association is active, as are student groups with specific purpose (like the Military Veterans Organization). Networking is always lively and interactive, even online.
Do you offer career services and professional resources to online MBA degree candidates?
The vast majority of our students are working professionals who already have positions in business and are looking to improve their value to their current company. Only a very few are looking to make career changes. For those who do, the networking opportunities often lead to promising results. Regis University concentrates career services toward those individuals who are finishing traditional education with Regis and who are looking for their first jobs. An unique benefit to Regis students is that our career services are available, free of charge, throughout our student's entire life, so when an alum needs advice or resources during a career change, we are available to help.
What advice would you give a prospective candidate for your online MBA program? 
·       Graduate School is not like undergraduate education at all. It is more comprehensive since students are focusing on specific topics. A Master's Degree can be completed in 36 hours while an undergraduate degree may take 120 hours or more.
·       Be prepared to work harder. There is more research at the graduate level that the student may have previously experienced.
·       Take one MBA course at a time, learn as much as you can and then move on to the next course. Graduate learning is a life long journey not a race.
·       Use your instructors and your fellow students. They can teach you more than you can get out of a book. Our instructors teach in the areas that they work. Use their business experience to learn.
·       Never be afraid to ask questions.
Check out more interviews at Online MBA Report's Interview Series.