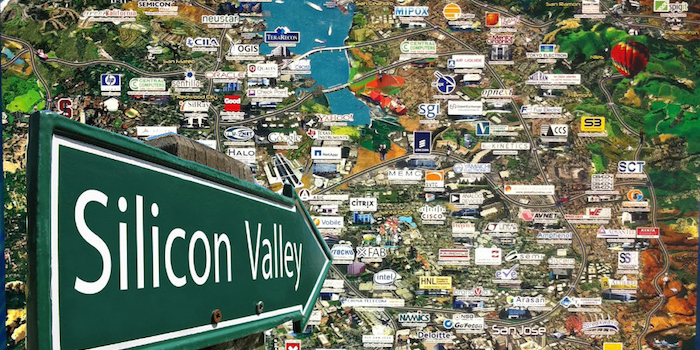 Ah, Silicon Valley—the place where your wildest tech dreams can come true. In 2015 alone, dozens of start-ups launched in Silicon Valley and the majority of venture-backed tech startups are headquartered here or have an office here. And let's not forget that the world's largest tech and media companies are located in the Valley including Apple, Cisco, Google, HP, Intel, Microsoft, Oracle, Yahoo! and Facebook, to name a few. While the Valley is a hub for tech giants and rising technopreneurs, it is also considered the best place for early career MBA students seeking a sure path to Silicon Valley success. 
The Valley, which includes Santa Clara County; Fremont, Newark and Union City in Alameda County; Atherton, Belmont, East Palo Alto, Foster City, Menlo Park, Portola Valley, Redwood City, San Carlos, San Mateo and Woodside in San Mateo County; and San Benito, Santa Cruz and Monterey counties, is home to a number of schools that offer outstanding Online MBA programs that feature a range of certificates along with the most in demand (and emerging) specialty areas that Silicon Valley companies look for.
Some of the areas best options include California State University Monterey Bay, Santa Clara University, Fresno State University, Sofia University, and Golden Gate University. Let's take a look at what these top Online MBA programs in Silicon Valley have to offer. 
1. California State University Monterey Bay, College of Business, Seaside, CA
The College of Business at California State University Monterey Bay (CSUMB) offers a no GMAT required MBA program that can be completed entirely online. According to the school, while online classes deliver convenient flexibility and allow students to study on any device anywhere they are in the world, "lessons are taught in interactive settings that allow students to work with classmates and receive personalized and prompt help from instructors."
The 48-credit CSUMB Online MBA is a "selective, fixed-curriculum graduate degree program" with lessons that are "a mix of soft skills (leadership, teamwork, ethics, networking, politics) and hard skills (economics, finance, marketing, management) that enable business leaders to thrive in diverse workplaces." Sample courses include Business Communications Fundamentals, Global Business, MBA Accounting, and Organization and Leadership.
Students in the program are working professionals in advertising, consulting, financial services, healthcare, and technology, among others, while the same "exceptionally qualified professors" who teach on campus are the instructors for the online courses." The school says that the online interface allows students to bond with instructors and peers, and "gain new, meaningful connections." In addition, with a 30-student cap, students receive direct attention, and they "benefit from "real time" case discussions with peers and instructors that relate to today's business news and issues."
CSUMB and the College of Business initiated AACSB accreditation as a top strategic priority in early 2014. The school is accredited by the Western Association of Schools and Colleges (WASC).
2. Santa Clara University, Leavey School of Business, Santa Clara, CA
Santa Clara University, the "Jesuit University in Silicon Valley," is home to top-ranked Leavey School of Business, which offers an MBA program with coursework that can be completed entirely online. According to the school, the 70-unit program is "steeped in the mindset of Silicon Valley, with cutting-edge curricula and unparalleled networking opportunities in the nation's birthplace of innovation." Students can expect to take core MBA courses such as Doing Business in Silicon Valley, Analysis, Design, and Management of Enterprise Platforms, and Ethics for Managers, as well as unique elective options such Tech Marketing: inning Strategies for Effective Messaging, Game Theory and Strategic Behavior, Data Science with Python, and Strategic Talent Management.
Taught by the same Silicon Valley professionals who teach in the on-campus MBA program, the Online MBA requires just two on-campus intensives and throughout the program, students track their progress with the "Silicon Valley Professional" dashboard. "This integrative portfolio lets participants coordinate their elective courses and co-curricular experiences with their professional goals and invites them to reflect on their professional development during the program. In addition, the SVP dashboard "acts as a networking resource, allowing students to interact with instructors, classmates, and mentors, and it provides a way for them to solicit and receive feedback on their current progress."
Students may graduate in as few as two years from this AACSB-accredited program.
3. Fresno State University, Craig School of Business, Fresno, CA
Craig School of Business at Fresno State University offers an MBA program that features a flexible blended format. This means, with the exception of orientation, selected exams and the final culminating presentation, the program can be completed online. A Summer Study Abroad program is available, but it is optional, and the school says that, "approved testing locations and Respondus will be used to bridge any geographic barriers that present themselves."
The Craig Online MBA curriculum "follows the same structure and coursework as the traditional MBA, but allows students the flexibility to learn remotely." Sample courses for the program include Financial Management, Global Environment of Business, Leadership and Organizational Behavior, Management Information Systems, and Production and Operations Management. Students will also choose from in-demand electives such as Seminars in Managing Human Capital and Investments and Portfolio Management, and others such as "X" Marketing, Comparative - Human Resource and Industrial Relations Systems, and Business Policy and Strategy.
The Online MBA at Craig SOB "is general enough to prepare students for a range of careers" says the school, so "graduates will receive an MBA that will be a portable foundation for future career growth in any line of work." The Craig Online MBA can be completed in approximately two years and it is the "highest rated AACSB-accredited program between Los Angeles and San Francisco."
4. Sofia University, Palo Alto, CA
"Centered in the heart of Silicon Valley and connected worldwide," the Sofia University MBA program can be completed entirely online, onsite, or a combination of the two. Courses are taught by University faculty consisting of "seasoned technologists, entrepreneurs, and venture capitalists who are committed to helping students reach the leading edge in their chosen specialty." While on-campus events, workshops and intensives, and study abroad opportunities provide the opportunity to meet instructors and other students face-to-face, they are optional.
According to the school, the Sofia MBA is built on three pillars: solid knowledge of business management fundamentals, data-driven decision-making in organizational setting, and exceptional interpersonal skills. Sofia's "rigorous course of study incorporates the unique Sofia pillars, traditional core business courses," and "additional courses and project work" in concentrations including Business Analytics & Data-Driven Decision Making, Entrepreneurship, Global Business Leadership, Human Resource Management, Management of Technology and Innovation, and Marketing Management.
In addition to completing the Online MBA core, students will have the opportunity to choose from a range of unique electives designed to enhance the degree. Examples include Data Visualization, Management of Technology and Innovation, Managing Creativity and Innovation, Organizational Behavior and Wellbeing, and Value Elicitation and Modeling Workshop.
Students in the program have flexibility as to how they would like to schedule the required 48 quarter-units of coursework. As such, students are allowed up to six years to finish complete the program. However, an "exceptional" student who has waived courses in business fundamentals, and completes more than nine units per quarter, could finish in as little as one year.
Sofia University is WASC-accredited and it is on the Council for Higher Education Accreditation's Listing of Accredited and Candidate Institutions (CHEA).
5. Golden Gate University, Edward S. Ageno School of Business (ASOB), San Francisco, CA
Established in 1901 in San Francisco, Golden Gate University (GGU) has ranked #1 for adult learners for a second year in a row by Washington Monthly. The school, which offers undergraduate and graduate programs in business and management, accounting, taxation, and law, has a fully Online MBA with an impressive 11 formal concentrations plus the option to design your own. Options include Accounting, Business Analytics, Entrepreneurship, Finance, Global Supply Chain Management, Human Resource Management, International Business, IT Management, Marketing, Project Management, and Public Administration.
Offered through the Edward S. Ageno School of Business (ASOB), the Online MBA program highlights classes taught by faculty who are seasoned professionals in their respective fields, a diverse student population that comes from the San Francisco Bay Area, the U.S., and more than 50 countries around the world, and "strong connections to Bay Area business leaders," says the school. The program also highlights a "distinguished community of more than 70,000 alumni," which, along with the schools connections, provides "unparalleled networking opportunities" for MBA students and graduates alike.
Courses for the ASOB Online MBA "are conducted using proven methodologies, such as activity-based learning, competency development, flipped classrooms, and online learning activities." Students in the program can expect to take course such as Business Planning, Communications & Presentations, Information Technology Management, Management & Leadership, and Strategic Analysis & Design. Concentration courses vary by option, and students have the opportunity to take two or more specializations in the program. Diplomas will list all concentrations successfully completed prior to degree conferral.
Note that the GMAT/GRE is not required for applicants with five years of professional work experience. In addition, GGU ASOB has two other Online MBA options: the EMBA and the MBA/Juris Doctor Joint Degree. The school also offers a Doctor of Business Administration (DBA), online.
Golden Gate University is accredited by the WASC Senior College and University Commission (WSCUC).
Considering an Online MBA? Use our interactive map to find information on schools and colleges offering Online MBA programs in your state and across the U.S.
Sources 
"About Silicon Valley | Silicon Valley." ICANN. Internet Corporation for Assigned Names and Numbers (ICANN), n.d. Web. 25 Sept. 2016.
California State University, Monterey Bay, College of Business. N.p., n.d. Web. 10 Aug. 2018. 
Fresno State University, Craig School of Business. N.p., n.d. Web. 10 Aug. 2018.  
Golden Gate University, Edward S. Ageno School of Business (ASOB). N.p., n.d. Web. 10 Aug. 2018. 
Santa Clara University Leavey School of Business. N.p., n.d. Web. 25 Sept. 2016, 10 Aug. 2018. 
Sofia University. N.p., n.d. Web. 10 Aug. 2018. 
"The Cities of Silicon Valley." Britannica.com. Encyclopaedia Britannica, Inc., n.d. Web. 25 Sept. 2016.