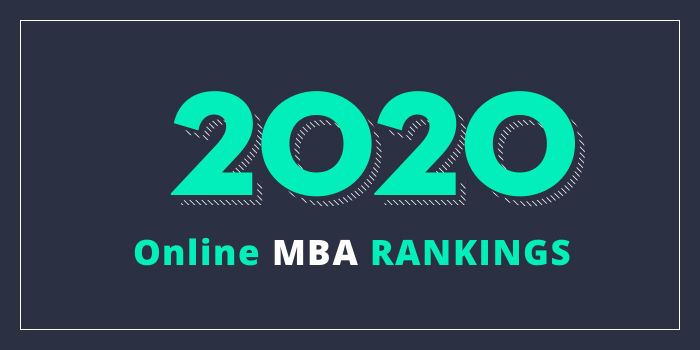 Our 2020 list of the Top 25 Private Online MBA Programs in the US. For an explanation of our ranking criteria, click here.
Top 25 Private Online MBA Programs in the US – 2020 Rankings

| Ranking | School | State |
| --- | --- | --- |
| 1 | University of Southern California | California |
| 2 | Pepperdine University | California |
| 3 | Syracuse University | New York |
| 4 | Rice University | Texas |
| 5 | George Washington University | District of Columbia |
| 6 | Lehigh University | Pennsylvania |
| 7 | Villanova University | Pennsylvania |
| 8 | Northeastern University | Massachusetts |
| 9 | Babson College | Massachusetts |
| 10 | Drexel University | Pennsylvania |
| 11 | Creighton University | Nebraska |
| 12 | Quinnipiac University | Connecticut |
| 13 | University of Miami | Florida |
| 14 | Worcester Polytechnic Institute | Massachusetts |
| 15 | Rochester Institute of Technology | New York |
| 16 | University of Dayton | Ohio |
| 17 | Stevens Institute of Technology | New Jersey |
| 18 | University of Dallas | Texas |
| 19 | Liberty University | Virginia |
| 20 | City University of Seattle | Washington |
| 21 | Clarkson University | New York |
| 22 | Santa Clara University | California |
| 23 | Marist College | New York |
| 24 | Brandman University | California |
| 25 | University of Hartford | Connecticut |
1. University of Southern California, Los Angeles, California

With 48,500 students and a distinguished faculty of 4,000 innovative scholars, researchers, teachers and mentors, University of Southern California (USC) is one of the world's largest private research universities. The school is also one of the most competitive, admitting just 13% of 64,000 applicant's.
University of Southern California houses Marshall School of Business. Founded in 1920 as the USC College of Commerce and Business Administration, USC Marshall is the oldest AACSB-accredited school of business in Southern California. The online MBA program here "weaves the fundamental topics of business education – marketing, finance, entrepreneurship, and others – into hands-on exercises and real-world discussions," says the school.
Students will complete the program via multiple delivery methods including interactive games, virtual learning exercises, group video conferences and class sessions led by instructors, and one-on-one faculty discussions via webcam. Video content and presentations produced at the USC Marshall dedicated studio are also highlighted, as well as case studies and dramatizations of real-world business scenarios, and collaborative video activities and assessments.
2. Pepperdine University, Malibu, California

Pepperdine University is a Christian University founded by entrepreneur George Pepperdine in South Los Angeles in 1937. The school expanded to Malibu in 1972, and now serves 8,000 full-time and part-time students, with a full-time faculty of more than 300 professors and scholars. The school has five separate graduate and undergraduate schools offering 73 degree programs.
Founded in 1969, the Graziadio School of Business and Management offers online degree programs across six California campuses, including Malibu and Silicon Beach. The online MBA program here focuses on building "essential business knowledge in areas such as finance, marketing, accounting, economics, quantitative analysis, law, human behavior, information systems, strategy, management, and leadership," says the school. Students in this AACSB-accredited program will build "business intelligence" as they "examine business from a global perspective and address the impact of globalization, competition, technological innovation, and ethics in the workplace."
Students in this 52 credit hour program will "do more than read case studies about top brands, such as Disney, Starbucks, and Warner Bros." Students "will actually work" with top executives on" live consulting projects" to "solve real-time challenges."
Other program highlights include the Personal and Leadership Development Workshop residency, which takes place at the schools' coastal Malibu campus, Global Business Intensives, which cover relevant topics such as international economics, culture, marketing, finance, and business law, and five in-demand concentration options including Digital Innovation and Information Systems, Finance, General Management, Leadership and Managing Organizational Change, and Marketing. An optional international residency that allows students to explore global issues and work with international experts to understand foreign markets is also available.
Graziadio Online MBA students can complete the program, with a concentration, in as few as 24 months.
3. Syracuse University, Syracuse, New York

Founded in 1870, Syracuse University is a private, coeducational, research institution located in the heart of Central New York. Additional centers are located in New York City, Washington D.C., and Los Angeles, and study abroad programs are available in 60 countries throughout the world. Students can choose from more than 200 majors, 100 minors, and 200 advanced degree programs across Syracuse's 13 academic units.
In addition to offering a large number of degree and study abroad programs, Syracuse University has more than 30 research centers and institutes spanning disciplines from performance, design, fine arts, and humanities to information, health, social sciences, and STEM (Science, Technology, Engineering, and Mathematics) fields.
The Martin J. Whitman School of Management at Syracuse University offers a 54 credit hour online MBA known as [email protected]. The program consists of 36 credits of core business courses, 15 credits of specialization-focused electives, and three credits of U.S. and global residencies. Students may choose from six optional specializations including Accounting, Business Analytics, Entrepreneurship, Finance, Marketing Management, or Supply Chain Management.
This AACSB-accredited program combines "live online classes led by Syracuse University faculty, self-paced coursework, and hands-on learning through domestic and international residencies," says the school. While coursework for the MBA program may be completed entirely online, all students will participate in "three day-long residencies in cities around the world." The school says that these hands-on experiences are structured like businesses conferences.
Students will listen to local speakers who host "relevant discussions and interactive panels," meet with classmates for socializing, and engage with professor's fact-to-face for workshops and networking. For 2019, residencies take place in Hong Kong and Syracuse. Last year, students traveled to Dublin, Ireland to study "the industry-leading innovation" taking place there.
The [email protected], including residencies, can be completed in as few as two years.
4. Rice University, Houston, Texas
On May 18, 1891, Massachusetts-born businessman William Marsh Rice chartered the William Marsh Rice Institute for the Advancement of Literature, Science and Art as a gift to the city of Houston, where he made his fortune. In 1907, astronomer and mathematician Edgar Odell Lovett became the first president of Rice. In 1912, the Rice Institute finally opened with 77 students taught by a dozen faculty. Today, Rice University serves 7,170 students taught by 694 full-time and 192 part-time instructional faculty. More than 50 undergraduate majors and dozens of graduate programs in eight schools.
The Jesse H. Jones Graduate School of Business at Rice University offers an AACSB-accredited online MBA program known as the [email protected]. Program highlights include live virtual classes, small class sizes, and mobile-friendly, multimedia coursework. The program, which has four focus areas including Corporate Finance, Corporate Strategy, Investment Management, and Marketing, develops students' understanding of "essential business principles such as financial accounting, business analytics, marketing strategy, leadership and finance," says the school. Students will "learn to apply these larger concepts throughout an organization" as they hone their skills in one of the focused specializations of study.
In each 10-week term, students will take courses totaling up to six credits. The first year will consist of all core courses, and the second year features a combination of core and elective courses. Sample courses include Business-Government Relations, Competitive Strategy, Corporate Investment Policy, Corporate Responsibility, Economic Environment of Business, Geopolitics of Energy, Futures and Options, Leadership, and Negotiations. 
Students must complete 54 total credits including 36 core credits, 12 elective credits, three credits of Residential Intensive Learning Experiences (ILEs) and three additional credits of electives or ILEs. ILEs consist of a variety of simulations, immersions, seminars, intersessions, and guided leadership exercises that bring students face to face with peers, faculty and industry leaders." Domestic ILEs are often held on the Rice University campus in Houston, Texas.
Global Field Experiences (GFEs) are also part of the program, which allow students to study abroad and to develop and practice new hands-on skills.
Exams for the [email protected] are held during the final week of each semester and the program can be completed in 24 months.
5. George Washington University, Washington, D.C.

Founded in 1821 and serving more than 26,000 students, George Washington University (GW) is the largest higher education institution in DC. The school offers hundreds of programs in 14 schools and colleges. In addition to these programs. GW offers more than 100 online programs in 12 areas, including business.
The School of Business at George Washington University offers an Online Traditional or Healthcare MBA that may be completed in just two years and up to five. Both programs require 55.5 total credit hours of study including 28.5 credit hours of core courses and 27 credit hours of elective courses for the Traditional MBA, and 31.5 credit hours of core courses, 12 healthcare electives, and 12 general electives for the Healthcare MBA.
The Healthcare MBA is delivered 100% online (or hybrid) and features specialized electives such as Service Line and Project Management, Managing the Skilled Nursing Facility, and Physician Practice Management. Designed for professionals on the path to becoming Health Care Managers, Administrators, and Executives, the program also offers the option to complete one of seven graduate certificates offered by the George Washington University School of Medicine and Health Sciences as part of the curriculum. Clinical Research Administration, Integrative Medicine, and Regulatory Affairs are just a few options.
The Traditional MBA option may be completed 100% online or in hybrid format. The program offers optional concentrations in Consulting, Finance, Global Management, Government Contracts, Information Systems & Technology Management, and Project Management. Students may choose up to two concentrations or they may customize their electives to create their own focus area. Electives may be chosen from the schools of Business, Health Sciences, Public Health, Law, and more. Elective courses may also serve to add a graduate certificate to this Traditional MBA.
The GW Online MBA curriculum also includes Business and Society (a required 1.5 credit on-site residency course in Washington, DC) and a 1.5 credit Information Systems and Technology Management selective course. Students are offered nine opportunities to complete the on-site course, which offers a firsthand look through visits to the Federal Reserve, the US Congress, and the World Bank.
Both AACSB-accredited programs offer three start times (August, January, or May), and optional short-term study abroad opportunities in places such as Denmark, Israel, Mexico, and many others.
6. Lehigh University, Bethlehem, Pennsylvania

Lehigh University is a small, private research university that serves close to 7,000 students. Founded in 1865 by industrial pioneer, entrepreneur, and philanthropist Asa Packer, Lehigh University offers more than 100 majors, minors and programs across four colleges.
The College of Business and Economics at Lehigh University offers a 100% online Flex MBA. This 36 credit hour program highlights global business concepts and analysis, cultural intelligence, organizational leadership, sustainability, crisis management resolutions, social consciousness issues, ethical decision-making, and optional business consulting projects. While the program does not offer any concentrations, students may earn a Professional Certificate in Corporate Entrepreneurship in addition to the MBA. The certificate is offered through VENTURESeries, which the school describes as a "one-of-a-kind executive certificate program that focuses squarely on new venture creation."
Another option, the 45 credit hour MBA & Engineering program, is offered through the College of Business and Economics and the P.C. Rossin College of Engineering and Applied Sciences. This unique program is designed for students with an undergraduate degree in engineering. Classes for the program can be taken both on campus and online. MBA & E concentrations include Chemical Engineering, Manufacturing Systems Engineering, and Mechanical Engineering. Upon completion of the MBA & E Program, students receive an MBA degree with a concentration in their chosen area. Both programs are AACSB-accredited.
7. Villanova University, Villanova, Pennsylvania

Villanova University is a Roman Catholic institution of higher learning founded by the Order of Saint Augustine in 1842. Serving nearly 11,000 students, the school offers 47 majors, 14 bachelor's/master's programs, 24 master's programs, 42 certificate programs, and PhD programs in Philosophy and Theology,
Villanova School of Business (VSB) offers seven of these majors, three co-majors, and nine minors at the undergraduate level, along with seven master's programs, a Joint JD/MBA with Villanova School of Law, and a Post-MBA certificate to around 1,740 undergraduates and around 1,070 graduate students. With five academic departments, the school offers an MBA program that boasts a 25% average salary raise for students.
The program is the "very same" program as the on-campus Villanova MBA, says the school.
The curriculum includes courses that will expand students' "essential business knowledge with a focus on innovative and applied concepts, real-world immersion experiences and peer-to-peer learning." Program highlights include small classes (approximately 20 students per online section), live weekly sessions, and two residency opportunities, which foster "a strong learning community among faculty and students." Students may also participate in an optional international immersion into an emerging economy.
Students in the VSB Online MBA can begin the 48 credit hour (21 course) program in the fall, spring or summer semester. The curriculum is comprised of fundamental, core, pillar, elective and capstone classes, and students may choose up to two specializations from five areas including Analytics, Finance, International Business, Marketing, and Strategic Management.
Semesters for this AACSB-accredited program are divided into two sessions, each of which is eight weeks in the fall and spring and seven weeks in the summer. Students in the program progress through the curriculum, typically taking one or two courses per session. The VSB Online MBA can completed in just two years.
8. Northeastern University, Boston, Massachusetts

Northeastern University has campuses in Boston, Charlotte, the San Francisco Bay Area, Vancouver, Seattle, and Toronto—all designed to "expand learning and research opportunities to meet regional and global demand for talent and innovation," says the school.
Serving more than 5,500 students, Northeastern University's D'Amore-McKim School of Business offers an AACSB-accredited online MBA program that can be completed 100% online in as few as two years. Coursework for the 50 credit hour program is divided into 13 core courses and five electives. Eight in-demand specialization options are offered including Finance, Healthcare Management, High Technology Management, Innovation Entrepreneurship, International Management, Marketing, Supply Chain Management, and Sustainability.
D'Amore-McKim Online MBA students also have the option to earn a Dual Masters in Finance/MBA by taking "as few as four to seven additional finance electives," says the school. Both the single and dual online programs utilize interactive multimedia tools such as virtual class discussions, and discussion boards, as well as team projects and individual assignments for a well-rounded academic experience.
An optional residency is offered to online MBA students who have (or will have) completed at least three courses (nine credits). The campus-based residency is an intensive one-week course equivalent to a three-credit elective. An International Field Study Residency is offered to online MBA students in good standing who have (or will have) completed the first year core courses (26 credits) with a GPA of 3.0 prior to the start of the field study trip. Recent locations include China, Russia, Greece/Turkey, and Chile/Peru.
9. Babson College, Wellesley, Massachusetts

Established in 1919, Babson College opened with just 27 students. Today, the school serves more than 2,350 undergraduate and nearly 1,000 graduate students representing more than 80 countries.
The F.W. Olin Graduate School of Business at Babson grants highly ranked MBA and MS degrees, as well as Certificates. The school also offers an Executive Education program for professionals looking to grow in today's rapidly evolving business environment and Babson Global works with corporate, university, government, and foundation partners to advance entrepreneurship education and Entrepreneurial Thought and Action® worldwide.
The F.W Olin MBA has a blended learning option that combines online classes, face-to-face sessions at Babson's campus in Wellesley, MA, Miami, San Francisco, and Dubai, and virtual collaboration with students from around the world. Students in the program will develop the skills and knowledge needed to "understand how to take action, learn, and build in the ever-changing global business landscape," says the school.
Students will also learn how to apply "classroom knowledge to real-world business problems in leading organizations of all types and sizes," before they graduate.
The Olin Online MBA takes just 21 months to complete, full-time. The program is AACSB-accredited.
10. Drexel University, Philadelphia, Pennsylvania

Founded in 1891 in Philadelphia, Drexel University has three Philadelphia campuses and other regional sites. The school is home to The Academy of Natural Sciences of Drexel University—the nation's oldest major natural science museum and research organization, and it has  international research partnerships including China and Israel.
Drexel Online is one of the oldest and most successful providers of online degree programs in the U.S. Through Drexel Online and the LeBow College of Business, students can earn an online MBA that the school says is a "highly customizable degree" designed to equip students with "problem-solving and leadership skills that can be applied across a variety of different industries." The 49 credit hour AACSB-accredited program "is organized into four 10-week quarters per year (as opposed to the traditional two semester system), which means you can take more courses in a shorter time period," says the school. Sample courses include Managing and Leading the Total Enterprise, Leading Dynamic Environments, Corporate Financial Management, Legal Options in Decision Making, and Business Problem Solving.
LeBow Online MBA students may customize their learning experience to their interests and career goals through concentrations, graduate minors, and dual degree programs. All students may take advantage of multiple networking opportunities and residency options, as well as portfolio projects and case simulations. In addition, any of the online business degrees can be paired as a dual degree such as MBA/MS Business Analytics, MBA/MS Sport Management, or MS Business Analytics/MS Sport Management, with shared coursework usually through elective credits.
The Drexel LeBow Online MBA may be completed in few as 18 months or up to five years.
11. Creighton University, Omaha, Nebraska

Creighton University is one of 27 Jesuit colleges and universities in the United States. Founded in 1878, the school serves 8,910 undergraduate, graduate and professional students enrolled in degrees and certificate programs in more than 160 areas. More than 40 graduate degree programs are also available and programs are offered across nine schools and colleges.
Heider College of Business offers an MBA program that can be completed in just over two years. Three delivery options are available including completion of courses online, on campus, or a combination of the two. This 33 credit hour program offers several MBA concentrations, the option to add a graduate certificate or a dual degree in addition to the MBA. Concentrations include Accounting, Business Intelligence and Analytics, Financial Psychology & Behavioral Finance (also a certificate), Finance, Leadership, and Personal Financial Planning (also a certificate).
Other certificate options include Business Analytics, Healthcare Management, Negotiation & Conflict Resolution, Organizational Leadership, and Project Management. Students can combine numerous degrees with the MBA. Just a few include MBA + Law, MBA + PharmD, MBA + MS in Investment Management & Financial Analysis.
Graduates of the AACSB-accredited Heider Online MBA Program have gone on to pursue careers at numerous Fortune 500 companies such as ConAgra Foods, Mutual of Omaha, TD Ameritrade, Union Pacific, and others. Job titles of recent graduates include CEO, Finance Manager, Marketing Manager, Operations Manager, President, Project Manager, and Vice President.
12. Quinnipiac University, Hamden, Connecticut

Quinnipiac University (QU) was founded in 1929 by business professor and politician Samuel W. Tator, under the name Connecticut College of Commerce. The school would later be renamed Junior College of Commerce (JCC) in 1935 and finally, Quinnipiac University in 1951. This private, coeducational university offers more than 110 programs to approximately 7,000 undergraduate and 3,000 graduate, medical and law students. Three campuses are located in Hamden and North Haven, Connecticut, and programs are offered in the College of Arts and Sciences and across eight professional schools.
The School of Business at Quinnipiac University  offers a 46 credit hour Online MBA Program that may be completed in as little as 2.5 years. The program allows students to "formulate customized concentrations that focus on specific professional interests," says the school. Students may create a concentration by choosing electives from six areas including Computer Information Systems, Finance, Health Care Management, International Business, Management, and Marketing. A Health Care Management Track (MBA-HCM) is also available.
The AACSB-accredited QU Online MBA offers three start dates: Fall (late August), Spring (late January), and Summer (late May).
13. University of Miami, Coral Gables, Florida
Established in 1925, University of Miami (UM) is one of the region's top research universities. The school serves more than 17,000 students from around the world enrolled in more than 180 majors and programs across 11 schools and colleges.
The School of Business Administration at University of Miami offers an MBA program known as the "UOnline Professional MBA." The 42 credit hour, AACSB-accredited program is "taught by the same high-caliber faculty members that also teach on-campus," says the school. The program is also delivered 100% online and it takes 24-48 months to complete.
Several focus areas are available including Accounting Practice, Corporate Finance, and Financial Decision Making. Corporate Finance and Financial Decision Making require an additional five credit hours of study, while Accounting Practice requires an additional nine credit hours.
Though the MBA program is delivered entirely online, students may attend an optional, on campus residency and/or an optional on campus orientation and campus tour. The residency is a "week-long immersion session, during which you will take one full, accelerated course on campus." The orientation allows students to meet faculty, University staff and fellow classmates before their studies begin.
14. Worcester Polytechnic Institute, Worcester, Massachusetts
In 2020, Worcester Polytechnic Institute (WPI) is observing the semi-centennial of the WPI Plan, the university's groundbreaking project-based curriculum that was approved on May 29, 1970. In addition to being project-based, the university's curriculum is globally engaged "aimed at quality experience and a positive impact for the communities it partners with," says the school.
Worcester Polytechnic Institute houses Foisie Business School, which offers an MBA for STEM professionals. This unique program "combines WPI's signature project-based learning approach with a blended, cohort-style format," says the school. Classes are fully online with two required in-person classes each semester on Friday and/or Saturday during the middle and end of the course. Students begin the program with "a group of like-minded peers, work through the program and projects together, and finish with a ready-made network."
Graduates of this AACSB-accredited program have gone on to successful careers in business or acceptance into the PhD in Business Administration program at WPI.
15. Rochester Institute of Technology, Rochester, New York

Rochester Institute of Technology (RIT) "was born of an unlikely institutional marriage of an influential cultural association, the Rochester Athenaeum, founded in 1829, and a technical training school, the Mechanics Institute, founded in 1885," says the school. "The institute adopted the name Rochester Institute of Technology in 1944 and awarded its first bachelor of science degree in 1955."
Today, the school serves nearly 19,000 students across nine colleges and two degree-granting units. RIT also has partnerships on nearly every continent and overseas campuses located in China, Croatia, Dubai, and Kosovo.
The Saunders School of Business at Rochester Institute of Technology offers an interdisciplinary, accelerated Online Executive MBA (EMBA) that requires just one three-day on-campus orientation. The program offers foundational courses such as Leadership, Accounting and Finance, as well as "distinctive" courses such as Product Commercialization and Technology Management. Classes are delivered via weekly synchronous sessions, "offering high-quality video and audio functionality for optimal interaction."
Other program highlights include a curriculum that is identical to the on-campus program, with many of the same faculty teaching both formats, a required International Immersion Experience (airfare and lodging is are provided by the program), and the Capstone Consulting Program where students serve as consultants to actual businesses.
Note that the RIT Saunders Online EMBA offers two starts each year (late August and January). Because it is a cohort-based program, "all students enter the program at the same time, take the same classes, and move through the program with their initial cohort," explains the school. "Some courses will be taken with another cohort (i.e., dual-cohort) and students are assigned to teams at the start of the program and will remain with their team for the duration of the program."
The RIT Saunders Online EMBA delivers 49 credit hours of study in just 17 months (four semesters) and it is AACSB-accredited.
16. University of Dayton, Dayton, Ohio

Founded in 1850, the University of Dayton (UD) is a Catholic research university serving nearly 11,500 undergraduate, graduate, and law students. With 120,000+ living alumni worldwide, UD began with just one building and one farm. Today, the school sits on nearly 400 acres that house five colleges and schools including the College of Arts and Sciences, and the Schools of Business Administration, Education and Health Sciences, Engineering, and Law.
The School of Business Administration offers an MBA program known as [email protected] This AACSB-accredited program offers concentrations in Business Analytics and Marketing. Students choosing either option will complete three elective courses instead of two (for a total of nine credits). This will add three credits to the course of study.
Several pathways are available including One-Year, Foundational, and Accelerated. The One-Year MBA path allows students to advance their careers sooner, for less of a financial investment, by completing the program in a shorter amount of time. Students will take 13-14 courses (30-31.5 credits), along with two immersions in 12 months. Immersions are collaborative learning experiences that provide opportunities to learn from influential business leaders, engage in group workshops, and network with peers
The Foundational MBA is designed for professionals who need to build a comprehensive foundation in the fundamentals of business. Students will take 18-22 courses (36-45 credits) and two immersions in 18-24 months. The Accelerated MBA is designed for business professionals who have eight or more years of full-time work experience. Students complete fewer foundation courses, allowing them to advance their careers faster and for less of a financial investment. The program consists of 14-19 courses (31.5-39 credits) and two immersions. The program may be completed in 15-18 months.
Graduates of all programs will have the skills need to advance into a leadership role in their current industry, transition into a different industry, or move from a small business or nonprofit organization to a more corporate environment.
17. Stevens Institute of Technology, Hoboken, New Jersey

Stevens Institute of Technology opened in 1870. According the Institute, the school is named for the "distinguished family" known as "America's First Family of Inventors." The Stevens family "changed the face of American engineering forever, designing steamboats, locomotives, railroad tracks and a host of other technical innovations that powered a new nation."
The school began with "a rigorous engineering curriculum leading to the degree of Mechanical Engineer following a course of study firmly grounded both in scientific principles and the humanities." Today, Stevens Institute offers more than 30 majors organized and delivered by three schools and one college focused on business, engineering & science, the humanities, and systems thinking. The school educates 6,800 undergraduate and graduate students annually, and employs more than 380 faculty.
The School of Business at Stevens Institute of Technology offers a fully online MBA program that "emphasizes the potential of technology, data and analytics, with students learning how to interpret information and use it to make the best decisions for their enterprise." Students in this 39 credit hour program will collaborate with one another through group projects and presentations, while developing creativity and critical thinking skills "through the incorporation of the latest faculty research in management, analytics, innovation and marketing."
The Stevens Online MBA also highlights a Field Consulting Program that pairs students with a partner company to help solve a "real problem" or assess a potential opportunity for a partner company. Field Consulting Program projects "span a range of interests, from business process design, supply chain management and technology assessment to market research, innovation adoption and customer relationship management."
The School of Business at Stevens Institute of Technology is AACSB-accredited.
18. University of Dallas, Irving, Texas

University of Dallas (UD) opened its doors in 1956. Welcoming all faiths, this Catholic institution offers a comprehensive list of bachelor's, master's, doctoral and continuing education programs to 2,500 from across the U.S. and around the world. Programs are offered across four main academic divisions in the arts, humanities, sciences, education, business and nursing.
The Satish & Yasmin Gupta College of Business offers an AACSB-accredited MBA program that can be completed 100% online, 100% on campus, or a combination of the two. Course schedules are flexible for this 30 credit hour (10 course) program and nine concentrations options are available including Accounting, Business Analytics, Cybersecurity, Finance, Healthcare Analytics, Information & Technology Management, Marketing, Strategic Leadership, and Supply Chain Management. Concentrations require four additional courses (12 credits).
The UD MBA with a concentration can be completed in two to three years. The MBA without a concentration can be completed in just one to two years.
19. Liberty University, Lynchburg, Virginia

Founded in 1971, Liberty University is a private, evangelical Christian university that serves more than 100,000 students, including more than 30,000 military and 850 international students. The school offers more than 600 unique programs of study, with many offered both residentially and online. 
The School of Business offers a 45 credit hour MBA program that may be completed entirely online. The curriculum builds students' "existing knowledge and experience" to develop their "critical thinking, leadership, and management skills," says the school. The program is designed for those seeking to advance in their current position or explore other areas within the field of business administration.
Students have the option to choose the 45 credit hour online MBA with a specialization or the 36 credit hour program with no concentration. More than a dozen specializations are available including American Legal Studies, Criminal Justice Administration, Finance, Healthcare Management, International Business, International Legal Studies, Nonprofit Leadership, Public Administration, and Strategic Media and Digital Content, to name a few.
Students may transfer up to 50% of MBA program credit hours from another institution, courses are eight weeks, and there are eight different start dates each year with no set login times. The Liberty University Online MBA may be completed in two years and it is accredited by the Accreditation Council for Business Schools and Programs (ACBSP).
20. City University of Seattle, Seattle, Washington

Founded in 1973 and serving nearly 7,000 students City University of Seattle (CityU) offers career-relevant degrees through the doctoral level. The School of Management here offers an online MBA with 10 emphasis areas. Options include Accounting, Change Leadership, Entrepreneurship, Finance, Global Management, Global Marketing, Human Resource Management, Project Management, Technology Management, and the MBA with Electives.
Classes for this 48 to 54 credit hour program are taught in a virtual classroom environment that allows students to log in to check assignments, discussion topics, and video. Students "collaborate and discuss topics with one another on a Portal, within this virtual classroom and on a system called Blackboard," says the school.
For students who prefer a hybrid program, the School of Management also offers a "mixed-mode" delivery format. This delivery format allows students to complete part of the degree in class and part online. All MBA programs at City University of Seattle are ACBSP-accredited.
21. Clarkson University, Potsdam, New York

Established in 1896, Clarkson University has more than 44,000 alumni, with one in five already working as a CEO, senior executive, or owner of a company. The school serves more than 4,300 students enrolled in 95+ programs in 95+ programs in engineering, business, arts, sciences, education and health professions that lead to bachelor's, master's and doctoral degrees, and advanced certificates.
The David D. Reh School of Business at Clarkson offers an online MBA program that consists of 14 three-credit courses, of which 10 are core courses and four are electives. Core course highlights Leadership and Organizational Behavior, Corporate Ethical and Social Responsibility, Decision Analysis and Supply Chain Modeling, and Financial and Managerial Accounting for Decision Making. Just a few elective options include China Study, Competing by Design, Fraud and Forensic Accounting, Sports Economics, and Marketing High Technology Products.
The Clarkson Online MBA program offers a number of concentrations, including Global Supply Chain Management, it allows students to take courses part-time or full-time, and students may earn a Dual MBA/MS in Data Analytics by completing five online courses and a capstone project. Clarkson MBA students may also begin the program any term or opt for the hybrid format, with evening classes on Clarkson's Capital Region Campus in Schenectady, New York.
Students can expect to complete the AACSB-accredited Clarkson Online MBA program in less than two years, even if they haven't taken a business class.
22. Santa Clara University, El Camino Real, Santa Clara, California

Established in 1851 and located in Silicon Valley, Santa Clara University (SCU) is a Jesuit university that serves 9,015 students enrolled in 50 majors, minors, and programs across six schools and colleges. Leavey School of Business (LSB) at SCU houses the MBA program, which has on campus and online options.
Designed to help students become "Silicon Valley Professionals (SVPs)," this AACSB-accredited program highlights a curriculum based in "innovation and responsibility," says the school. Sample courses include Doing Business in Silicon Valley, Leading People and Organizations, Ethics for Managers, Strategy, Analysis, Design, and Management of Enterprise Platforms, and Marketing is Everything. The program also highlights 28 units of free electives that allow students to focus in one or more areas.
The Leavey Online MBA requires two on-campus intensives, where students will meet their peers and experience Santa Clara University in person. These are the only two campus requirements. Otherwise, online students will take courses whenever and wherever, but they will learn from the same professors who teach the on-campus program. The program may be completed in as few as two years.
23. Marist College, Poughkeepsie, New York

Marist College is an independent, comprehensive institution located on the banks of the Hudson River and in Florence, Italy. The school serves approximately 5,000 traditional-age undergraduate students and 1,400 adult and graduate students in 47 undergraduate majors and numerous graduate programs, including fully online MBA, MPA, MS, and MA degrees.
The 100% online MBA is offered in the School of Management at Marist. The program has three optional concentrations including Ethical Leadership, Finance, and Healthcare Administration. "A Business Analytics focus is infused throughout each concentration," says the school. The curriculum consists of nine core courses and three elective/concentration courses. Students in this AACSB-accredited program communicate with faculty and fellow classmates via telephone, email, video conferences, and VoIP (Voice over IP). The program is offered in an asynchronous format, so there are no specific sign-on times each week.
Full-time students may complete the Marist Online MBA in as few as four semesters, while part-time students may take up to seven years, depending on the number of courses they take each semester. Start times include the fall or spring semesters, with each semester having two rounds of eight-week classes.
24. Brandman University, Irvine, California

Brandman University was founded in 1958 by Chapman University—a private institution in Orange, California founded in 1861. Formerly named Chapman University College, Brandman's original mission was to "deliver high quality education to the El Toro Marine Corps Air Station," says the school. Today, as a separate university, Brandman remains military-friendly, and has expanded its programs to include the adult learner. The school offers more than 90 programs at 25+ campus locations to 13,000 students.
The School of Business and Professional Studies at Brandman University offers an online MBA that allows students to customize the program to coincide with the students' career goals by adding an emphasis in Accounting, Entrepreneurship, Finance, Health Administration, Human Resources, International Business, Business Intelligence and Data Analytics, Organizational Leadership, Marketing, or e-Business Strategic Management.
Students in the program will analyze and evaluate business functions and processes, evaluate and formulate effective domestic and global business strategies, integrate ethics, corporate social responsibility and sustainability in decision-making, identify, evaluate, communicate and implement effective leadership of a diverse workforce, and research, design and apply the innovation process from creativity to solution design and implementation.
The 48 credit hour program culminates in a Business Strategy and Competitive Advantage Capstone worth three credits.
25. University of Hartford, West Hartford, Connecticut

Founded in 1957, the University of Hartford (UHart) is a four-year private university serving nearly 7,000 students enrolled in more than 100 academic programs across seven colleges and schools, including Barney School of Business. Here, working professionals have the opportunity to earn an MBA in 24 months.
This fully online program consists of 12 courses for a total of 36 credits. Students will study several different disciplines in nine required classes ranging from economics to accounting to management. The remaining three classes will be electives in the chosen concentration. Concentration options include Accounting, Business Analytics, Finance, Healthcare Management, International Business, Management, Marketing, Project Management, and Supply Chain Management.
Graduates of the program are prepared to pursue careers in finance, management consulting, technology, marketing, logistics, other many other fields, in large corporations, family-owned businesses, not-for-profit organizations, and more.